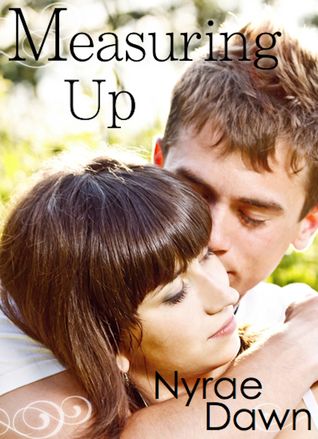 Measuring Up
by
Nyrae Dawn
Also by this author:
Masquerade
,
Touch the Sky
Published by
Self-Published
on August 9, 2012
Genres:
New Adult
Pages:
323
Goodreads
Buy the Book
Seventeen-year-old Annabel Conway is tired of the Hillcrest High School elite making her life miserable because she's not a size two. This summer, she's hiring a personal trainer to help her lose weight.

Annabel doesn't expect her trainer to be a gorgeous guy around her age. Boys like Tegan are jerks. They pretend to like girls like her so they can make an idiot out of them. Been there, done that. Totally not going there again. She kind of hates him on principal. Blond. Muscular. Funny. It doesn't help that he knows her measurements!

Soon, Tegan's so much more than that. He's the boy who teaches her to box when she has a bad day. Who jogs with her and lets her set the pace. Who kisses her until she melts. He makes her feel beautiful regardless of what the scale says. Unlike her mom, he doesn't expect perfection, and he doesn't try to shield her from the world like her dad and best friend. Tegan likes her the way she is.

But what happens when he's not there? He can't always be there…

Will Annabel be able to stand on her own and learn that she already measures up? That her worth doesn't lie in what the world thinks, the scale says, or even what Tegan tells her—but in herself?

Sandi: Being a "plus-size" chick myself, I went into this book with a propensity to relate with Annabel, the heroine, who is wanting to lose weight. Initially, however, Annabel irritated me — it was as if everything pointed back to her size.
This did not make me happy. But. It was just the beginning.
Annabel matured in the course of this book and a lot of that growing up was due to the influence of the hero: Tegan. I have recently submitted Tegan as my current "swoony boy" because he's wonderful. He is a professional trainer at the gym Annabel has chosen for her weight loss program and he approaches her without bias or anything – she's someone he can help and he wants to do his best by her.
The fact that she intrigues him is obvious, though we don't get to hear his side of the story. He spends time with her while she works out in the gym, invites her to challenge herself outside the gym, and he finds out who she is, deep inside herself.
She finds out, too.
I really appreciated that Tegan is attracted to Annabel enough to flirt early on, while she's still not at her ideal weight. They date, they have their relationship, and she learns how to be strong because of who she is, not because of what she looks like.
That she disciplines herself to lose the weight on her own helps, but it isn't core to her growth.
Tegan's life isn't ideal, but he's a hard worker with some lessons to learn about himself along the way. Annabel's influence in his life is no less important than his in hers. They are a great couple and I was rooting for them all the way.
I read this book in one afternoon — it owned me. Try it out. It might own you, too.
Related Posts