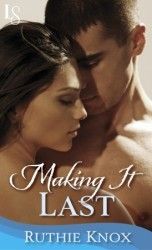 Making It Last
by
Ruthie Knox
Also by this author:
Truly
Series:
Camelot #4
Published by
LoveSwept
on July 15, 2013
Genres:
Contemporary Romance
Pages:
151
Goodreads
Buy the Book
RITA finalist Ruthie Knox returns with a brand-new eBook original novella, the finale of her delightfully sexy Camelot series!

A hotel bar. A sexy stranger. A night of passion. There's a part of Amber Mazzara that wants those things, wants to have a moment — just one — where life isn't a complicated tangle of house and husband and kids and careers. Then, after a long, exhausting "vacation" with her family, her husband surprises her with a gift: a few days on the beach . . . alone.

Only she won't be alone long, because a handsome man just bought her a drink. He's cool, he's confident, and he wants to take Amber to bed and keep her there for days. Lucky for them both, he's her husband. He's only got a few days in Jamaica to make her wildest desires come true, but if he can pull it off, there's reason to believe that this fantasy can last a lifetime.
Note: We posted this review way back in 2013 as part of the official "Whistle Stop" blog tour. We're reposting here 🙂

Kassiah: I have to admit that I haven't read any of the other books in the Camelot Series, but that is something that I am going to remedy right away. I asked the lovely Barburella if I could read out of order, and she said I could but that I had to read the rest asap. Even though I absolutely love About Last Night (with one of my favorite swoony guys), Ride with Me, and Big Boy, I had almost forgotten how much I love Ruthie Knox.
Her words and stories and characters and situations are all just so real. I didn't know anything about Amber and Tony when I started reading this novella, but I immediately identified with and understood exactly where they were in life. I empathized with both of them and wanted to help. That's the power of Ruthie Knox. Don't dismiss her as just another author with hot bare-chested guys on her covers (not that I'm complaining lol). She's a genius, and definitely one of the most under-appreciated authors out there.
Ten years into marriage with three young boys, Tony and Amber are in Jamaica for his brother's wedding. The kids are all restless and Tony's aggravated when he notices Amber looks defeated. He makes a quick decision for her to stay in Jamaica for another few days.
"You can stay," he said. "If you want to."

"What?"

"I want you to stay here a few more days. Take a break."

"Where is this coming from?"

…Tony took her by the shoulder and firmly steered her back around to face him.

"It was Jamila's idea, but she's right. This vacation sucked for you. I think–I think a lot of things must suck for you, and I can't usually do anything about it."
So, she stays, all alone on vacation at an all-inclusive resort in a luxury suite while her husband goes back home with the kids. He can't afford to miss anymore work, since he owns a construction company and times are hard. He loves his family, but he works eighty hour-weeks and barely has time to connect at all, let alone on any intimate level. At home, his mother-in-law gives him some advice.
"I can't go to Jamaica," he said. "I'll get fired off this job I'm doing in Dublin."

"So you lose the job. Isn't Amber more important?"
Realizing he can't lose his wife, he heads back to the resort, intent to reconnect and fix whatever their problems are. Typical man–sometimes things aren't an easy "fix". Tony and Amber have drifted apart because of life, not because anyone did any one thing wrong.
I loved this story, mostly because of how real it is. As a mom, I know it's hard not to let kids and crazy schedules and homework get in the way of what you want or who you are (besides being a mom). I could also identify with Tony, who felt like everything he was doing was for the betterment of his family. Marriage takes work, and it's easy to get off course. I love the intimacy of this story, and I love the sweetness, too.
"…Because you're my wife, and I love you, and I wouldn't have married you if you weren't also the smartest, most capable, most interesting, hottest chick I'd ever met."
Sometimes, you just need to hear that. I wish I could get my husband to read this. Is that TMI? I guess it's enough to know that I'm not alone in feeling the way I do most of thesome times. Thank you, Ruthie, for reminding us that it's okay to continue to hope and dream and feel lost and want more, even when you already have everything you could ever wish for.
Betsy: The ever-reliant Ruthie Knox has done it again. I have read all of the Camelot series out of order and it made no difference (I went back and read How to Misbehave after I read this). Each book stands alone even while the characters are seen in other books in the series. This novella touched my heart. I thought Ms. Knox was quite brave to stretch herself in this manner. Why stretch, you ask? Because instead of sticking to the format established, she revisits a couple from an earlier book and they are *gasp* an old, established married couple. I loved that she showed how hard marriage can be. It's work to maintain that connection, especially when dealing with day to day stress and an unexpected financial crisis.
So we meet this couple on the precipice of disaster. A yawning abyss of desperation and numbness characterize Amber and Tony's situation. And they have no idea how to fix things. What happens then is one couples' journey to rediscovering what made them choose each other. Lest you worry, there is major hotness and deep emotion in this journey. It was heartwarming even with the edge of the bittersweet. I really liked this. Kudos to Ruthie Knox for surprising me and still delivering all the heat.
Report Card
Cover
Characters
Plot
Writing
Steam
Overall:
5
A Quick Visit with Ruthie
As part of her "whistle-stop tour" for Making It Last, Ruthie agreed to stop by and answer one question about the story. She's also giving away a copy of the book, today only! Imagine her standing in the caboose car of her blog tour train, shouting out her answer over the crowd and flinging an e-book and some Tootsie Rolls at the assembled audience. Or not. Either way — here's the question:
How to Misbehave is a funny book. Making It Last is darker. Why?
Well, that's just sort of how it came out. I did try to lighten the mood with as much humor as I could get away with, but I think there is a way in which the stakes in a marriage-in-trouble story are inevitably higher. Tony and Amber have been together for a long time, and they have three children. The failure of this romance — it would just weigh more than the failure of the romance between two people who just met, you know? They have so much more invested.

It's also probably true that I allowed the heroine of this story, Amber, more leeway to be miserable than I usually would. I think of Amber as very much the heroine of her own life. She works very, very hard to take care of her family, raise her sons well, keep her home, and love her husband. Tony, too, works very hard. Their failures are ordinary failures, and the situation they find themselves in at the beginning of the story — still in love but estranged from each other, lost in their own lives — is ordinary, too. I think ordinary failures tend to be sadder to read about than extraordinary ones. When we recognize these people as being like ourselves, or like people we know, all the emotional blows strike a little harder.

The good news, though, is that — for me at least — the uplift of the ending is so much richer that it might be in a story about people who don't feel quite as real. When I read this story myself, I am always imbued all over again with the power of Tony and Amber's love, and I think of the story's essence as being embedded in the hopeful place where it ends: in Amber and Tony's marriage bed, the two of them together, speaking plainly and honestly, close, intimate, and deeply in love.
***About Ruthie Knox***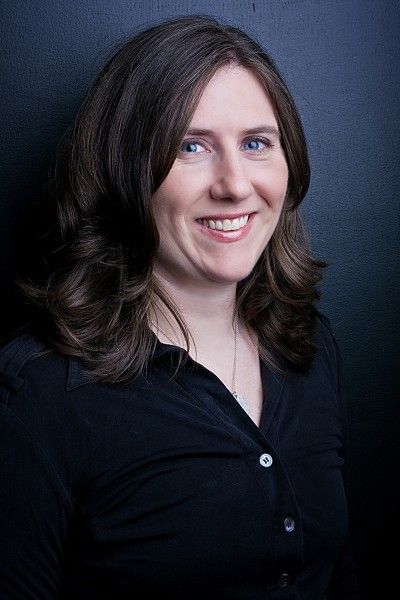 USA Today bestselling author Ruthie Knox writes contemporary romance that's sexy, witty, and angsty—sometimes all three at once. After training to be a British historian, she became an academic editor instead. Then she got really deeply into knitting, as one does, followed by motherhood and romance novel writing. Her debut novel, Ride with Me, is probably the only existing cross-country bicycling love story. She followed it up with About Last Night, a London-set romance whose hero has the unlikely name of Neville, and then Room at the Inn, a Christmas novella—both of which were finalists for the Romance Writers of America's RITA Award. Her four-book series about the Clark family of Camelot, Ohio, has won accolades for its fresh, funny portrayal of small-town Midwestern life. Ruthie moonlights as a mother, Tweets incessantly, and bakes a mean focaccia. She'd love to hear from you, so visit her website at www.ruthieknox.com and drop her a line.
Find Ruthie: Website | Twitter | Facebook | Goodreads
Related Posts