We have a lot to share with you today, Pretties, but right off the bat we want to let you know: we. loved. this. book. We couldn't wait another second to tell you that! We'll get to our review and the giveaway 411 in just a sec, but first we'll tell you about the book and then we've got an awesome excerpt of one of our favorite parts to share with you!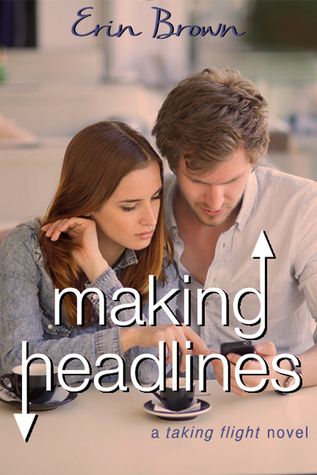 Making Headlines
by
Erin Brown
Series:
Taking Flight #2
Published by
Self-Published
on October 7, 2014
Genres:
Contemporary Romance
,
New Adult
Pages:
420
Goodreads
Buy the Book
When a one-night stand turns into an online photo scandal, Sophie Tucker and Luke McGraw become campus celebrities overnight for all the wrong reasons.

Sophie Tucker can't wait to start her freshman year of college—she has a full scholarship to her dream school and her sights set on landing a coveted staff writer position on the college newspaper. But when a scandalous photo from a one night stand she barely remembers is posted on The Score List, a new tabloid-style gossip site the campus is buzzing about, Sophie realizes her freshman year isn't going to be what she imagined. As more photos are posted, Sophie decides to use her journalistic prowess to take down the anonymous person behind the site.

Luke McGraw is that guy—the vice president of his fraternity, the online editor of the school newspaper, and the one every girl wants to date. When a photo of Sophie, the girl he hooked up with the night before classes started and can't get out of his head, shows up on The Score List, he knows that he has to find out who is behind the site—both to avenge Sophie, and to save the reputation of his fraternity.

When Sophie and Luke realize they're both investigating, they decide to team up. But focusing on the investigation instead of each other proves difficult, especially when neither of them are sure the other can be trusted.

In a story full of the scandal, mystery, intrigue, friendship, and cheeky, sexy romance, Making Headlines channels Veronica Mars and Greek, in the companion novel to Taking Flight.
***EXCERPT***
"What are you thinking?" I ask.
"College is insane."
I laugh. "You've made it through your first week."
"It's been a hell of a week."
I can't argue there. I want to pull her close and wrap my arms around her, but I remember her request for us to be friends. A team. But she did come out here with me without even a second thought when I called. And she didn't smack me when I kissed her. That has to count for something right?
Instead of acting on my instincts, I let her have her space. We're not saying much, but the silence around us is comfortable. Cicadas are singing in the background and the air smells of honeysuckle, even this late in the year.
"Just let me know when you're ready to head back, okay?"
"I think I'd be okay with staying here forever," she says before scooting toward me. I wrap my arm around her shoulder and pull her even closer. Testing my luck, I run my thumb up and down her arm and feel goose bumps rise on her skin.
"Is this okay?" I ask.
"Yeah. This is okay," she says, looking up at me. I meet her gaze but don't move down to kiss her. I don't want to overstep my boundaries.
"I'm thinking about kissing you," she says.
Christ.
"I know," I say, deciding to tease her a bit.
"Oh, do you?" she asks, sitting up straight and pulling away from me.
"Sophie, I've had you in my grasp since you first laid eyes on me."
Her mouth twists up and she starts to protest, but I shush her with my mouth, hungrily kissing her lips, down her neck to her collarbone, and back again. I part her lips with my tongue and she welcomes it with a small noise in her throat. She pulls away, but then moves so that she's straddling me and takes control of the kissing.
It's sweet and sensual as she sucks on my bottom lip and gently grazes her teeth over it. She moves her attention to my earlobe and the sensation that shoots through my body is what I imagine electrocution feels like.
"Did you know that your earlobe is one of the most sensitive parts of your body?" she asks low, her breath warm on my neck.
"I believe it," I say before shifting her body so that her lips are back to mine. We kiss each other thoroughly, speeding up and slowing down again, and my hands can't help but drift up the back of her shirt. Her skin is soft and silky, and those goose bumps jump up on her skin at my touch.
I smile against her lips. "I love that you get goose bumps when I touch you."
"I don't," she says. "Stupid body giving away all my secrets."
***About Erin Brown***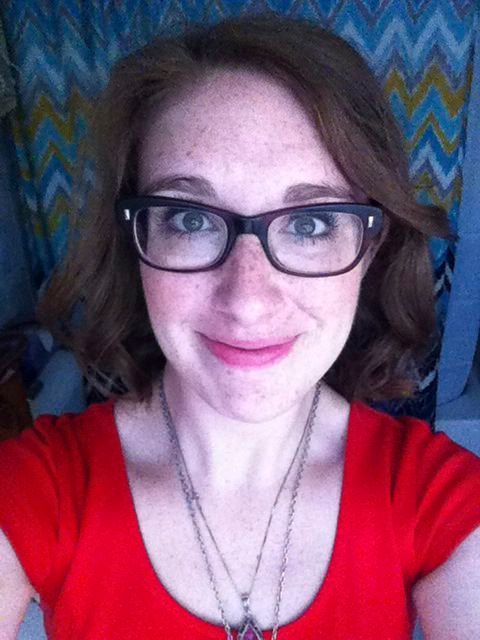 Erin Brown is a writer, Whedonite, Whovian, yogi, HGTV addict, and connoisseur of The CW's TV line-up. She was born and raised in Arkansas, lived in New York City for five years, and recently moved to Singapore, where she lives on the beach, which is completely wasted on her because she is a ginger and the sun is not her friend. She is the author of Taking Flight and Making Headlines: A Taking Flight Novel.
Find Erin Here: Website | Facebook | Twitter | Goodreads
***Our Review***
Kassiah: I honestly didn't think that I was going to love Making Headlines nearly as much as I did. Not even kidding–I totally loved pretty much everything about this story: the characters, the chemistry, the story line, the steam, the realisticness, and especially Luke McGraw.
The story begins on Sophie Tucker's first day of freshman year when she wakes up in bed in a frat house with a hot stranger. She barely remembers the night before and is way surprised when the guy not only insists on walking her back to her dorm but kisses her goodbye. She figures it was a one-time thing and is pretty mortified when she shows up on The Score List, a website dedicated to outing the campus hookups. She quickly discovers that the hot guy is Luke McGraw, a big man on campus–VP of his fraternity, editor of the school paper, and one of the most eligible bachelors.
Sophie is pretty surprised when Luke doesn't act like he wants their night together to be a one-time thing. She could have feelings for him, too, if she'd just let herself get close to him. As more gossip is posted on web, Sophie and Luke launch an investigation to get to the bottom of who's behind The Score List. In the process, the pair grow closer to the truth–and each other.
Making Headlines was such a fun read. I loved all of the characters and will definitely be checking out everything author Erin Brown has ever written. I loved the banter between everyone and Sophie and Luke's chemistry was hot.
"What do you say we get out of here?" he asks.

"Where do you want to go?"

"My place. Your place. I don't care. But I want to do things to you that the good people in this coffee shop probably don't want to see."
If I thought someone would try to steal him, I'd make Luke McGraw spreadsheet official as mine. He was pretty perfect. He's gorgeous, sweet, funny, and a totally stand-up guy. He goes after what he wants and he plays the guitar for christsakes. One of the things that I loved the most about him was that when Sophie hurt him, he didn't act like a giant sissy and let her walk all over him. He was real and just plain swoony. ::le sigh::
The only thing that I didn't like was something that Sophie does. I was really, really surprised by it and it made me like her significantly less. I'm not sure that she really redeemed herself, but I like Luke enough to trust his judgment so I'm okay with her 🙂
If you like sweet, sexy stories with smoking hot chemistry and a guy you'll swoon over, don't miss out on Making Headlines. ♥♥♥
Report Card
Cover
Characters
Plot
Writing
Steam
Overall:
4.5
***GIVEAWAY***
Win a Making Headlines Prize Pack and Signed Copies of Taking Flight and Making Headlines
a Rafflecopter giveaway
Good luck, even though we totally don't want you to enter because Kassiah wants to win!!
Related Posts