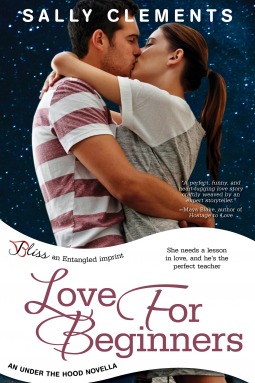 Love for Beginners

by Sally Clements
Also by this author: Racing the Hunter's Moon
Series: Under the Hood #2
Also in this series: Racing the Hunter's Moon
Published by Entangled: Bliss on May 27, 2014
Genres: Contemporary Romance, Opposites Attract
Character(s): Artists/Photographers/Producers/DJs
Pages: 157
Goodreads

 Buy the Book


She needs a lesson in love, and he's the perfect teacher.

Mechanic Melody Swan is looking for a man who can share her hopes and dreams, but she swore she would never lose herself to passion. When sexy Heath Starr agrees to temporarily sub in the Under the Hood garage for his sister, Mel sees the perfect opportunity to enjoy being with a man without becoming attached.

Heath came to Meadowsweet to photograph nature, not find a hookup, especially since his last relationship ended in disaster. He vowed he'd never break another woman's heart, and in turn, protect his own. Still, when Mel offers to serve as his outdoor guide, he can't refuse.

Mel may say she's only looking for right now, but her body is speaking a whole different language. And Heath's viewfinder is drawn to her time and again. When the two find themselves isolated in a rustic cabin, they could both break their promises if they aren't careful…
Erin: Love for Beginners is the second book in Sally Clements' Under the Hood series. In this novella length book, we have a female mechanic nicknamed the Ice Queen and a hero nicknamed The Ladyslayer. Sounds like that could lead to some sparks flying, yeah? It was more like a smolder, but these two were eventually good together.
It took me quite a while to warm up to Mel Swan. I found her confusing and aloof and her back and forth with Heath Starr left me (and him, I'm sure) very frustrated. I did like it when these two finally got it together and moved past all the issues. The book does have some very lovely descriptions in it (my favorite thing about the book truth be told).
This is a short, easy read with closed door romance. If that's your thing, be sure to check this one out.
Erin is a book addict! She loves books of all kinds, but her favorites are Contemporary Romance or YA (and she reads both boy/boy AND boy/girl, sometimes even girl/girl!) She's been reading since she could hold a book in her hands and doesn't see that changing any time soon. Give her a Coke, kick ass tunes from her favorite playlists, and a book, and she's in reading heaven.

She's a Texan, though she drinks her tea plain and NOT sweet. She loves cheesecake, strawberry limeade's from Sonic and her favorite color is purple. In her books, she loves an HEA, but she never minds if the road is rough to get there, as long as the reward is worth the struggle.
Report Card
Cover
Characters
Plot
Writing
Steam
Overall:
2.5
Related Posts