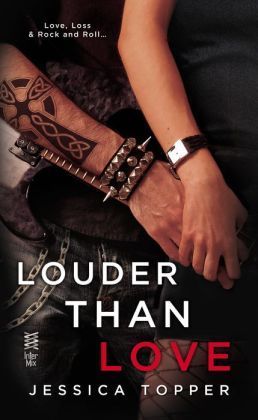 Louder Than Love
by
Jessica Topper
Published by
InterMix
on September 17, 2013
Genres:
Contemporary Romance
Pages:
343
Goodreads
Buy the Book
In this powerful debut novel, a young librarian grieves the loss of her husband...and discovers a love that defies classification.

It's been over three years since a train accident made a widow of Katrina Lewis, sending her and her young daughter Abbey back to the suburban town of her youth...the only place that still makes sense. Lauder Lake is the perfect place to hide and heal.

Recluse rocker Adrian "Digger" Graves survived the implosion of his music career, but his muse has long lain dormant. Until Kat hires him to play at her library—not on the basis of his hard rock credentials but rather, because of the obscure kids' TV jingle he wrote years ago. In a case of mistaken identity, Adrian stumbles into the lives of Kat and her comically lovable daughter.

Using tattoos as a timeline, Adrian unfurls his life for Kat. But as the courtship intensifies, it's unclear whose past looms larger: the widow's or the rocker's. Will their demons ever rest, or will they break these soul mates apart?

Kassiah: 4 stars. or 4-1/2. Or 4.
Louder Than Love is decidedly more mature than a lot of books I've been reading lately, whether they've been YA, NA, or adult. Despite the cover looking New Adult-ish, I would definitely put this in the grown up category.
Following the tragic death of her husband, Pete, in a freak train accident, Katrina Lewis packed up her one-year old daughter and moved back to her parents' house in small town Lauder Lake. Even though three years have passed, Katrina (known as Tree to her friends) hasn't even thought of dating again–she can't let go of the memories of her almost-idyllic life with Pete.
There was a time in the recent past when I could bury my nose into the sheets and still smell a vague lingering of my husband, his scent locked deep within the fibers of the mattress upholstery.
All of that changes when she meets the enigmatic former rock-star Adrian Graves at a benefit she organizes for the local public library and is instantly smitten. Things heat up quickly between the two of them.
He slowly knelt down in front of me, still clutching my hand. "No, I consider this very serious business. What are you thinking right now?"

"I'm thinking I want to kiss you again, but I'm scared to. Maybe I could kiss you on a safe spot, like your elbow." My giggle was a defense mechanism that sounded ridiculous and foreign to my ears.

"What are you thinking?"

"I'm thinking anywhere you kiss me could become an instant erogenous zone, Kat," he breathed, leaning over and kissing the hollow of my neck."
Even though they both have things in their pasts to overcome, they want each other.
"I usually find it tough to be…tender," he admitted. "But the moment I touch you…"
There are lots of things that I loved about this book, not the least of which was the writing itself. Topper has a way of weaving her words together that allow the reader to truly experience the moments with the characters. I loved the fact that even though Katrina was totally devastated by the loss of her husband, she refused to allow that to keep her from savoring life, especially with her daughter.
It probably goes without saying that I loved pretty much everything about Adrian, except when he seemed to give up on her without reason. He does say some swoony things:
I had asked him to set the alarm so I could get back home before school dismissed. "Ah, the bell tolls," he murmured apologetically as I groaned.

"Already?"

"No. I set it a half hour early. I like long good-byes," he breathed, crossing his legs over mine.
And my rob, I flailed when they were talking about his tattoos. And when he runs after her in the park. I also really loved the relationship that he had with Katrina's daughter, Abbey:
"I am…marveling…" The buzz filled the punctuated spaces. "Just thinking about all the money strewn about for years on Natalie in pursuit of her happiness, and here is a little girl ecstatic at the mere thought of sharing pancakes with me. Is it as simple as that?"
For all of the things that I loved about this book, there were some things that I didn't. I felt that Katrina jumped into the relationship with Adrian way too quickly and without regard to Abbey's feelings about it. It was definitely addressed, but not realistically in my opinion. For the record, I would never, ever let some guy I just met walk into my sleeping child's room alone–but maybe that's just me.
I already mentioned that I felt that Adrian gave up on her seemingly without reason. I guess I understood his stand on things, but I felt like he was a total chump the way he played it, and it definitely dropped him down a notch to me. I also didn't love the lack of emotion that I felt from Katrina with regard to her feelings about Pete vs. Adrian. I loved the words and feelings about Pete, but her reaction to the way her relationship with Adrian progressed seemed to fall flat.
With all of that being said, I loved this book and can't wait to read more from Topper.
Report Card
Cover
Characters
Plot
Writing
Steam
Overall:
4
Related Posts