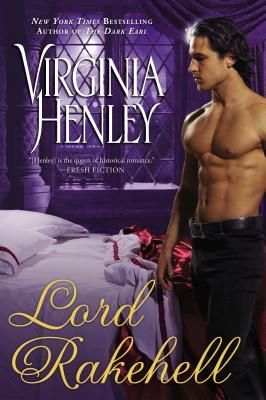 Lord Rakehell
by
Virginia Henley
Published by
Berkley
on November 5, 2013
Genres:
Historical Romance
Pages:
432
Goodreads
Buy the Book
Some men thrive on scandal.

Lord James Hamilton, heir to the Duke of Abercorn and newly appointed attendant to the young Prince of Wales, is in no rush to find a wife and take on a more responsible life. A lover of all things pleasurable, James has earned his reputation as a rakehell of London. But when a feisty beauty piques his interest, James finds himself obsessed with learning more about her, and even contemplates making her his own.

Lady Anne Curzon-Howe has long been besotted with her dear friends' handsome elder brother, James—ever since the moment he compared her to a wild Irish rose. While Anne has many suitors, the elusive James is the only man who draws her fancy. But Lord Hamilton's rakish ways are notorious for a reason, and convincing him to love only her will be an incredible—albeit rewarding—challenge....

Betsy: Historical fiction has long been a favorite genre of mine. For me, there are basically three types of historical fiction: the somewhat biographical story; the bodice-ripper (Fabio look-alike on the cover); and historical romance magic. Clearly, the last is my favorite by far. This one, unfortunately, does not fall into that category.
Lord Rakehell is well-written, set in Victorian England and is rife with historical characters, including the Edward, the Prince of Wales who features prominently in the narrative. The main characters, Lord James Hamilton and Lady Anne Curzon-Howe have been acquainted with one another since childhood. Lady Anne adores James from afar and becomes determined to win his heart. Well, you know how this goes. He sees her as the child she's always been to him, but she is a determined young woman and makes it her mission to show him that she's no child.
The biggest problem for me was the linear, plodding plot, and the conflict and its resolution occur much too late to give much tension to the story. It starts off slow and never seems to gain much momentum. It is filled with rich historical details and characters. Too much, though, and it results in some confusion and re-reading.
The romance is nice and there is some steam, but unfortunately it doesn't make up for the slow pace of the story. I liked the two main characters, particularly Lady Anne. She's intelligent, strong-minded and determined. Lord James was a handsome aristocrat with a relatively underserved rakish reputation. He is the foil for another well-known character and loyal to a fault, which is nearly his undoing.
So if you enjoy a more linear, semi-biographical historical romance with some nice steamy scenes, this is a good one.
Report Card
Cover
Characters
Plot
Writing
Steam
Overall:
3
Related Posts