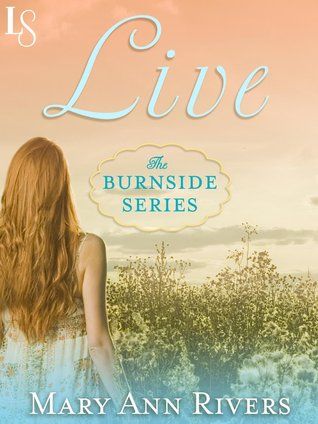 Live
by
Mary Ann Rivers
Also by this author:
The Story Guy
Series:
Burnside #1
Published by
LoveSwept
on January 21, 2014
Genres:
Contemporary Romance
Pages:
352
Goodreads
Buy the Book
Mary Ann Rivers kicks off a new contemporary romance series—sure to please readers of Ruthie Knox, Kristan Higgins, and Jill Shalvis—where love can be found unexpectedly.

If there's an upside to unemployment, Destiny Burnside may have found it. Job searching at her local library in Lakefield, Ohio, gives her plenty of time to ogle the hottest man she has ever laid eyes on: the sexy wood-carver who's restoring the building. But as the rejection letters pile up, Destiny finds an unexpected shoulder to cry on. With his rich Welsh accent, Hefin Thomas stirs Destiny so completely that, even though he's leaving soon, she lets herself believe the memory of his scorching kisses will be enough.

Hefin can't help but notice the slender, confident woman with ginger hair who returns each day, so hopeful and determined. So when the tears start to fall, his silence—penance for a failed marriage—finally cracks. Once he's touched her, what Hefin wants is to take her back to Wales and hold her forever. But Destiny's roots run too deep. What they both need is each other—to learn how to live and love again.

Betsy: Mary Ann Rivers was my delightful surprise for 2013 and one to watch in 2014. Her novella, The Story Guy blew me away and I was equally happy with her contribution, Snowfall in the Heating up the Holidays anthology. The emotional backdrop of these stories runs the gamut from painful to joyful and everything in between. So I was thrilled to have the chance to read her first full-length novel from the Burnside Series, Live.
Ms. Rivers' books are character-driven with a strong romance subplot. There is a powerful honesty in her writing, which hooks the reader and pulls them along as her characters begin to reveal themselves. Her characters are often quirky, flawed and very real.
In Live, we meet Des, short for Destiny, who is unemployed and desperately seeking work. She is mired in loss: job, death of a parent, a sister trying to recover from a serious biking accident, and a family unit unraveling. She is a born 'helper' and a giver who nearly uses herself up in the process. She is the proverbial good girl who works hard to do the right thing. We meet her as she trudges through her day of fulfilling the job search requirements for unemployment at the local library. The bright spot of the drudgery is in her fascination with 'The Woodcarver.' He is the attractive artisan restoring wood carved panels in the library.
Hefin aka The Woodcarver' has also suffered a lot of loss and uncertainty. He left his home in Wales and his job as an engineer to come to the states with his American wife. He is unable to find work and finds himself relying on his wife, an attorney, for his support. The marriage unravels and he has to make a decision about where to go from here. He has also noticed the lovely young woman who takes her job searching so seriously.
Mary Ann Rivers does a terrific job building the UST between these two. In fact, I would say she excels at this. Everything about them from the first contact over pastries to a sizzling session in the back of Des' father's old limo is alive with attraction and want.
Lest you think these books are all struggle and angst etc, Des' inner monologue is often hilarious.
Example:
He didn't even look over when one of his crew had to come help her pick up everything that had fallen out of bag when she tripped on the trailing ends of her lust.
Also, for The Story Guy lovers, Carrie makes a brief appearance in Live.
But life is never easy or simple and it certainly isn't for these two. There is an approaching expiration date for this burgeoning romance because Hefin plans on returning to Wales and has a job offer overseas as well. I won't give away how this plays out except to say that the resolution was both surprising and satisfying.
Mary Ann Rivers knows her characters hearts, often filled with quiet passion, sometimes desperation, but the challenges they face temper them like fine steel and they rise above the fray stronger for it. Her stories stay with me long after I'm finished reading and Live is no different.
Report Card
Cover
Characters
Plot
Writing
Steam
Overall:
4.5
Related Posts