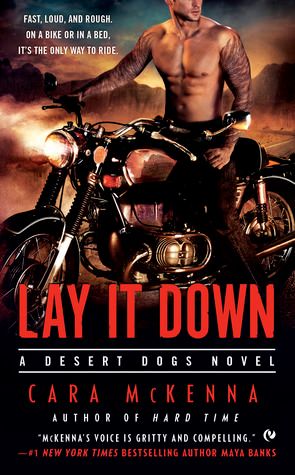 Lay It Down
by
Cara McKenna
Also by this author:
Unbound
,
Her Best Laid Plans
,
Hard Time
,
Give It All
,
Drive It Deep
,
After Hours
,
Crosstown Crush
,
Burn It Up
,
Downtown Devil
Series:
Desert Dogs #1
Also in this series:
Give It All
,
Drive It Deep
,
Burn It Up
Published by
Signet
on August 5, 2014
Genres:
Contemporary Romance
Pages:
336
Goodreads
Buy the Book
Backbreaking days, wild nights, and the hard hum of steel between your thighs...

That's a life well lived, according to the Desert Dogs—four friends who call Fortuity, Nevada, their badlands home.

Vince Grossier is the self-crowned outlaw king around here. But when Fortuity's slick new mayor invites a casino development to town, greed isn't far behind—and it claims Vince's good friend as its first casualty. With the law turning a blind eye to the mysterious death, Vince must seek his own brand of justice. The pretty photographer hired by the developers might be the key to uncovering the truth. And she's a temptation too good to pass up.

Finally free of a controlling ex, Kim Paget's not looking to be taken for a ride—not on the back of some tattooed roughneck's bike and definitely not in his bed. But when she uncovers evidence supporting Vince's suspicions of murder, Kim must entrust her safety to a man whose body threatens danger of a whole different kind.

Betsy: I had no idea what to expect from this particular book, which is the beginning of a new series Desert Dogs. However, I love Cara McKenna's work and her ability to write quirky characters is emphatically born out in this book. What do I mean by this? Well, on the surface the male protagonist might not be the exact ideal of a romantic hero. Vince Grossier is rough and ready in both appearance and manner and has not got a single smooth move. He is, however, an honest and loyal ex-con, whose philosophy is an unabashed 'what you see is what you get.' His counterpart, Kim Paget, is a woman on the run from her locked-down, by-the-book life.
The two meet as a mystery begins to unfold in the desert town, and the heat between them rivals the desert sun. Kim has been hired by a new under-construction casino to take pictures for marketing/promotion of the project in the Nevada desert. Vince is searching for answers to the death of his friend Alex, a deputy sheriff with an off-hours drinking problem.
Things are not right in this small desert community, and Vince is determined to get answers. The mystery slowly unfolds through the mid-section of the book and really explodes in the second half. It keeps the characters (and the reader) constantly guessing and on their toes.
There is fabulous build of unresolved sexual tension and when they finally get down to business, the result is scorching. *fans self* As the physical side of Vince and Kim's relationship heats up so does the mystery, at times becoming a massive cock-blocker. But needless to say they find a way, thank goodness. I love that, while the characters do grow, they remain true to themselves as they learn to negotiate a new relationship.
There are some excellent secondary characters developed in the book as well, notably Duncan Welch, who comes across as a weaselly, uptight fixer for the casino corporation. Duncan has an interesting role and his character is pretty well developed by the end of the book. I really, really want to know more about him. Here's hoping that he will get his own book at some point.
This was a fun, easy read. Very low in the angst department, but with enough tension to keep you turning the pages. Terrific UST (unresolved sexual tension) build with a very heated payoff. I really enjoyed it and look for more in this series (Duncan pretty please Ms. McKenna!).
Report Card
Cover
Characters
Plot
Writing
Steam
Overall:
4
Related Posts