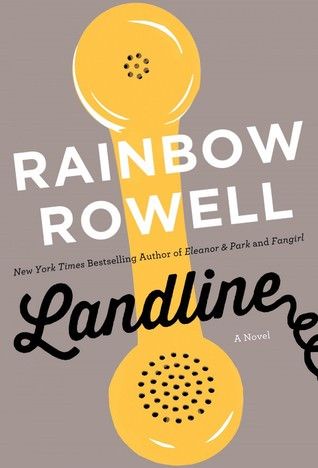 Landline
by
Rainbow Rowell
Also by this author:
Fangirl
Published by
St. Martin's Press
on July 8, 2014
Genres:
Contemporary Romance
Pages:
310
Goodreads
Buy the Book
Georgie McCool knows her marriage is in trouble. That it's been in trouble for a long time. She still loves her husband, Neal, and Neal still loves her, deeply — but that almost seems beside the point now.

Maybe that was always beside the point.

Two days before they're supposed to visit Neal's family in Omaha for Christmas, Georgie tells Neal that she can't go. She's a TV writer, and something's come up on her show; she has to stay in Los Angeles. She knows that Neal will be upset with her — Neal is always a little upset with Georgie — but she doesn't expect to him to pack up the kids and go home without her.

When her husband and the kids leave for the airport, Georgie wonders if she's finally done it. If she's ruined everything.

That night, Georgie discovers a way to communicate with Neal in the past. It's not time travel, not exactly, but she feels like she's been given an opportunity to fix her marriage before it starts . . .

Is that what she's supposed to do?

Or would Georgie and Neal be better off if their marriage never happened?
Katie: After reading Rainbow Rowell's Eleanor & Park, I wanted to read everything else she had to offer. So I picked this book up with such high expectations, but it didn't quite hit me like I had hoped.
Georgie McCool is a working mom with a loving stay-at-home husband and two sweet daughters. She's got a great job working with her attractive best friend Seth. But when Georgie decides to skip the family vacation to Omaha she's shocked to find out that her husband, Neal, isn't going to stay home and wait around for her. He packs up the girls and off to grandma's they go to spend the week (and Christmas!) without Georgie.
I had a hard time sympathizing with Georgie because I've never been in a situation where I've had to choose between spending holidays with my family or going in for overtime at work. (She doesn't go in for "overtime" just the best way I could think to compare her dilemma.) Plus, if I were in that situation, I don't think I'd have anything to think about; the choice seems pretty clear to me.
But for Georgie, the decision isn't so simple. She's been a television writer for years and she and Seth finally get their big break; the chance to make the show they've dreamed from the ground up into a reality. So she stays behind as her family head off to spend Christmas in another state.
Georgie soon discovers she has a way to talk to Neal from the past. Neal before he ever proposed. Georgie has to figure out if she can fix things between them before it's too late, while also wondering if she's lost her mind with this newfound magical connection to the past.
I really loved the concept of this book. A magical way to connect with your husband in the past; how cool is that?? I know I'd have a thing or two to tell mine
Report Card
Cover
Characters
Plot
Writing
Steam
Overall:
4
Related Posts