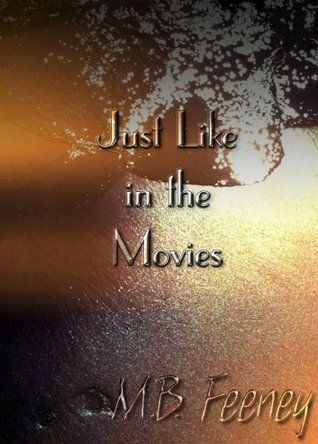 Just Like in the Movies
by
MB Feeney
Series:
Summer Heat #1
Published by
Renaissance Romance Publishing
on June 30, 2013
Genres:
Contemporary Romance
Pages:
61
Goodreads
Buy the Book
Ava Jones has settled for a life that she's not sure she wants anymore, but won't admit it. Her best friend, Erica Davidson talks her into taking a break on the Isle of Wight. Her days on the island are spent thinking things through, and arguing with Morgan whom she hates on principal.

Is it so wrong for her to want a life that follows the script of a honest to God romance film?

Sandi: This is a quick, sweet story of a woman finding what she really wants in her life.
Ava is at what I would call a "blah" sort of place in her life. The only bright spot would be the pets she shares with her long-time, live-in boyfriend, Marcus. Said boyfriend is comfortable, but not thrilling. They're both settling, their relationship a habit for them.
What Ava wants, deep down, is to have a life like they show in the movies. Where she finds something new, exciting, something worth – well – writing about.
M.B. Feeney presents her heroine and her best friend a little awkwardly, but I kind of feel like that works because despite Ava's competence in her own life, she feels distant from it. Even from herself. Her best friend, Erica (a character I would have liked to have known and understood a bit more), provides not only impetus but means to get Ava out of her day-to-day rut and off to the Isle of Wight where they rent a beach house for a period of several days.
And Ava gets her wish. Just like in the movies.
As a lifelong American, I had some cultural/language moments with this story because it is written by an Englishwoman about an Englishwoman. Just as I do at the movies, I let myself take the story as it was presented and didn't stress over things that weren't entirely clear to me. They call it "suspension of disbelief" and that worked for me.
Initially romance Ava had with Morgan—the inevitable, handsome, handyman hero who lives on the Isle of Wight—was not so much about the romance or even about Morgan as much as it was about Ava realizing things about herself and her day-to-day life. Morgan (and Erica, in her way) provides the catalyst Ava needs to work for her own personal happiness.
Without a lot of details given by the author (hey, it's a novella!) we get to see Ava find a new home, fall for a new man, and discover a new life for herself. One knows, at the end, that she will move forward and live more boldly and more happily.
Shortcomings in this story for me had to do with character development. Ava proclaims herself as one kind of person but acts rather differently at times. Morgan is kind of a wish-fulfillment fellow whom I don't feel I know, though he is handsome and charismatic. Erica remains a mystery in many respects.
Still, it is an affirming story in that it shows how a woman can find her way on her own. I have no sense that Ava needs Morgan to be happy; just that she is happier with him. And I like that. I like that a lot.
Recommended for readers who enjoy seeing a heroine come into her own.
My thanks to M.B. Feeney for the complimentary copy she sent me so that I could review her story!
Report Card
Cover
Characters
Plot
Writing
Steam
Overall:
3
Related Posts