We love Rachel Gibson, so we were extra super excited when we were invited to participate on the tour for her latest title, Just Kiss Me. We'll be sharing our thoughts on the book as well as a fab giveaway. But first, you know the drill–here's the 411 on Just Kiss Me by Rachel Gibson:
***About the Book***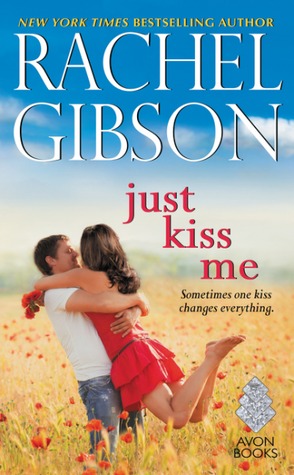 Just Kiss Me
by
Rachel Gibson
Also by this author:
What I Love About You
Published by
Avon Books
on July 26, 2016
Genres:
Contemporary Romance
,
Opposites Attract
,
Second Chance Romance
,
Small Town Romance
Character(s):
Blue Collar Guys
,
Businessmen/Lawyers/Entrepreneurs
Pages:
384
Goodreads
Buy the Book
New York Times bestselling author Rachel Gibson returns with this dazzling love story filled with sizzle, sass, and just a bit of southern charm...

"Hello, Ms. Vivian . . . it's been a long time."

And with those words, Vivian Leigh Rochet nearly melted. It's been years since she last saw Harrison Whitley-Shuler. She was a teenager scrubbing houses for a living. He was the gorgeous son of rich parents, not fit for the likes of her.

Vivian had vowed to get out of Charleston, become a big Hollywood star, and stick it to the snooty girls who made her cry.

She got what she wanted—and more—but why does her glamorous life seem so trivial?

Harrison got out too . . . making it all the way to Wall Street, until a heart attack forced him to trade in his cufflinks for a good set of hand tools.

Making furniture soothes his soul, but escaping the Whitley-Shuler heritage is nearly impossible. And now he's come face-to-face with the one who got away. He's not looking for love. He's not even looking for sex . . . so why is resisting her the hardest thing he's ever done?
***About Rachel Gibson***
Rachel Gibson is a New York Times and USA TODAY bestselling author of fast-paced contemporary romance novels. Publisher's Weekly proclaims Rachel's "clever, snappy dialog amuses at every turn" and "With humor and eloquent prose, Gibson brings substance and depth . . . to modern day romance."
Four of her novels were named among the Top Ten Favorite Books of The Year by Romance Writers of America. Two of her novels, True Confessions and Not Another Bad Date, were awarded the RITA, Romance Writers of America's highest honor of excellence. Some of Rachel's other awards and achievements include The Golden Heart Award, the National Reader's Choice, Amazon Editor's Top Pick, Publisher Weekly's Quill nominee, Borders bestselling romantic comedy and Romantic Time's Career Achievement award.
When not writing, Rachel can be found shopping for shoes or looking for strange and unusual flowers to plant in her garden.
Find Rachel Here: Website | Facebook | Goodreads
***Our Thoughts***
Kassiah: I really enjoy reading Rachel Gibson's books, and since I'm all about Southern Charm, naturally, of course I was crazy excited to read this one. It wasn't my favorite book, but I liked it.
Following her mother's death, Hollywood starlet Vivien returns to Charleston only to run into the guy she had a huge crush on for most of her life, Harrison. She and Harrison never had a future as kids because of their totally different stations in life (he was mega-rich and she was poor), but now the tables have turned since she's a big star. What happens when the playing field is leveled and sparks start flying?
Second chance romances are some of my favorites, and I loved the diary-flashbacks (even though Vivian was bratty) and delving into Harrison and Vivian's history. There was definitely Southern charm woven throughout the story with a picturesque setting, and the characters had good banter and (some) chemistry.
There were some things that didn't work for me, and something that really didn't work for me that I can't say here, but it made me drop my rating. I also would have liked more at the end and a reason to like Vivian 🙂 I didn't feel a huge connection to these characters.
With that being said, Just Kiss Me had some really sweet moments and some hotness. If you love chick lit, you know Rachel Gibson is synonymous with sweet contemporary romance. This wasn't her best book, but it's still worth checking out, especially if she's a favorite for you.
Report Card
Cover
Characters
Plot
Writing
Steam
Overall:
3
***GIVEAWAY***
Enter to win a copy of Just Kiss Me by Rachel Gibson!
a Rafflecopter giveaway
Good luck and don't forget to check out the other stops on the blog tour for Just Kiss Me by Rachel Gibson!
Related Posts