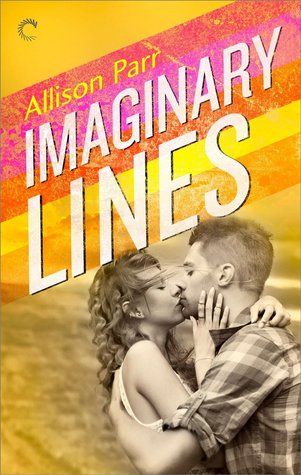 Imaginary Lines
by
Allison Parr
Also by this author:
Rush Me
Series:
New York Leopards #3
Also in this series:
Rush Me
Published by
Carina Press
on April 14, 2014
Genres:
New Adult
Pages:
237
Goodreads
Buy the Book
Tamar Rosenfeld has been in love with New York Leopards linebacker Abraham Krasner since they were twelve years old. She'd always considered it destiny that they'd end up together…until Abe was drafted and she professed her feelings in a moment of blind excitement. The sting of his rejection was like nothing she'd ever felt before, and it's nothing she'll ever forget.

Older and wiser, Tamar has landed a dream job as a reporter for one of New York's premier athletic websites. Determined to stop being the safe, boring girl she's felt like for most of her life, Tamar makes a list of all the things she wants to do and see in her new city, and Getting Over Abraham is priority number one.

But destiny has finally chosen to interfere. Just as Tamar's decided to move on, Abe's realized she's the only woman for him. When he confides the truth, Tamar has to decide if she can put her crush behind her, or take a chance on the very man who's been holding her back all these years.

Kassiah: Abraham Krasner is no Ryan Carter, but this is my favorite book in the series and one one of my favorite reads this year!
The summary for the story is pretty spot-on. Reporter Tamar Rosenfeld has been in love with NFL superstar Abe Krasner since she was twelve years old and danced with him at his bat mitzvah. They grew up together, and even though he was aware of the way she felt, he didn't return her feelings–until now. Just when she's gotten a new job and has a new determination to find true love in her life, Abe pulls out all the stops to prove to her that they're meant to be.
"Just try to fall in love with someone else while I'm around."
I loved this story. Parr really brought the emotion here with her authentic portrayal of what it's like to pine for someone who doesn't love you back. I loved Tamar's personality and her snark. She was strong but allowed herself to be vulnerable when it really counted.
We were inevitable, weren't we? Why didn't I just say yes and give in? After all, how do you resist the only guy in the world you've ever really wanted?
Words can't express how much I loved Abe. Even though he was super sweet and I loved him in Rush Me and the few glimpses of him in Running Back, I didn't think I would love him so much. He's sweet and swoony and soooo hot.
"What a gentleman."

He bent his head close to my ear as he walked me out to the club floor. "Guess again."
I love that he's not afraid to go after what he wants and that he doesn't mind playing dirty to get it.
"I don't want to be friends with you, Tamar. I want you naked on the bed and moaning my name."
If you've read the other books in the series, you'll enjoy seeing your favorites here again. I would have liked to have seen some more of Ryan, of course, but we can't have everything. What we do get is a lovable, swoonworthy hero and a smart, strong heroine with a great storyline and authentic relationships. An amazing read that you will love!
Report Card
Cover
Characters
Plot
Writing
Steam
Overall:
4.5
Related Posts