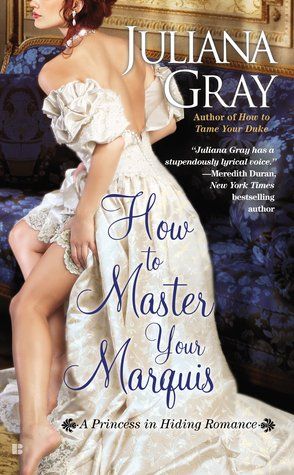 How to Master Your Marquis
by
Juliana Gray
Series:
A Princess In Hiding #2
Published by
Berkley
on January 7, 2014
Genres:
Historical Romance
Pages:
320
Goodreads
Buy the Book
Three intrepid princesses find themselves targets in a deadly plot against the crown—until their uncle devises a brilliant plan to keep them safe...

Of all her sisters, Princess Stefanie is by far the least amenable to law and order, which is why she's appalled to find herself masquerading as an unbearably drab clerk for the most honorable barrister in England. But her dull disguise turns out to have its privileges: namely, the opportunity to consort unchaperoned with her employer's exceedingly handsome nephew, James Lambert, the Marquess of Hatherfield.

Hatherfield quickly realizes that his uncle's spirited new clerk is, in fact, a lovely young woman of daring habits. The outwardly impeccable marquis isn't about to reveal her deception. After all, he's hiding a dangerous secret of his own. But when one too many escapades with the madcap princess bring Hatherfield's troubled past to light, it is only Stefanie's sharp wits that stand between the marquis and utter disaster, and only Hatherfield's daring that can save the princess from the shadowy agents bent on finding her.

Betsy: This was a well-done, entertaining story about a madcap heroine and her handsome protector. First of all, I love when writers of historical fiction/romance successfully weave their historical research into the backdrop of the story. Ms. Gray does a great job of creating the tapestry of life in England and Europe during the late Victorian/early Edwardian era. There was one curious inconsistency. The title says marquis, but the hero of the story is a marquess, the title used by the British aristocracy. But, never mind, it doesn't affect the overall quality of the story.
The heroine is the youngest princess from a fictional Germanic state. She and her older sisters are on the run and in hiding from anarchist assassins who killed her father. Princess Stefanie is pretty interesting for a pampered royal. She is a strong female character, who is smart and maybe a little to daring for her own good. Her protector, James, the Marquess of Hatherfield sees through her disguise almost immediately and their early interactions are very humorous as a consequence. James has no intention of revealing the deception and finds himself by turns enchanted and exasperated.
James is pretty heroic throughout…sexy as the devil too. He has a murky past that rises up to put his life at risk. He is flawed, but puts his own problems on the backburner to try and keep the princess safe. You immediately sense there is much more to him than his status of wealthy, noble eye-candy. Physically beautiful, so much so Princess Stefanie has a great deal of trouble not ogling him, which given her disguise is very amusing.
There is fabulous UST built throughout the book, complicated by disguises, and murderous assassins. Did I mention that James is a rower…think lots of muscles in all the right places. The resulting interactions between these two were blazing hot.
The plot was very fun and included; attempted murder, two murder mysteries, international intrigue, very cool disguises and mistaken identities. It moves quickly and never bogs down. A murder trial leads to a last second reprieve, which is at least partially engineered by Stefanie's quick wit. Oh and last but not least, there are not one but two evil antagonists, a truly evil stepmother and Lady Charlotte, who gives new meaning to shallow. She tries everything including blackmail, perjury and attempted murder to get her claws deep into our hero. But, oh boy, does she get her comeuppance.
One tiny complaint: The ending was rather abrupt and seemed designed to set up the next book.
Still and all, Ms Gray delivered an entertaining plot, engaging characters and a terrific, beautiful flawed hero. Oh and yes, lots of steam was generated. Lots.
Report Card
Cover
Characters
Plot
Writing
Steam
Overall:
4.5
Related Posts