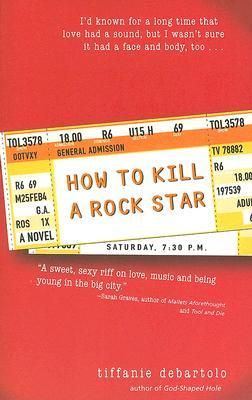 How to Kill a Rock Star
by
Tiffanie DeBartolo
Published by
Sourcebooks Landmark
on September 1, 2005
Genres:
Contemporary Romance
Pages:
417
Goodreads
Buy the Book
Written in her wonderfully honest, edgy, passionate and often hilarious voice, Tiffanie DeBartolo tells the story of Eliza Caelum, a young music journalist, and Paul Hudson, a talented songwriter and lead singer of the band Bananafish. Eliza's reverence for rock is equaled only by Paul's, and the two fall wildly in love.

When Bananafish is signed by a big corporate label, and Paul is on his way to becoming a major rock star, Eliza must make a heartbreaking decision that leads to Paul's sudden disappearance and a surprise knock-your-socks-off ending.

Kassiah: Have you ever heard a song that changed you? Maybe it gave you new perspective on something that you were going through at that time or maybe it just inspired you.
My oldest memory isn't one I see when I think back on the past, it's one I hear. I'm four years old, on my way home from a camping trip with my family. My eyes are shut tightly and I'm trying to sleep in the backseat of the car. … The smooth voice of a man is singing about a pony that ran away in the snow and died. Or maybe it was the girl chasing after the pony who died. Maybe nobody died. …I was never really sure. All I remember is that before I knew it, I was sobbing so hard my dad had to stop the car so my mom could pull me into her lap and calm me down.

The song was senseless and sappy, but it made me feel something. And although I couldn't articulate it at that age, feeling something–anything–made me conscious that I was alive.

I would spend the rest of my childhood sitting beside radios, continually being transformed and exalted by a melody, a lyric, or a riff.

I would spend most of my adolescence in pieces on the floor, only to be picked up and put back together by the voice of one of my heroes.

It sounds silly, I know. But for me, the power of music rests in its ability to reach inside and touch the places where the deepest cuts lie.
Eliza Caelum was four years old when music started shaping her life. At twenty-six, her life is definitely not headed in the direction that she thought it would take. An encounter with her elusive music idol changes everything for her–and sets the stage for How to Kill a Rockstar by Tiffanie DeBartolo.
After receiving a job offer for a prestigious magazine, Eliza moves from Cleveland to Manhattan, where her brother, Michael, already lives with his wife, Vera. Michael arranges for Eliza to move into his recently vacated apartment with Paul Hudson, the enigmatic and manwhorish lead singer and songwriter of his struggling band, Bananafish.
Now stop right there. I know what you are thinking, because I was thinking it, too. You already know what's going to happen, right? Michael will warn Eliza that Paul's no good for her; Eliza won't listen; they'll hook up and he'll let his rise to fame interfere with their relationship, leaving her broken-hearted until he swoops back in and saves the day. You've read that story a thousand times.
I'm telling you right now–you've never read anything like this.
At it's very basic, the above-referenced scenario is exactly how this story starts out. Eliza meets Paul and she just can't help herself. She tries to fight it.
"Eliza, do I make you nervous?"

"No."

He took a step forward. "Then why are you shaking?"

I lowered my chin, swallowed hard, but said nothing.

"Don't look at me like that," he said. "I can't be responsible for what happens in the next thirty seconds if you keep looking at me like that."

"Get out of the way."

"First you have to pay the toll."

Reaching around the back of my head, Paul leaned forward and planted his mouth on mine. He kissed me until he ran out of air, took a quick breath, kissed me again, and was grinning wildly when he finally set me free.

It occurred to me then that he kissed the same way he ran up the stairs–fiercely, passionately, and with complete commitment.
They are soul mates, truly, bonding over music and everything else that matters in life.
I am of the theory that all of our transcendental connections, anything we're drawn to, be it a person, a song, a painting on a wall–they're magnetic. The art is the alloy, so to speak. And our souls are equipped with whatever properties are required to attract that alloy. I'm no scientist so I don't really know what the hell these properties are, but my point is we're drawn to stuff that we've already got a connection to. Part of the thing is already inside of us.

That's what I mean when I say fate. Fate is the magnetic pull of our souls toward the people, places, and things we belong with.
They fall in love–desperately, madly in love:
…trying to describe how I felt watching her dance around and sing would be like trying to build a skyscraper with my bare hands. It made me want to marry her. Made me want to buy her a magic airplane and fly her away to a place where nothing bad could ever happen. Made me want to pour rubber cement all over my chest and then lay down on top of her so that we'd be stuck together, and so it would hurt like hell if we ever tried to tear ourselves apart.
Then you know what happens. Paul's band gets picked up by a major label and they are on their way to stardom. Eliza feels like she'll be left behind. Paul feels like he's selling out to commercialism. They are both afraid to lose each other and doubt creeps in.
"I'm only going to ask you this once," he said, his eyes glistening with panic. "And I swear over my life I'm going to believe whatever you say. Do you understand? With my whole goddamn heart and soul I'm going to believe you so please don't lie to me because I would never get over it."

"No," I said before he even asked the question. "Nothing happened between me and Loring. Not last night, not ever."

"Look me in the eyes and tell me he never made one pass at you, never tried to kiss you or told you shit like, 'I only invited your goddamn fool of a fiance on this tour because I'm fucking in love with you and I want to kiss your earrings and fuck your goddamn brains out.'"
I really love the way this story is told. It's mostly from Eliza's point of view, and the way she words things is just–I don't have the words. It's visceral and has a truth that you can feel in your bones. There are a few chapters of Paul's point of view, as told to his voice recorder. He's an artist in every sense of the word and made me swoon, even when I didn't want to, even when I didn't want to–even when I wanted to kick him in the balls, I wanted to hold him and tell him how to fix it.. There are also a few chapters that are in third-person, which was helpful.
I'm not gonna lie. Parts of this book had me sobbing into my pillow. BUT I think that's one of the things that is soooo amazing about this author. She takes us from laugh-out-loud funny to heart-wrenching, punch-you-in-the-gut angst and every emotion in between.
How to Kill a Rockstar is multi-faceted, with characters that are so real. I found myself cursing decisions that each of them made–wanting to shake some sense into them and beg them to reconsider their actions. They were all so much more than words on a page. I felt like I knew them.
I found this story when Bri reviewed it on goodreads, and after trying to come up with the best way to tell you the way I feel about this story, I realize that she already said it for me:
The characters in this had me head over heels from the beginning. Eliza is easy to relate to, Paul is easy to foam at the mouth over, and Loring is…well, I was torn for a lot of this book – let's leave it at that.

What this book boils down to is finding yourself, opening yourself up to new possibilities, and facing your fears. While this one was great on the initial read, I predict it will be even better on the re-read.
I didn't have a "favorites" bookshelf on Goodreads before, but I created one, just so I could have a place for this book. If you are looking for a story that has it all–sex, love, and rock 'n roll, then look no further. Without question, this is must-read.
Meg: Sometimes you read a book that gives you everything you want, and more than you hoped for. I put off reading this for longer than I care to admit, afraid that it wouldn't live up to the hype from my friends who loved it. I couldn't have been more wrong.
Eliza is a character you can't help my relate to. Did she sometimes make decisions that made me want to reach through the pages and smack her? Yes. But that's part of what made her so great. She's not perfect. She's got flaws. She's real. Her words are pretty too. Like these:
"Sometimes I would open my eyes when we were kissing, I would watch him and I could see it. I could actually see LOVE – not words, not an emotion, not an abstract concept or a subjective state of mind, but a living, breathing thing."
Then there's Paul. I pretty much fell in love with him from the very first time he was mentioned. He's a swoony, tattooed rocker. But he's also so much more than that. He's funny, deep, thoughtful, a little bit of an ass, and most of all he knows exactly what he wants. Just look at this:
"Warning: if you insult my heterosexual eminence one more time, I'm going to have to throw you down in the middle of the street and prove myself."
and this…
"Remember this moment, my friend the tape recorder. Lying next to Eliza, I had the feeling I'd just found something I didn't even know I'd lost."
He's awesome, right?
Kassiah and our friend Bri both gave me warning of the heartache I would experience reading this. I had the warnings and while I was reading I thought I had it all figured out. I thought that I knew exactly how the angst would come about. I was so wrong. I stayed up so late finishing every word because I couldn't put it down until I flipped the very last page.
If you're looking for a story about love- real earth shattering, soul mate kinda love, but with depth and a full spectrum of emotions, How to Kill a Rockstar is for you. No matter how many times I read it, or plan to read it in the future, I know that Tiffanie DeBartolo will take me on one hell of a ride.
Report Card
Cover
Characters
Plot
Writing
Steam
Overall:
5
Related Posts