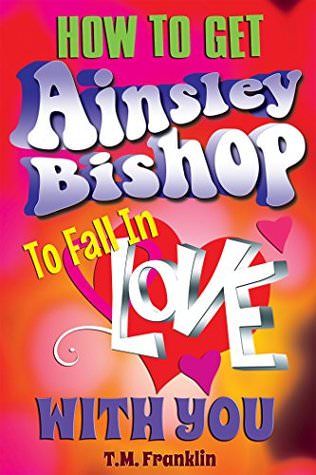 How to Get Ainsley Bishop to Fall in Love With You
by
TM Franklin
Published by
The Writer's Coffee Shop
on June 14, 2014
Genres:
Young Adult
Pages:
175
Goodreads
Buy the Book
Join the Drama Club
Do Your Research
Provide Something She Needs
Make Her Feel Secure and Important
Pay Attention!
Be a Good Friend
Be More Attractive
Be Complimentary, But Not Obsequious
Establish Rapport
Be Encouraging and Supportive
Give Her Space
Admit When You're Wrong and Apologize
Find the Perfect Birthday Gift
Tell Her How You Feel

Seventeen-year-old Oliver Wendell Holmes (Yes, his parents are just that peculiar, but his brother's name is Sherlock, so it could have been worse) knows that he's different. He's quirky, awkward, and he's okay with that. Oliver also likes making lists—meticulous procedures for achieving his goals, step-by-step. Whether it's "How to Get an A in Chemistry" or "How to Get Accepted to MIT," he has a process, and it's worked for him so far. He doesn't even care that the popular kids mock him. Oliver's got his eye on the prize.

So when he decides it's time to declare his feelings for Ainsley Bishop, the girl of his dreams, it's only natural for him to make a list—a point-by-point strategy to win her heart. He knows it will take a grand gesture for her to see all he has to offer, and her approaching birthday provides the ideal opportunity for Oliver to put his plan into action.

Finding the perfect gift is a challenge Oliver meets with his usual dogged determination. He'll need to watch her carefully for clues to pinpoint exactly what he should give her. And along the way, he might just learn that what Ainsley really needs is not quite what he expected.

Sandi: T.M. Franklin has written a charming, involving, adorable story about an imaginative, methodical teenage boy with goals, dreams, and the determination to make them happen.
My first feeling after reading this fantastic YA is that EVERY girl should have someone like Oliver at some point in their lives. Someone who cares enough about them to be purposeful in getting to know them. Sure, Oliver has a list—I myself am a firm believer in using lists for projects—but he makes lists because things matter to him and he is a thorough fellow. And Ainsley Bishop totally matters to Oliver Holmes.
The course of true love never did run smooth, Lysander says in Shakespeare's A Midsummer Night's Dream, and that is the case here. Ainsley, while pretty awesome, has issues of her own that she has to struggle with and Oliver doesn't get to stand idly by while that happens.
It isn't easy, but as he acknowledges to himself, she is worth it.
I so appreciate that Franklin gives Oliver a stable family. Perfect? No, but it's real and honest and sweet. His best friend is a great guy without overwhelming issues, too. Ainsley's issues are lessened when she starts acting on them. So, this is a group of young people without enormous amounts of drama. They're just young and growing up and finding that they can affect their own destinies.
A terrific story. I laughed. I cried (serious sniffling and cleaning of my glasses were necessary). I completely enjoyed this story and will do so again and again, I'm absolutely certain.
You should, too.
Related Posts