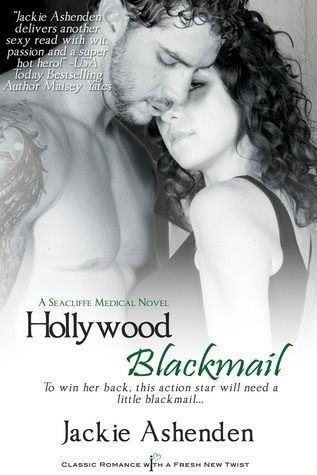 Hollywood Blackmail
by
Jackie Ashenden
Also by this author:
The Billion Dollar Bachelor
,
Mine to Take
,
Make You Mine
,
You Are Mine
Series:
Seacliffe Medical #1
Also in this series:
Hollywood Temptation
,
Hollywood Scandal
Published by
Entangled: Indulgence
on January 13, 2014
Genres:
Contemporary Romance
Pages:
180
Goodreads
Buy the Book
Lizzie Kent needs to forget the past. She lives in total anonymity, immersing herself in nursing to help her forget. But when a man from her previous life turns up in her clinic, the life she's tried to create for herself may come toppling down.

Ash knows what he wants and he wants Lizzie, the girl who left him all those years ago. As Hollywood's greatest action superstar no one says no to him, but when Lizzie refuses to acknowledge their shared past, he has to resort to a little old fashioned blackmail.

Will Lizzie revisit her past to enable her future with the man she loves, or do old wounds run too deep?
Kassiah: Nurse Lizzie Kent gets the surprise of her life when she realizes the client they're waiting for at her ultra-exclusive plastic surgery clinic is none other than her former flame, Ash Kincaid. Eleven years ago, Lizzie (then known as Coco) ran out on Ash, only leaving behind a note to tell him not to look for her or try to contact her. She went on to become a nurse, and Ash became Hollywood's biggest action star.
"I told myself I was going to be a success. The biggest damn success the world had ever seen. So that there would be billboards everywhere with me on them. In the papers. In the magazines. In the theaters. Everywhere. So I would be everywhere you looked. So you'd never escape me."
Turns out there's more to Lizzie than meets the eye and anonymity is the priority in her life.
No one would recognize her as Coco Dawn, daughter of Misty Dawn, who used to be one of Hollywood's most notorious adult movie actresses and infamous star of the reality TV show American Porn Star. Her hard-won anonymity, her hard-won safety, would not be compromised. Not the in the slightest.
Despite Lizzie's efforts to change her appearance, Ash recognizes her immediately and demands to talk to her.
"No," he said curtly. "I want her in here now."
His treatment is going to take two weeks, and thanks to a mysterious leak at the clinic to the paparazzi, he's unable to convalesce on the premises. He demands that Lizzie take care of him at his house for the two weeks of treatment he requires. If she refuses, he'll tell her boss that he's unhappy (and we all know what the stars want, the stars get).
After a bit of negotiating, she agrees to go home with him. Of course, you know what happens. A few days minutes into the job, and they can't keep their hands off each other.
"Lizzie…God… Please don't say this is a joke."

"You said nothing would happen unless I want it. Well, I want it."
You also know that reality is going to set in and they'll realize they each can't have it their own way. Who will make the sacrifice for them to be together or will they say a final goodbye when his treatment is done?
I found myself having a hard time relating to either of these characters, especially Lizzie. I understand that she hurt him when she left and they have unfinished business when they see each other. I also get her desire for anonymity, but these characters go on and on and on about how they've waiting so long for each other. Why?
Ashenden tells us, but there's little emotion behind it, and when Ash has the opportunity to show what she means to him, he doesn't take it. I don't get it.
Not only did I not relate to the characters, I felt like Lizzie was unprofessional, and a total bitch most of the time. She was rude and condescending and delusional. Also, the end. Though there is a clear (current) resolution, what happens next? How can these two possibly compromise to make things work?
There were a few things that I liked. The idea for the story was good and there were a few hot scenes, but a couple of ill-placed Wuthering Heights references do not make for a compelling romance. With the many unresolved issues and characters that I didn't care enough about, I guess I just needed more fucks to give.
I say skip this one.
Report Card
Cover
Characters
Plot
Writing
Steam
Overall:
2
Related Posts