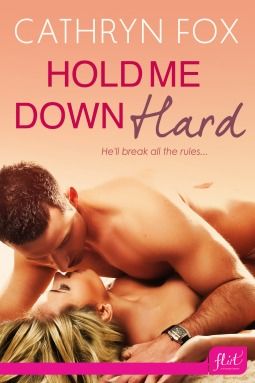 Hold Me Down Hard
by
Cathryn Fox
Also by this author:
Sweet Ride
,
Hands On
Published by
Entangled: Flirt
on May 13, 2013
Genres:
Contemporary Romance
Pages:
51
Goodreads
Buy the Book
When Eden Carver, Iowa farm girl turned NY actress, decides to seduce the sexy cop next door, she begins to wonder if she's bitten off more than she can chew.

The last thing Officer Jay Bennett wants is to cross a line with the sweet and innocent country girl—no matter how much he'd like to help himself to a nibble. Not only are they in the friendship zone, a naïve girl like Eden doesn't belong in his dangerous world.

But when she asks him to help her rehearse lines, and things go from simmer to boil, he finds himself doing the one thing he swore he'd never do. He knows he needs to walk away from temptation, but when sweet little Eden bites back, it tilts his world on its axis. Because biting back changes everything.

Kassiah: This was okay.
Eden, an actress from the midwest, has been trying to get her sexy neighbor, officer Jay Bennett to notice her for quite some time. Since he won't make a move, Eden decides to ask him to "run lines" with her, using a made-up script that is sure to get him going.
It's kind of a stupid idea, right? Why can't Eden just tell him that she wants him? Coaxing a cop outside, pretending to act out a script where the characters practically have sex outside? If he's dumb enough to fall for that, I feel sorry for the citizens that he's supposed to protect. Add to that his overwhelming urge to protect her and that he feels that she needs someone more "vanilla" than he can ever be, and I'm cliché'd out.
This is a quick read, but save yourself the time and read something else.
Related Posts