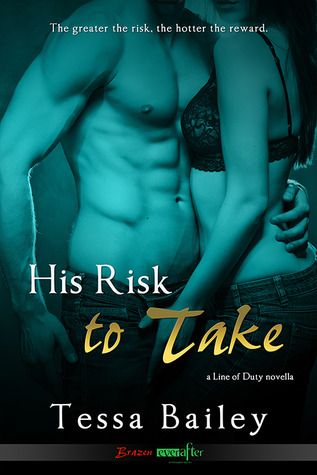 His Risk to Take
by
Tessa Bailey
Also by this author:
Lovers Unmasked
,
Officer Off Limits
,
Unfixable
,
Protecting What's His
,
Chase Me
,
Need Me
,
Make Me
,
Boiling Point
,
Worked Up
,
Too Wild to Tame
Series:
Line of Duty #2
Also in this series:
Lovers Unmasked
,
Officer Off Limits
,
Protecting What's His
Published by
Entangled: Brazen
on May 13, 2013
Genres:
Contemporary Romance
,
Erotica
Pages:
162
Goodreads
Buy the Book
The greater the risk, the hotter the reward…

Homicide cop Troy Bennett had a reputation on the Chicago PD for being fearless and in control—until the night his daredevil partner is killed during a raid. From that moment on, he swears he'll never again be responsible for the loss of a loved one. To escape his demons, Troy transfers to the NYPD, bringing him up close and personal with Ruby Elliott, a beautiful, street-savvy pool hustler.

Reckless and stubbornly independent, Ruby embodies everything Troy's avoiding, but when she walks into O'Hanlon's Pub and blows his carefully laid plans to hell, Troy knows he has to have her—risks be damned. But there's a connection between Ruby's shadowed past and a case Troy's working involving a notorious Brooklyn felon, throwing her safety into jeopardy. Confronted with his biggest fear, will Troy push Ruby away to keep her safe or fight to keep her in his arms where she belongs?

Kassiah: Do you guise remember when we reviewed Protecting What's His, the first book in this series? I really liked that book, but I said that I wanted more from the characters. That's pretty much how I feel about this one too–I need more.
Troy Bennett transfers to NYPD from Chicago after losing his partner in a raid. He isn't looking for love, or even a hookup.
He knew what they saw when they looked at him. Quiet, friendly guy. Passionate about his job. It's the same thing women saw, too. In the beginning.

But Prince Charming disappeared as soon as they made it to the bedroom.

He'd tried once or twice in the past to be the guy who whispered sweet nothings into a girl's ear when she came, but he'd never been able to keep up the facade. He'd rather be explaining in very explicit terms how and where he planned to take her next. It was a part of him he couldn't explain, but had learned to embrace. Finding women to embrace it with him tended to be the difficult time.
Ruby Elliott is a hustler who breezes into Troy's life. Even though they both try to deny it, their attraction is instantaneous. After realizing that Ruby has ties to a criminal that Troy is trying to bring down, things get a little complicated for the couple as they try to navigate through their budding relationship and what it means for each of them to let someone in.
There were lots of things that I liked about this story. I thought that the motivations of the characters was believable and I understood why they made the choices they made. I love that he has faith in her, and that she feels stronger because of him. I liked most of the characters, and I hope that Troy's buddy, Brent, will be explored at some point in the series. Like the first book in the series, this one is hot, and Troy's a dirty talker:
He dug one hand into her hair on a throaty groan, hips rolling forward as if magnetized by her mouth.

"Goddamit, you little tease. Stop licking at it and take it deep. Show me how much you missed me."
There's also stuff that I didn't like. Troy's overwhelming need to tell her what to do got old, and while we were told that he had to be domineering, I don't think we get the why he needs to be that way. There's a scene in this book involving a pool stick that forced me to reduce my rating. I honestly wish it was cut–the two of them aren't in a Dom/sub relationship, and if that's what Bailey was aiming for, she needed to include at least a conversation with them about it first (not to mention aftercare). It didn't make sense for these characters, even taking into account Troy's need to dominate. I'm more than fine with the dirty talk and the possessive take-what's-his attitude, but I get squeamish when there's physical stuff that isn't (imho) addressed properly.
Still. It was hot.
"Fuck my fingers until I'm satisfied with your answers. What happens next depends on how happy they make me."
His Risk to Take is a hot, quick read that I think you'll enjoy. Tessa Bailey definitely brings smexcellent steam that will leave you panting for more. I can't wait to see what she comes up next.
Report Card
Cover
Characters
Plot
Writing
Steam
Overall:
3
Related Posts