You already know that Rebecca Grace Allen is one of our favorite authors. We her! So we were super excited to participate in the tour for His Contract, her first book in the brand new Legally Bound Series. We've got a great giveaway to share with you today as well as our thoughts on the book, but first, here's the 411 on His Contract by Rebecca Grace Allen: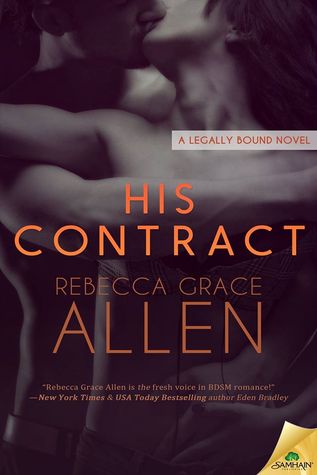 His Contract
by
Rebecca Grace Allen
Also by this author:
The Hierarchy of Needs
,
The Theory of Deviance
Series:
Legally Bound #1
Published by
Samhain Publishing
on November 10, 2015
Genres:
BD/sm
,
Contemporary Romance
,
Erotica
,
May/December Romance
Character(s):
Professors/Teachers
,
Single Fathers
Pages:
343
Goodreads
Buy the Book
Lawyers know when to play by the rules…and when to break them.

Harvard law professor Jack Archer once balanced his professional life with the private world of dominance, surrender and trust he shared with his wife. Since cancer stole her a year ago, finding love again—her final wish for him—is the furthest thing from his mind.

From his empty house to the classroom, grief follows his every move. Until he meets a young woman with shadows in her eyes even darker than his own.

Once a shining star at law school, Lilly Sterling's dreams died when the Dom she trusted left her heartbroken and lost. She's starting fresh in a new city as a paralegal, but meeting Jack reawakens all her old demons—and her lingering desires.

Jack offers to become Lilly's mentor for both the courtroom and the playroom, but tells himself it's not a relationship. Their carefully worded agreement guarantees that. But when their trial agreement starts heating up, both Jack and Lilly must decide what will tip the scales: the letter of the law...or love?

Warning: All rise for a book that contains a wounded submissive and a Dominant who wants to retrain her while retaining control of his heart. Discovery phase may involve spankings, bondage, edging, and blindfolds. Is it hot? You be the judge.
Kassiah: I think you all already know that I love everything Rebecca Grace Allen writes. I've been a fan of hers for a long time, and I am inspired with each new title she releases. With every new book, I go back and forth on which is my favorite. I liked The Hierarchy of Needs a little bit more than this one, but really, it's a toss up. I think it comes down to the fact that I'm not crazy into BDsm books. But though this story definitely has realistic, amazing BDsm, at its heart, it's a love story, and that's what I love the most about His Contract.
After being treated horribly by her former Dom, Lily moved to Boston, where she meets Harvard Law Professor Jack Archer. This story takes place a year after Jack's beloved wife passed away, and he's not looking for any kind of relationship–no matter how short–when he sees Lily. With their practically instantaneous and undeniable chemistry, they decide to embark on a short-term relationship, with a contract that they keep extending. You know what happens from there. Feelings. And all the feels.
The characters are so realistic, and I really liked both of them, which is sometimes a surprise for me. I love that Jack was protective of Lily from the beginning and that he showed her what a real Dom/sub relationship should be. He's smart and sweet, and yeah, totally hot.
The story progressed perfectly, and I can't wait to read the next story in this series, especially if it's focused on Patrick and Cassie. My only complaint is that Lily resembled Jack's late wife, and that I wanted more of them.
His Contract is an incredibly well-written love story with chemistry in spades and characters you'll fall for. It's a must read, regardless of if you're into BDsm or not.
Report Card
Cover
Characters
Plot
Writing
Steam
Overall:
4.5
***EXCERPT***
Jack closed his front door and leaned against it, as if doing so could shut out what he'd felt tonight. As if it could shut Lilly out. He'd wanted to murder Patrick for leaving him alone with her, and yet, during that short time, he'd forgotten how for the last year it had hurt to do anything more than breathe.
Hearing she was at least older than Josh was a small comfort. His age, however, seemed of no consequence. He'd thought she hadn't read anything into the question, that the attraction that was driving him out of his mind was all one-sided, but Lilly's blush said otherwise. As did the quick pass of her soft, pink tongue over gorgeously full lips.
Keep Reading the Excerpt for His Contract
Keep Reading the Excerpt for His Contract
Jack groaned and scrubbed his hands over his face, then looked at his scar. He could only imagine what Lilly would think if she knew where it came from, what kind of life he'd lived. The Dominant he once was.
He closed his eyes and saw Eve in their playroom, the two of them beginning their scene with practiced words.
"You are mine, love."
"I am yours, always, Master."
Grief shouted from the past. But the image was quickly replaced with one of Lilly looking up at him in the bar. How would she react if he ordered her to strip for him? Would all of her skin bloom with the rosy hues he'd seen on her cheeks? Jack's mind traveled to a place where he had her bound and naked, telling her to bare everything to him—body, mind and soul.
Realizing where his thoughts had strayed, he tried to shut the fantasy down but it was too late. Lilly had flipped a switch in him, waking the part that had been buried under the ashes of Eve's death. And now that he'd opened that door, he didn't know how to close it again.
***About Rebecca Grace Allen***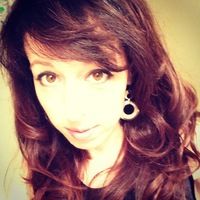 Rebecca Grace Allen writes kinky new adult and hot contemporary BDSM romance. She holds a Bachelor of Arts in English with a double concentration in Creative Writing and Literary Comparison, as well as a Master of Science in Elementary Education, both of which seemed like good ideas at the time. After stumbling through careers in entertainment, publishing, law and teaching, she's returned to her first love: writing. A self-admitted caffeine addict and gym rat, she currently lives in upstate New York with her husband, two parakeets, and a cat with a very unusual foot fetish
Find Rebecca Grace Here: Website | Facebook | Twitter | Goodreads
***GIVEAWAY***
Win a signed copy of His Contract
a Rafflecopter giveaway
Good luck and don't forget to check out the other stops on the blog tour for His Contract by Rebecca Grace Allen!
Related Posts