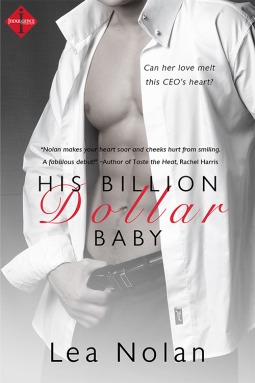 His Billion Dollar Baby
Published by
Entangled: Indulgence
on May 19, 2014
Genres:
Contemporary Romance
,
Forbidden Love
,
One Night to More
,
Player Falls in Love
,
Secret Baby
Character(s):
Billionaires
,
Businessmen/Lawyers/Entrepreneurs
Pages:
175
Goodreads
Buy the Book
Burned by love and grieving over his brother's death, sexy billionaire CEO Carter Anderson wants nothing more than to protect his family. So when beautiful and unassuming physical therapist Gwen Radley shows up at the funeral, pregnant with his brother's baby, Carter's certain she wants an interest in the Anderson empire—and both his suspicion and attraction grow when circumstances force Gwen to move into his family's mansion.

An orphan, Gwen's never wanted anything more than a family, and she finds in the Andersons a place she and her baby might belong. When Gwen's therapy expertise leads to long hours of intense, late-night collaboration on a lucrative project, the attraction between her and Carter leads to a night of white-hot passion. But Carter's distrust remains, leading them both to wonder if he will ever embrace his brother's baby—or the love that's blooming between them.
Erin: Rich guy, poor girl is a plot device romance readers have seen abundantly in recent times, and it's the premise of Lea Nolan's Billion Dollar Baby. A quick, light read starring a surprise pregnancy, a dead brother, and a man hell bent on protecting his family from opportunistic money grabbers. Been there, done that, yeah?
It sure does take quite awhile for Gwen Radley and Carter Anderson to get past their issues and fall in love. Along the way, neither are particularly likable. Carter is brash, cold, and suspicious. And though he has his reasons, they make him act like a jer for pretty much the entire book. Poor Gwen, she's just looking for a family, and finding herself in a situation she never expected, she's just trying to be strong for her baby. This book was pleasant enough, but nothing really out of the ordinary. Fairly decent writing with a plot line that's been done to death, but obviously is still popular with a number of readers. If you like your books light on sex and heavy on sap, then check this one out. You might enjoy it.
Report Card
Cover
Characters
Plot
Writing
Steam
Overall:
2.5
Related Posts