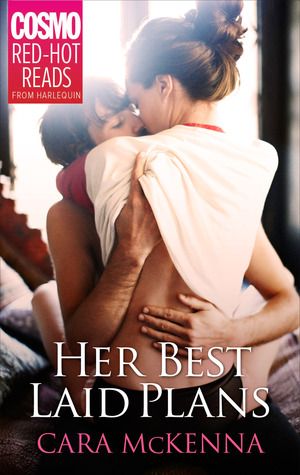 Her Best Laid Plans
by
Cara McKenna
Also by this author:
Unbound
,
Hard Time
,
Lay It Down
,
Give It All
,
Drive It Deep
,
After Hours
,
Crosstown Crush
,
Burn It Up
,
Downtown Devil
Published by
Cosmo Red Hot Reads
on April 15, 2014
Genres:
Contemporary Romance
Pages:
85
Goodreads
Buy the Book
Experience Ireland—the dramatic beauty, the warm hospitality…and the smoking hot local guys!

Imagine nursing a pint in a cozy, authentic country pub, far from Cork's busy city pulse. Getting here took you a plane, bus, taxi and…um, bicycle. But just as you're resigning yourself to drinking beside grey-haired farmers, you see him—a man with the looks and charm to soothe any heartbroken girl.

He's your bartender. Your really, really gorgeous bartender.

For American Jamie Webb—recently dumped and housesitting for two weeks—Connor Kelleher is like a six-course feast after a 23-year starvation diet. But it's gotta be casual. She's just begun rerouting her life after a three-year man-related detour. Still, a sexy romp (or twenty!) with Sexy McBartender?

But what happens when Jamie's best-laid plans for no future plans with any man begin to change?

Kassiah: I really, really loved this one!
Jamie Webb's spending a couple of weeks in Ireland, house-sitting and nursing a broken heart. She happens into Connor Kelleher's pub and is instantly smitten.
Holy shit. Were forearms an accepted fetish object? Because his were perfect.
They establish a quick banter and have a little game of pool. The prize?
"Your finest kiss," he said with a devil's smile. "On the mouth."
Things just heat up from there–and boy, do they heat up!
"I want you," he murmured. "So bloody bad."

"You can have me."

His nostrils flared and a sigh huffed from his lips, a split second's triumph. But when he spoke–

"Not yet. Not until I've made you come."
They spend the time she's in Ireland mostly together, getting to know more than just each other's bodies. Neither of them expect their fling to last past her trip, but will they be able to say goodbye when it's time for them to leave?
I really loved this one. I loved how hot it was and how much story was there for such a quick read. The characters are both likable and Connor is so sexy. With fun dialogue and chemistry that's off the charts, I'm sure you'll love Her Best Laid Plans as much as I do.
Report Card
Cover
Characters
Plot
Writing
Steam
Overall:
4.5
Related Posts