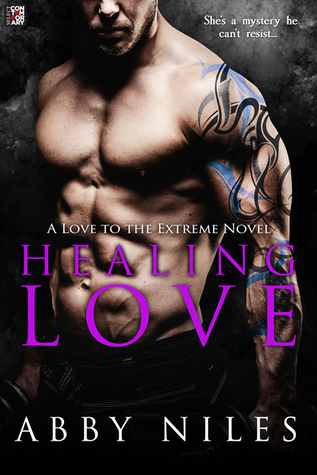 Healing Love
by
Abby Niles
Also by this author:
Extreme Love
,
Fighting Love
,
Winning Love
,
Knocked Out by Love
Series:
Love to the Extreme #4
Also in this series:
Extreme Love
,
Fighting Love
,
Winning Love
,
Knocked Out by Love
Published by
Entangled: Select
on February 15, 2016
Genres:
Contemporary Romance
Character(s):
Fighters
,
Reclusive Heroes
Pages:
191
Goodreads
Buy the Book
She's a mystery he can't resist...

Doctor Ella Watts wants her old life back. Desperately. But the past has returned for its rematch, and going back home—even telling anyone her real name—isn't an option until she's confident in her MMA abilities. Personal trainer Lance Black is the man to help her reach her goals. Not only is he toned, muscular, and gorgeous, he's patient, a great teacher, and willing to treat her like a worthy opponent. Except his size makes her freeze whenever he gets too close. If Ella can't learn how to overcome her fear of being attacked, she'll never be able to move on with her life.

Underground fighter Lance Black knows there's more to the mysterious blonde ninja than a beautiful woman determined to improve her fighting skills. She can best anyone close to her size – man or woman – but insists on working out with him, even though he's got a good 70 pounds and several inches on her. Despite her reticence, he's determined to get her to open up so he can help her get over her mental block. And if that means he can get to know her outside the gym, all the better.

As long as she never learns his secrets.
Kassiah: I'm so glad that this book is about Lance. I loved him in Winning Love, and I was hoping for him to get his own story. And like the other books in the series, opposites attract, and I can't imagine him with anyone other than Ella.
I don't know what to say about this book that won't give too much away. Ella is dealing with something in her past that makes her want to train to protect herself. Lance has a past himself and doesn't want to get close to anyone. Even though both of them aren't looking for any type of relationship, they can't help themselves.
I liked this book, but it wasn't my favorite (Winning Love was amazing). There was a lot of drama that could have been avoided if they would have just freaking talked to each other. I did think their relationship was sweet and I wanted them together. The idea for this story was fresh and there were definite feelings involved.
A fast read with a fresh storyline, Healing Love has a hot couple you'll root for and is a great choice for lovers of fighter romances.
Report Card
Cover
Characters
Plot
Writing
Steam
Overall:
3.5
Related Posts