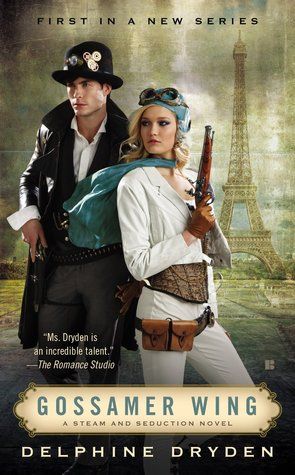 Gossamer Wing
by
Delphine Dryden
Also by this author:
Scarlet Devices
Series:
Steam and Seduction #1
Also in this series:
Scarlet Devices
Published by
Berkley
on November 5, 2013
Genres:
Science Fiction
Pages:
320
Goodreads
Buy the Book
A Spy. An Airship. And a Broken Heart.

After losing her husband to a rogue French agent, Charlotte Moncrieffe wants to make her mark in international espionage. And what could be better for recovering secret long-lost documents from the Palais Garnier than her stealth dirigible, Gossamer Wing? Her spymaster father has one condition: He won't send her to Paris without an ironclad cover.

Dexter Hardison prefers inventing to politics, but his title as Makesmith Baron and his formidable skills make him an ideal husband-imposter for Charlotte. And the unorthodox undercover arrangement would help him in his own field of discovery.

But from Charlotte and Dexter's marriage of convenience comes a distraction—a passion that complicates an increasingly dangerous mission. For Charlotte, however, the thought of losing Dexter also opens her heart to a thrilling new future of love and adventure.

Betsy: First of all, I want to say up front, I loved this book, despite the fact I had no idea what this odd steampunk thing was all about. Some of you might be scratching your heads too, so here is a down-and-dirty version of steampunk. It is a sub-genre of sci-fi that features steam-powered machinery and is mostly set in the Victorian era or the "wild west" (Any of you remember that old show "The Wild, Wild West" or the movie?). Think H.G. Wells or Jules Verne but in reverse. Modern writers imagine what 19th century characters would create in a steampunk world. Sounds odd, but trust me, this totally works.
This story begins in the American Dominions and then moves to Europa in France. It contains one of my favorite tropes: the marriage of convenience that morphs into so much more. The two main characters, Lady Charlotte Moncrieffe, a widow and agent for a secret service type organization and Dexter Hardison aka the Makesmith Baron, are placed together as a newly married society couple traveling to France on their honeymoon. The marriage is a cover, though it was legally done in the fashion of the day. Their mission is to retrieve documents that could presage a new world war with a WMD of unimaginable destructive power.
Despite their dangerous mission and best efforts to the contrary, the pair is drawn together like iron filings to a super magnet. Powerful UST abounds and they fail spectacularly at maintaining the 'fake' relationship. The intimate scenes are both hot and full of unexpressed emotions. Charlotte tries so hard to deny her feelings and poor Dexter is afraid to express his for fear of driving her away.
The conflict and tension in the story is skillfully treated and resolved beautifully, with enough ups and downs that you feel like you're on a wild rollercoaster ride. I also really enjoyed the 'steampunk' elements, especially the 'gossamer wing'. The inclusion of the machinery was an extra that added immensely to the story overall. It took what could have been pedestrian to another level entirely.
I loved both main characters, but absolutely adored Dexter. Just the exact right mix of physical attractiveness, sharp intelligence and emotional vulnerability. Charlotte was a strong female character with an agenda that she refused to be swayed from, but she was never capricious. She confronted her challenges with brains and heart and inevitably accepted that her world order had shifted on its axis with her growing affection for Dexter.
I strongly encourage everyone to read this book. Whether you're a fan of steampunk, sci-fi, romance or name-your-genre, you will find something to love in Gossamer Wing.
Report Card
Cover
Characters
Plot
Writing
Steam
Overall:
4.5
Related Posts