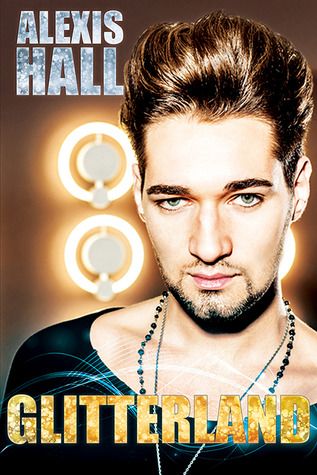 Glitterland
by
Alexis Hall
Series:
Glitterland #1
Published by
Riptide Publishing
on August 26, 2013
Genres:
M/M Erotica
Pages:
248
Goodreads
Buy the Book
The universe is a glitterball I hold in the palm of my hand.

Once the golden boy of the English literary scene, now a clinically depressed writer of pulp crime fiction, Ash Winters has given up on love, hope, happiness, and—most of all—himself. He lives his life between the cycles of his illness, haunted by the ghosts of other people's expectations.

Then a chance encounter at a stag party throws him into the arms of Essex boy Darian Taylor, an aspiring model who lives in a world of hair gel, fake tans, and fashion shows. By his own admission, Darian isn't the crispest lettuce in the fridge, but he cooks a mean cottage pie and makes Ash laugh, reminding him of what it's like to step beyond the boundaries of anxiety.

But Ash has been living in his own shadow for so long that he can't see past the glitter to the light. Can a man who doesn't trust himself ever trust in happiness? And how can a man who doesn't believe in happiness ever fight for his own?

Les Joseph: Confession.
I didn't LOVE this book.
I wanted to LOVE it. I've heard such incredible things. The reviews are great, the cover is intriguing, the blurb grabbed my interest—in short, it has everything that gets me excited about a book.
So while I didn't LOVE it, I did like it. Mostly.
Glitterland is the debut novel by Alexis Hall. It covers some serious topics. Bipolar disorders, suicide attempts, and depression are all discussed in sometimes vivid and unsettling detail. Ash Winters is a writer who, as his debilitating conditions hint at, is very unhappy. He's cerebral, brash, and unapologetic—in short, he's an asshole. He'd be the first to admit it, too. He's awful to his friends. He has moments of self-loathing so intense it's physically painful to read; he has very few redeeming qualities. A chance encounter with a bloke from Essex sends his entire world into a tailspin. Darian is Ash's polar opposite. Ash is right proper; Darian is common. Ash is doom and gloom; Darian is glitter and rainbows. Sweet if a bit shallow, Darian is larger than life.
He was a ridiculous creature. A vulgar, glittering pirate of a man, all jewellery and fake tan, gold glinting in his ears, on his fingers and round his wrists. His dark hair gleamed with product and had been painstakingly teased into a quiff that defied taste, reason, and gravity.
Ash has no idea what to do with him, but after a one-night stand, the two start down a road littered with obstacle after obstacle.
This book was hard to read. The author has chosen to write out Darian's common accent phonetically, so there are terms and sayings that didn't make much sense not to mention some of it is just plain ridiculous. An example:
"Really?" he said, startled. "Cos it's the first fing people say to me: 'You should be a model, mate.' I reckon it's important to look nice. There's lots of fings you can't change, but if you make an effort wif 'ow you look, then you'll do ahwight, janarwhatamean?"
That being said, there are moments of brilliance and prose so lyrical and beautiful it took my breath away. Metaphors that made me gasp and read them again and again.
For the most part, I enjoyed this book. Parts of it dragged. Parts made me cringe. Parts were hot—Ash and Darian definitely find their common ground in the bedroom. The problem for me was I didn't particularly like Ash. I get that he has more issues than anyone should have to live with, but he wasn't likeable. He was cruel and callous and it's not until he hits rock bottom, again, that he decides to try to be a better person. I did cry in parts; the ending was especially moving and poignant. I think I'm supposed to love Darian, and I didn't. He was cute and quirky, but he's also pushy and clueless. There is some very snappy, refreshing dialogue between the two, though, but to me it was far outweighed by distraction of Darian's accent and Ash's in your face attitude.
Glitterland won't be for everyone, but I suggest you give it a try. It's definitely worth it.
Related Posts