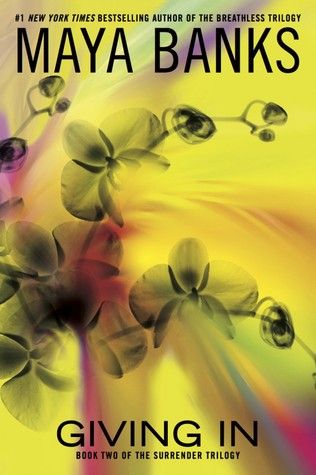 Giving In
by
Maya Banks
Also by this author:
Letting Go
Series:
Surrender Trilogy #2
Also in this series:
Letting Go
Published by
Berkley
on May 6, 2014
Genres:
BD/sm
,
Contemporary Romance
,
Erotica
Pages:
320
Goodreads
Buy the Book
In her sensational Breathless Trilogy, New York Times bestselling author Maya Banks tested the boundaries of desire. In her new trilogy, there's only one thing left to do: cross them. Now, the story continues as one woman, haunted by the shadows of the past, explores the possibilities of a new beginning in ways she never could have imagined…

Kylie sees the way Jensen looks at her. The dark promise in his eyes. That rough edge of dominance she knows he possesses. But dominance is the one thing that frightens her above all else. She and her brother barely survived a childhood steeped in violence and abuse. She could never give up total control and submit to a man. Especially a man like Jensen. Could she?

Jensen sees the shadows in Kylie's eyes. Knows he has to tread very carefully or risk losing any chance he has with her. All he wants is the opportunity to show her that dominance doesn't equal pain, bondage or discipline. That emotional surrender is the most powerful of all, and that to submit fully to him will fulfill the aching void in her heart in a way nothing else ever will.

Betsy: In this second book in the Surrender Series by Maya Banks, we have Kylie and Jensen's story. I have to say up front I was disappointed with this book. The story and characters never made much sense nor did their emotional journey resonate.
Basically, you have two damaged characters with horrific abuse and trauma backgrounds who are working together. Jensen is the 'alpha, dominant' male boss and Kylie is the PA, with no life beyond her job. Both characters have had awful childhoods filled with horrendous abuse, rape and beatings. Jensen appears to be a man who participates in a BDSM lifestyle as a dominant, though the acronym BDSM does not appear in the book. There are many references to dominance and submission, but it is never explained or explored within the framework of the story.
There is an element of insta-love and sexual attraction that comes out of left field at the very beginning of the book. This may be a function of the fact that this is the second book in a series and some of the character and relationship building has taken place before, but I found it inexplicable and off-putting. It made it very hard to believe in the growing romance. There are other things that made little sense to me, such as the decision of Jensen to give total control in the bedroom to Kylie. cue the raised eyebrows What? He is a dom. I guess the idea is that you will do anything for love even reinvent your essential self. * eye roll*
There is the thinnest of plots, which is always a problem for me. I need some plot and character development along with my smut, thank you very much. The conflict was totally driven by past abuse and continuing PTSD-like responses to the action. It was repetitive. Adding to that was the irritation I felt at these characters, who are intelligent and clearly realize that they have issues, never addressing their problems through therapy until the very end of the book. It just didn't make sense.
I would love to say that the smut was epic, but it wasn't for me. I think it was because I had a hard time caring about the characters, so their eventual physical connection was anticlimactic.
So overall this book did not work for me.
Report Card
Cover
Characters
Plot
Writing
Steam
Overall:
2
Related Posts