We love the books in the Break on Through series by Harper Kincaid, and we could hardly wait to read Max and Jessica's story in Girl Breaker. We'll be sharing our thoughts with you, but first, here's the 411 on Girl Breaker by Harper Kincaid:
***About the Book***
Girl Breaker
by
Harper Kincaid
Series:
Break on Through #3
Published by
Samhain Publishing
on January 17th 2017
Genres:
Contemporary Romance
,
Friends to More
,
Opposites Attract
Character(s):
Bad Boys
,
MC/Bikers
,
Mechanics
,
Single Fathers
,
Tattooed & Pierced Bad Boys
Pages:
150
Goodreads
Buy the Book
Sometimes the best thing a good girl can do is make a bad decision.

Jessica has always been the girl with her head in the clouds and her nose in a book, only dating the "nice guys". But when rough-around-the-edges Viking-biker-god, Mad Max, and his precocious little girl move onto her street, Jessica falls hard and fast for both of them.

Max is no stranger to women wanting to share his bed—and he's always been more than happy to oblige them all. He's lived wild all his life—that is, until a daughter shows up on his doorstep and he meets a redheaded angel down the block.

There's nothing more he wants than to claim Jessica as his, to bring the gorgeous spitfire to his bed. But a man like him doesn't get a happy ending with a woman like her. He's got a whole other life, one he's kept secret for good reason.

If Jessica found out what he really is, there's no way she could love him. He should keep his hands to himself. But he's Mad Max—he's never done the right thing, and he's not going to start now.

Warning: Contains a dominating alpha male who's a lot more than he seems, and a good girl with a swirl of flavors under her vanilla.
***About Harper Kincaid***
A woman with the heart of a revolutionary,
The mind of a pragmatist,
And the inappropriate humor of your tipsy BFF…
Born in California and raised in South Florida, Harper Kincaid has moved around like a gypsy with a bounty on her head ever since. Along the way, she's worked as a community organizer, a professional matchmaker, an art teacher, a popular blogger, and a crisis counselor (to name a few). All the while, longing to have the guts and follow-through to do what she really wanted: to write and become a published author. That wish has finally come true and she's tickled pink with glitter over this good piece of fortune.
What else? Hmm…she loves indie, lo-fi, complaint rock played on vinyl, wearing black because it's slimming, the theater, well-informed optimism, happy endings (both kinds), and making those close to her laugh 'til they snort. She's a self-admitted change junkie, loving new experiences and places, but has now happily settled in the cutest lil' town, Vienna, Virginia.
Find Harper Here: Website | Facebook | Twitter | Goodreads
***Our Thoughts***
Kassiah: Ever since she was a little girl, Jessica has always believed in finding her soulmate.
I'm just one of the last true believers. I live for those serendipitous events, where time and space sweeps love and faith off their feet and makes the magic happen.
Now she's all grown up and can't help but feeling the sparks that fly between her and her enigmatic neighbor, single dad Max. There's definitely chemistry between them everytime they're around each other. They both know getting together is a bad idea, especially since Max thinks he needs something Jessica can't give him. But that doesn't stop them.
"I'm doing you a favor, you know, keeping things at arm's length."
I loved how perfect Jessica and Max were for each other. They're total opposites, but man were they hottttt. I loved their chemistry, and I loved how sassy Jessica was. I loved Max and how hot they were.
I licked my lips while staring at his mouth. "You want to own me?"

He stopped stroking and rolled on top. Not surprising, he had a devilish smirk. "I already do. Just want to hear you say it."
I keep saying that, don't I? Well, it's true. I loved Piper.
"I'll leave while you two figure that out. Take all the time you want, by the way. Feel free to plan some dinners with just you guys or the three of us too. That could be fun."
There's a lot of drama here, and some of it I could have done without. Overall though, I really liked this book. The end was sweet and totally perfect. It's a great continuation to a fabulous series, but you don't need to have read the other books in order to appreciate what's going on here. Which is a whole lot of sexy! Girl Breaker is a fast paced, hot as hell story with fun characters that will leave you smiling and begging for more.
Report Card
Cover
Characters
Plot
Writing
Steam
Overall:
4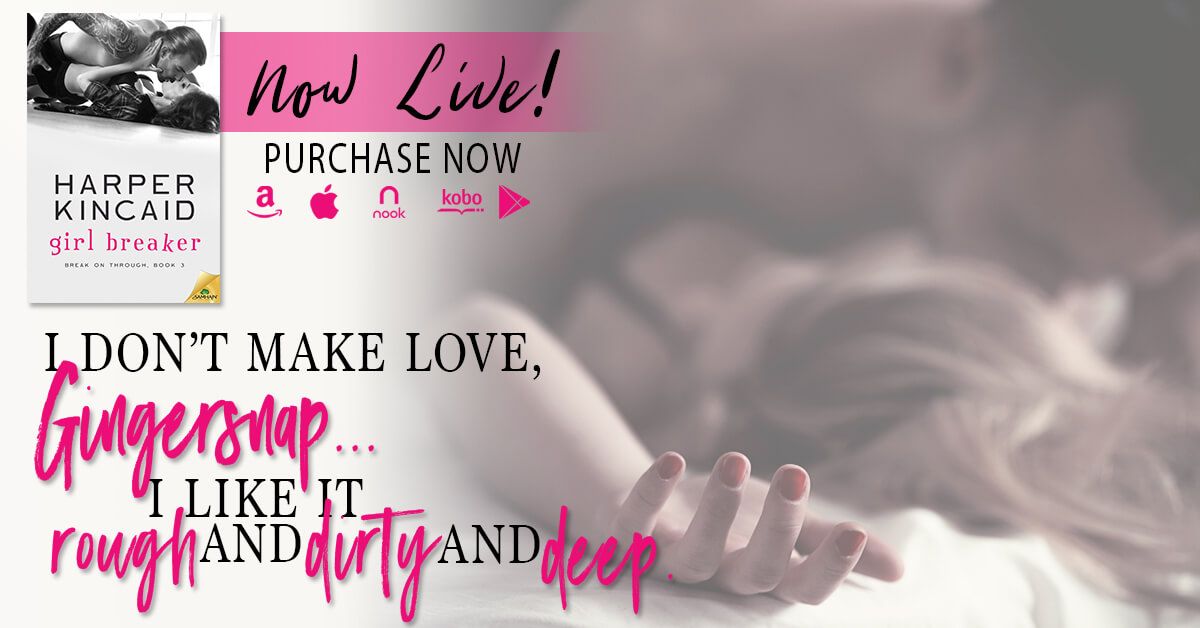 Related Posts