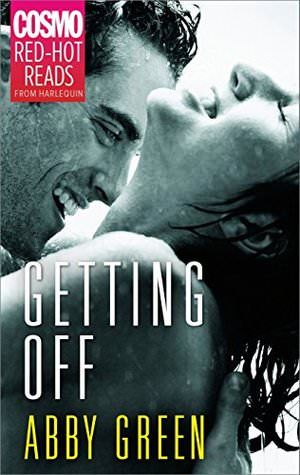 Getting Off
by
Abby Green
Published by
Cosmo Red Hot Reads
on August 12, 2014
Genres:
Contemporary Romance
Pages:
76
Goodreads
Buy the Book
Caitlin Ryan has never had an orgasm--and she wants one! So does she...

Date lots of Mr. Nice-but-Wrongs and keep faking and hoping?
Do a little DIY with a battery-operated friend and a lot of imagination?
Go to NYC and have a wild night with a totally hot stranger?

When (1) and (2) don't work, Caitlin goes for (3). But even with motorbike-riding sex god Liam, old habits die hard, and yet again she has to fake it. Only he notices--and is not happy! Could things get any worse? Well, yes, when Liam becomes her new boss. But when Caitlin reveals that she's never climaxed, Liam rises to the challenge, offering a weekend of hot sex with the only goal her pleasure. Will letting him take control work? Caitlin can't resist finding out....

Kassiah: You might think that Getting Off by Abby Green is just another standard one-night stand kinda story, but you'd be wrong. Sure, you're expecting steamy smexy times and a "relationship" that goes a bit deeper than just a random one-time hookup. And you get that.
That, and so much more.
Caitlin Ryan is no virgin, but she's never had an orgasm, not even the self-induced kind. So when she meets sexy tattooed Liam, she's not surprised when their night of passion fizzles out for her. But, he is.
"You could have fooled me, in fact you almost did. I'm not so arrogant to think I can make a woman come every time, but that's definitely the most convincing fake orgasm I've ever witnessed."

Not wanting to face her "issue," she sends him away, sort of hoping to never see him again. She runs into him when she's looking for a job, and he offers her one at his bar. They agree to not mix business with pleasure, but you know how that goes. They can't stay away from each other.

"You're the one who came in here. You kissed me.

…

His mouth twisted. "If I hadn't, the whole place would have exploded with the tension between us."

Both Caitlin and Liam are determined not to get involved. But how long can they hold out before giving in to the force that's pulling them together?

I liked this story and these characters, especially Liam. He was cocky and handsome, and he said "fecking." (Which reminds me it's time for a re-read of Volition.)

There were a few things I didn't like (the overuse of the word moist and the fact that her clitoris keeps "vibrating" comes to mind), but overall this was a fun story. It was hot, but had meaning. I really loved the characters and would definitely be down for more happenings at Sullivan's bar.

Report Card
Cover
Characters
Plot
Writing
Steam
Overall:
3.5

Related Posts