We Katee Robert so much and were thrilled when we were invited to participate in the tour for the first book in her new series, Foolproof Love. We've got a great excerpt to share with you today, along with a giveaway and our thoughts on the book. First, we got to chat with Katee about the things she needs in her writing space, and here's her Top Ten List:
***The Top 10 Things Katee Robert Needs In Her Writing Space***
My computer. I know some authors who either write longhand or dictate, but I'm old school and need the feeling of the keyboard beneath my fingers (for now. Eventually I'll figure out the dictation stuff)

Mug of coffee/tea. I don't know when it happened, but drinking hot coffee or hot tea really gets me in the mindset to put words to page.

Giant bottle of water. I have a plethora of beverages haha. But I have a giant bottle of water that I aim to refill three times a day to stay hydrated.

My planner. I actually have two! But I use them to track my time management and to ensure that I'm meeting my daily/weekly/monthly goals.

My phone. With some books, I use a word count tracking program app that I love dearly.

Pandora/iTunes. Whether I create my own playlist or craft one using Pandora depends on the book, but 99% of the time, I need music while I write.

Paper Mate Flair pens. I'm a huge planner nerd and so I was on the hunt for the perfect pens for months. These ones won by a landslide. I adore them!

Snacks. Yes, I realize nearly all this list is food/drink and planner supplies. I don't have a problem. Really!

Leggings. Okay, this might seem crazy, but I contort myself into some weird positions while writing and sweats or leggings are the most comfortable to wear. Plus, they're officially pants now!

Pinterest. I'm a very visual person, so I like to scroll through the pinterest pages I create for whatever book I'm working on between writing sprints. It really helps to get me in the right mode.
***About Katee Robert***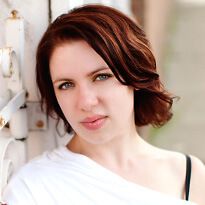 New York Times and USA TODAY bestselling author Katee Robert learned to tell her stories at her grandpa's knee. She found romance novels at age twelve and it changed her life. When not writing sexy contemporary and speculative fiction romance novels, she spends her time playing imaginary games with her wee ones, driving her husband batty with what-if questions, and planning for the inevitable zombie apocalypse.
Find Katee Here: Website | Facebook | Twitter | Goodreads
***About the Book***
Foolproof Love
by
Katee Robert
Also by this author:
Lovers Unmasked
,
Meeting His Match
,
Protecting Fate
,
Falling for His Best Friend
,
Forbidden Promises
Series:
Foolproof Love #1
Published by
Entangled: Brazen
on June 6, 2016
Genres:
Contemporary Romance
,
Erotica
,
Fake Relationship to More
,
Opposites Attract
,
Player Falls in Love
,
Small Town Romance
Character(s):
Cowboys
Pages:
164
Goodreads
Buy the Book
Bull rider Adam Meyer put Devil's Falls in his rearview mirror years ago and hasn't stopped running since. Now he's back—temporarily, if he has any say about it. Restless, he finds himself kissing the sexiest girl in town…and agreeing to be the fake boyfriend in her little revenge scheme.

Jules Rodrigez isn't interested in the role of town spinster. Being seen with a hell raiser like Adam is the perfect way to scandalize the residents, make her ex jealous, and prove she's a sexy, desirable woman. And if their plan includes ridiculously hot sex—in public, of course—all the better.

But this thing between them has an expiration date. Putting down roots isn't in Adam's blood, and Jules's roots in Devil's Falls are bedrock deep. He'll leave, even if it rips out his heart. But this time, he's not sure he'll survive it…
***EXCERPT***
"That's really sweet, Grant. It was great seeing you, but my boyfriend is waiting for me."
He frowned. "Boyfriend?"
"Oh, yeah, it's a new thing. We haven't exactly gone public with it—you know how Devil's Falls can be—so you wouldn't have heard." She gave him a pat on his arm. "It was nice seeing you. So great. Really, we'll have to catch up sometime soon." And then she stepped around him, dragging Aubry behind her.
"What are you doing?" Aubry whispered.
"Winging it." She stopped by the trio of men, all too aware of Grant watching her. "Hi, Daniel. Quinn. Adam." They raised their beers.
Keep Reading the Excerpt for Foolproof Love
Keep Reading the Excerpt for Foolproof Love
Daniel looked over her shoulder with a frown. "Is that your piece-of-shit ex-boyfriend I see?"
"The very one." She disentangled her arm from Aubry's. "Speaking of, I need a favor."
"Anything for you, kid."
She tried not to roll her eyes at him calling her kid. He was a whole seven years older than her. Not exactly ancient. "Actually, it's not you I need the favor from." Before she could talk herself out of it, she sidled up to Adam and put her arms around his neck. To his credit, he didn't shove her on her butt in the dirt, merely raising his eyebrows. Jules kept her voice low so there was no chance of Grant overhearing. "So as you've noticed, my ex is watching me really closely right now, and I might have told him a tiny white lie about me dating someone in order to avoid a devastating dose of humiliation. And since I can't date Daniel and no one would ever believe I'd date Quinn—"
The man in question frowned. "You really know how to hit a man where it hurts, Jules."
"—that leaves you."
Adam's face remained impassive. "I see."
There wasn't a whole lot to work with in those words, but he also had let his free hand drift down to settle on her hip, so she just kept talking. "If you could just play along and maybe kiss me like you want to do filthy things to me in the bed of your truck, I'd really appreciate it."
If anything, his eyebrows rose higher. "That guy really got under your skin, didn't he?"
"You have no idea." Next to them, Daniel made a sound suspiciously like a growl, but neither of them looked over. Adam's hand pulsed on her hip, the heat of it shocking despite the warmth of the night. His calluses dragged over the sensitive skin bared by her T-shirt, and she shivered. Maybe this was a terrible idea. She didn't have time to really reconsider, though, because he set down his beer, cupped the back of her neck, and dealt her the single most devastating kiss of her life.
No, not a kiss.
He took possession of her mouth, his tongue tracing the seam of her lips and then delving inside. He tasted of beer and something darker, something that hinted at exactly what she'd asked for—like he wanted to do filthy things to her in the bed of his truck. She closed her eyes, giving his tongue a tentative stroke, and had to fight down a moan at the way the move made her entire body go tight. More.
He lifted his head, breaking the kiss and slamming her back into the real world. She blinked up at him, all too aware of her body pressed against the entirety of his, of how he was hard in all the places she was soft, of how goddamn good he smelled. "Wow."
There went that eyebrow again. "You think it was believable?"
***Our Thoughts***
Kassiah:
You can't go wrong with Katee Robert. She always writes interesting stories with hot guys you'll swoon for.
Foolproof Love
is the first in her brand new
Foolproof Love
series, and I for one am thrilled about this series.
Jules is trying to get back at her ex and what better way than hooking up with former-resident bad boy hottie Adam Meyer? All it takes is one hot kiss and both of them are hooked. They can't keep their hands off of each other, even if it started out just for show. Can their relationship turn into something more when Adam isn't staying in town, and Jules has no plans of leaving?
Fake relationships to more are some of my favorites, and this one is electrifying. Jules and Adam are hot hot hot. I love that they both knew early on that what they had going on (and boy, did they have it going on) was more than either of them expected. I could go on and on about how much I loved Adam, from his dirty talk to his devil may care attitude. Together, this couple is one of my faves, and I hope we get to see more of them in the rest of the series.
The pacing of the story was perfect, the steam was crazy-hot, and the characters are realistic and endearing. Whatever you're doing right now, take a break and read Foolproof Love–you'll seriously missing out if you don't.
Report Card
Cover
Characters
Plot
Writing
Steam
Overall:
4.5
***GIVEAWAY***
Win a $25 Amazon Gift Card
a Rafflecopter giveaway
Good luck and don't forget to check out the other stops on the blog tour for Foolproof Love by Katee Robert!
Related Posts