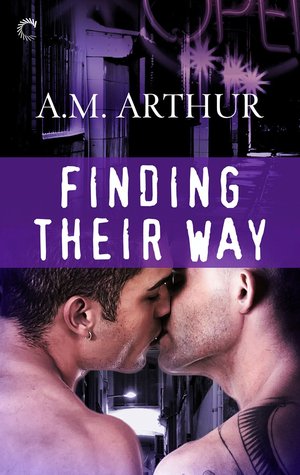 Finding Their Way
by
A.M. Arthur
Also by this author:
Getting It Right
,
Steady Stroke
Series:
Restoration #2
Also in this series:
Getting It Right
Published by
Carina Press
on July 20, 2015
Genres:
Contemporary Romance
,
M/M Romance
Pages:
251
Goodreads
Buy the Book
Thanks to an abusive father and a string of bad relationships, Riley McCage learned the hard way that people are not kind without a reason. Now, after landing a job at popular gay bar Pot O Gold, Riley is on the right track--until the night Boxer finds him drunk and drugged in the back room of an exclusive sex party.

Donald "Boxer" Boxwood wasn't looking for anything beyond some casual kink until he peeled Riley off the floor and gave him a safe place to stay. But there's something compelling about the guy crashing on his couch, and the two forge an instant friendship that eases into unmistakable attraction. Despite Riley's hesitancy, Boxer knows one thing to be true: he needs Riley in his life.

Riley risked everything to run away and build a new life for himself, and his secrets aren't something he'd ever wish upon his kind, gentle new friend. But when the past comes to call, he'll have no choice but to put his trust in Boxer…and believe people can change enough to deserve a second chance.

Erin: Do you have an author whose book releases you mark down on the calendar and check off each day as you get closer? I think we all have a few of those and for me, A.M. Arthur is one such author. Her new book, Finding Their Way, is book 2 of her Restoration Series, but this one can be read as a standalone (though I would recommend book 1 because you'll love James and Nathan!) It's got a little bit everything A.M. Arthur is so good at: well-developed characters, strong writing, and enough sexy times to keep things hot and steamy.
In this book we meet Donald "Boxer" Boxwood, a big bear of a guy with a heart of gold, and Riley, a guy running from his past and looking for someone to love him. Though they've seen each other around, especially in the bar Pot O' Gold where Riley bartends, their first face to face meeting gets off to a very rocky start. From the blurb you can tell that it's definitely not ideal, but don't let the mention of kink throw you off … this story is much more than that.
What I really liked about both these guys was how their relationship develops slowly, starting off as tentative friends then moving to something deeper.
He bit at his lower lip. "So this thing between us is, like, a real relationship. We're doing this."

"Only if you want it."

"Do you?"

"More than I've ever wanted anything. And that's the truth."

Riley's face lit up. "I want it, too." That beautiful smile dimmed. "Part of me is terrified this is too good to be true. I felt the same way about Brett from the beginning, that someone so beautiful couldn't have chosen me."

"I'm not Brett. I don't have any hidden agendas here, I swear. I accept your limits, and I will never guilt or coerce you into something you don't want to do. I promise you that on my life, Riley. You are the guy I've been looking for, and you were right under my nose for years. I want to be with you. I want to do this right. I want to find our way together."
Riley's past haunts him; he's constantly on guard and looking over his shoulder for what he feels is a good reason. Boxer is a guy anyone would love to call a friend—kind, loyal, willing to help in any way he can. Big, bald, and covered in tattoos, he for sure gives off a bad ass vibe, but beneath all that is a guy who is sweet and caring. How can you not love that? I wasn't really a fan of all the cliché's Arthur used in Finding Their Way: the big, buff dude aching to bottom, the abused kid with a homophobic and alcoholic father, a dog that brings both guys together, but even though the plot is fairly predictable and unoriginal, all the pieces together worked and made for a very enjoyable read.
If you like sweet, hot guys, mixed with some drama and a cute dog thrown in for good measure, check out Finding Their Way … You won't be sorry!
Report Card
Cover
Characters
Plot
Writing
Steam
Overall:
3.5
Related Posts