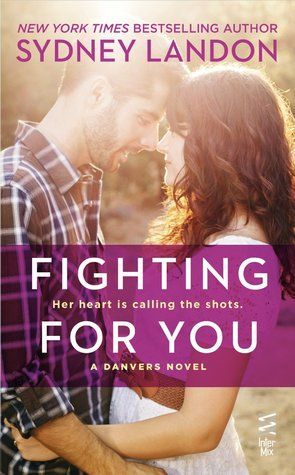 Fighting for You
by
Sydney Landon
Series:
Danvers #4
Published by
InterMix
on October 15, 2013
Genres:
Contemporary Romance
Pages:
304
Goodreads
Buy the Book
Ella Webber has spent years uncomfortable around the opposite sex...

But as soon as she meets handsome Declan Stone, she is smitten. Quickly they become friends, finding frequent reasons to see each other around the office, and Ella longs for even more. So-with a little help from her friends-Ella resorts to performing a little seduction. One that Declan will never be able to resist.

Burdened by emotional baggage from his time in the army, Declan refuses to believe he's the right man for sweet Ella. Even if she makes him long for normal things, like marriage and family....But in his attempts to close off his heart from her love, could he have underestimated Ella's powers of persuasion?

Kassiah: I hated this book.
It's shocking to me because I love this storyline. Innocent, almost-spinster girl and the bad-boy no one ever thought would settle down? Sign me up! Right? Not this time.
Right from the first sentence, I didn't like the main character, Ella.
"I need to have sex–or look like I've had it–and you have to help me do it."
Ella has had a thing for former military man Declan Stone and thinks that he doesn't want her because she's a sweet, innocent virgin. Her idea to fix that? Find someone to have sex with so he can see her as a woman with experience.
That thought process might be okay if this girl were a teenager. But she's twenty-eight years old. Ella's friends decide that she should sign up for a dating service to make Declan notice her. When he finds out what she's up to, he decides to check up on her. He's determined that he can't have her because he's no good for her, but he doesn't want her to get hurt.
"You're a sweet, innocent girl. those types of men will just try to take advantage of that. You need to cancel or whatever the hell you do to stop it."

Startled, Ella put her hand on his chest and looked up into his handsome face. "No, Declan, I can't. I'll be careful, but I have to keep dating."

"I said stop," Declan snapped. "If you're that desperate for a date, just let nature take its course.

You don't need a dating agency. I mean it, Ella, cancel–or whatever you need to do–now."

Ella shook her head, looking down at her hand on his chest. "I can't stop."

Visibly frustrated, Declan shook her lightly and asked, "Why? I don't get this."

Still unable to avoid answering a direct question, Ella admitted, "I can't stop because if I do, I will never have you."
He decides to "do her a favor" and have sex with her, but he wants to take it slow. Of course, even though he's up front with not wanting to be in a relationship, Ella wonders if it will be enough.
If by some miracle she was able to start a relationship with Declan, would it be enough? Would she be satisfied by the type of flame that had burned through them for those brief moments or would she eventually want more from him and their future?
Pretty much immediately after they start spending time together, she wonders where their future is going.
He was actually making jokes. He seemed almost happy. Could he need her as much as she needed him? What he was offering her went against everything she had been raised to believe. He was as good as promising her that there would be no future for them. Had she waited for Mr. Right for this long only to settle for Mr. Right-now? If the only feelings between them were physical, why was she so drawn to him? Was she strong enough to battle his demons and save the man underneath it all?
Ella isn't happy with the rate their relationship is progressing and questions if something is wrong with her. She basically manipulates him until he gives in and has sex with her. I mean, how dare he want to take things slow and spend time with her and take her out on dates before he fucks her. What a jerk!
With that being said, I would have thought I'd like Declan, but he was barely okay. He's a sexy military guy covered in tattoos. He also says stuff like this:
"Baby, I know you think you do, but it's just a big case of lust. If any man kissed you the way I just did, you would want him too. It's basic hormones and you don't have much experience controlling them yet."
He's overbearing and condescending. He covers her up twice when he thinks she's showing too much skin. Not to be too spoilery, he buys them a house without consulting her. And he seemed to be lusting after Gray's wife, Suzy, mentioning on at least two occasions how hot she was.
I liked Ella even less than I liked him. She was a whiny, immature brat. Instead of signing up for the dating service to "get out there" and meet someone else since she doesn't think Declan has any interest in her, she only does it to manipulate him into wanting her.
"I just wish that Declan would ask me out already. I don't really want to date anyone else. I want to be with him."
I felt like Landon insulted my intelligence with this character. She's clumsy to the point of ridiculousness, and she blurts out things like, "I'm a huge meat eater!" I'm sorry, but no one twenty-eight years old ever inadvertently says that. Ever. And her reaction after they finally have sex?
"It was uncomfortable at first, but then it was awesome! Since I'm a real woman now and all that, I think we should order a pizza to celebrate…"
Like, OMG totally and stuff. *rolls eyes*
There are other things that I thought were absurd. Both of Ella's parents and her sister show up in her room and find Ella and Declan in bed together (asleep). Her mother had a key for emergencies, and when Ella didn't answer the door, she used it to enter the apartment, which is understandable. But would all three of them rush into the bedroom to find out where Ella was? There were no "weird noises" or anything like that. It was just another forced scene in a book filled with other ludicrous situations.
I hated her friends; I hated the way his friends stood around gossiping like a bunch of girls; I hated that they equated Beth being pregnant to being too "big" to want to take wedding pictures. Don't even get me started on the crazy turn the story takes and the reactions of the people involved. I don't want to tell you what happens, but it comes out of left field and seems forced. And the end? Who are these characters? Declan and Ella seem to be completely different people.
I should probably let you know that I haven't read any of the other books in the Danvers Series. I felt like Fighting for You stood on its own, and I never felt "out of the loop" with anything going on. Luckily, fans of Jason and Claire will get some swoon, in the one thing I liked in this book:
"If I hadn't been your assistant, we might have never met."

Jason stroked the curve of his wife's beautiful face and said, "I'd have found you, never doubt that.

It would just have taken longer."
There will be more to this series, I'm sure, in the form of bitchy, incompetent Emma and her boss, Brandt. I won't be reading it, that's for sure.
Report Card
Cover
Characters
Plot
Writing
Steam
Overall:
1
Related Posts