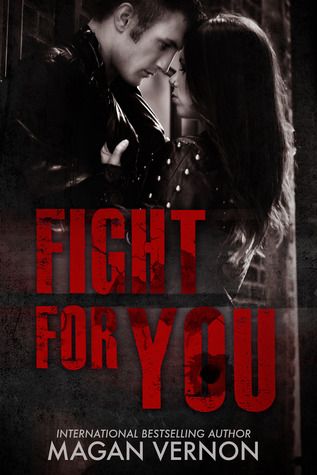 Fight for You
by
Magan Vernon
Also by this author:
Edge of Glory
Published by
Self-Published
on April 11, 2014
Genres:
New Adult
Pages:
243
Goodreads
Buy the Book
A mafia prince who doesn't want the crown.
A girl who has secrets of her own.
One love that they'll both have to fight for.

Nicky Ragusa lives his life inside the cage, circuiting the underground ring to escape his fate as the mafia prince. When Jackie Marks crashes into his life, he'll take the fight outside the cage.

But the battle for Jackie's heart comes with a steep price. Nicky's father has wanted him to take over the family business for years, and the time for running is over. Now Nicky is right where his father has always wanted him: in the middle of a war.

All Nicky has ever wanted to do was fight. Now all he has to do is fight for her.

Kassiah: I love Magan Vernon and I love New Adult. I love stories with mafia guys and bad boys and fighters. So I thought this would be a match made in Heaven.
Sadly, not so much.
Nicky Ragusa's the heir apparent to his family's mafia empire, but all he wants to do is fight. He sees Jackie Marks and is instantly head over heels for the sassy and independent girl who's unlike anyone he's ever met. Trouble is, her ex is a known member of a rival gang, and he's not ready to give her up. Nicky isn't going to let someone so unimportant stop him from getting who he wants, but is he ready to pay the price for starting a war?
"You started this war, Ragusa. Now it's time to own up to it."
I liked the idea for this story. Reluctant mafia prince falls in a forbidden romance? Yes, please. Unfortunately, I didn't feel like I connected to the characters at all. I'm all for love at first sight, but with Nicky and Jackie, I didn't feel like I knew them well enough to root for them to be together. Their reactions surprise me and barely make sense. Nicky does some things that I would think Jackie would consider unforgivable for Jackie, but she just brushes them off. Likewise, things that I would have thought wouldn't have been a big deal were blown up.
There are other things I didn't like. I didn't feel like the mafia elements were very realistic, either. I don't want to be too spoilery and let you know how things went down between Nicky and Jackie's ex, but suffice it to say it surprised me. Also, Nicky and Jackie have sex without a condom. She tells him she's on the pill, but so? She's obviously been with someone else very recently, and he was a known cheater, so I don't know. Ew.
With the insta-love, lack of character and story development, and unrealistic plot devices, I say skip this one.
Report Card
Cover
Characters
Plot
Writing
Steam
Overall:
2
Related Posts