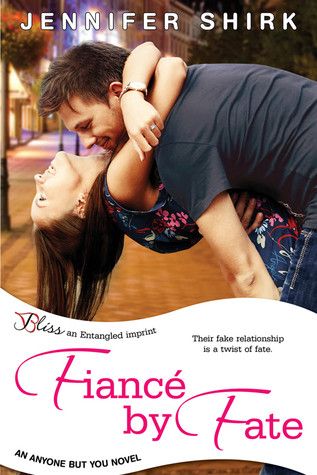 Fiancé by Fate
by
Jennifer Shirk
Also by this author:
A Little Bit Cupid
Series:
Anyone But You #1
Published by
Entangled: Bliss
on April 14, 2014
Genres:
Contemporary Romance
Pages:
242
Goodreads
Buy the Book
Their fake relationship is a twist of fate.

Sabrina Cassidy believes in fate. So when her fiancé breaks off their engagement, she's convinced they'll get back together eventually. But fate was not on her side when it brought Jack Brenner into her life—and work. Frustrating, gorgeous, and cocky, Jack has an offer that Sabrina can't refuse. Not if it means getting the life she's always imagined.

Despite being one of the town's most eligible bachelors, Jack has a reputation that's working against him. He has to convince his father—and his company's board—that he's ready to settle down if he wants a promotion. But convincing Sabrina to be his fake girlfriend turns out to be the easiest part. What he didn't count on was their intense attraction and how easily their lie would escalate. Sabrina's still hung up on her ex, and Jack will never settle down. But fate has other ideas…
Kassiah: This was a fun, quick read with a storyline that I really enjoy. Sabrina Cassidy resented the boss's son, Jack Brenner, for his brash attitude and the nepotism she thinks was responsible for his job. Her life is on the brink of being in shambles: she's on a break with with her fiance because he needs to "be sure" about their relationship and she's just been informed that she has to work with Jack.
Jack Brenner's a playboy who has had his mind on work work work (and women 🙂 ). He's shocked when he finds out that he might be passed over for a promotion he thought he had in the bag because the board thinks he has questionable morals. His solution: find a girl and settle down–temporarily–until he can prove that the job should be his. He asks Sabrina to join in on his ruse, and then…you know what happens.
This was a cute story, with likable characters and just the right amount of steam for a Bliss title. Sabrina was too naive for being in the position she was in in the business world, but I loved the build-up of their relationship. I'm looking forward to reading more in this series.
Report Card
Cover
Characters
Plot
Writing
Steam
Overall:
3.5
***About Jennifer Shirk***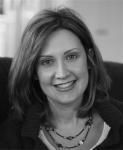 Jennifer Shirk has a bachelor degree in pharmacy-which has in NO WAY at all helped her with her writing career. But she likes to point it out, since it shows romantic-at-hearts come in all shapes, sizes, and mind-numbing educations.
She writes sweet romances (some even funny!) and won third place in the RWA 2006 NYC's Kathryn Hayes Love and Laughter Contest with her first book, The Role of a Lifetime. Recently, her novel Sunny Days for Sam won the 2013 Golden Quill Published Authors Contest for Best Traditional Romance.
Find Jennifer Here: Website | Facebook | Twitter | Goodreads
***GIVEAWAY***
Fiancé by Fate Gift Basket
a Rafflecopter giveaway
Good luck!
Related Posts