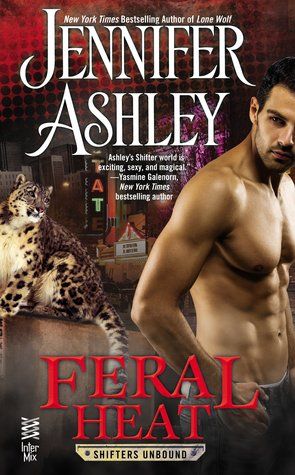 Feral Heat
by
Jennifer Ashley
Also by this author:
Wild Wolf
,
Scandal and the Duchess
,
The Scandalous Mackenzies
Series:
Shifters Unbound #5.5
Also in this series:
Wild Wolf
Published by
InterMix
on March 18, 2014
Genres:
Fantasy
,
Paranormal Romance
Pages:
153
Goodreads
Buy the Book
From the author of Lone Wolf comes a paranormal romance about two lovers torn between ecstasy and savagery…

Jace Warden is sent to the Shiftertown in Austin to find a way to free all Shifters from their Collars. But pulling off the Collars can cause Shifters to go mad or kill them outright.

In Austin, Jace meets Deni Rowe, a wolf Shifter with troubles of her own—she was deliberately run down in the road, and while her body has healed, she still has episodes of total memory loss during which she retreats into her pure animal self.

Jace has never met anyone like Deni. Courageous and beautiful, she volunteers to help him test the Collar removal. And as Deni and Jace work together, they feel the mate bond begin. But can Jace help Deni believe she can heal enough to be anyone's true mate?

Betsy: I was not familiar with this series, Shifters Unbound, so Feral Heat, book 5.5 in the series is my first read in this shifter world. It is a novella and a quick, easy and hot read. It is written in such a way that you get the gist of the world that Ashley began creating with the first book. I am sure that reading from the beginning would enhance the experience though.
We are introduced to Jace Warden, a snow leopard shifter (the big cat imagery totally works), who has come to a different Shiftertown to participate in an experiment to remove the collar that all shifters are required to wear. Humans imposed the collars in an attempt to curb the feral instincts of shifters, thus making them safer to live in the human world. It acts like a shock collar when shifters show signs of extreme emotional excitement that might lead to a shift.
Jace's entry into this new Shiftertown is at their version of Fight Club where shifters meet gladiator-style to blow off steam. He meets Deni, a wolf shifter, who has a traumatic past that has left her uncertain about her ability to maintain control over her feral side. They connect very powerfully during and after a fight. And, oh baby, is it powerful and steamy and gritty. There is mention of the beginning of a mate bond, which is problematic due to the fact that they are not the same type of shifter. This is one of those elements where I needed more information, but it wasn't off-putting. Just made me want to read earlier books to understand how this would work.
The romance is fraught with peril. The Shifter police are on the prowl and shifters must keep their unauthorized activities to the shadows. The fact that Jace is in this Shiftertown without permission is dangerous to everyone, not to mention the illegal efforts to remove his collar. Jace and Deni have to fight for the right to be together and it is a rough ride. Their struggle makes the resolution very satisfying.
The world building is quite interesting, a mix of shifter and Fae mythos. I will definitely be reading more from the beginning of the series to get some of the details that I missed in this one. The only complaint I had was that I wanted more. This was a big story with a lot of elements that felt bit confined in the novella format with the ending feeling slightly rushed. Overall, I really enjoyed it and it was very, very steamy.
Report Card
Cover
Characters
Plot
Writing
Steam
Overall:
3.5
Related Posts