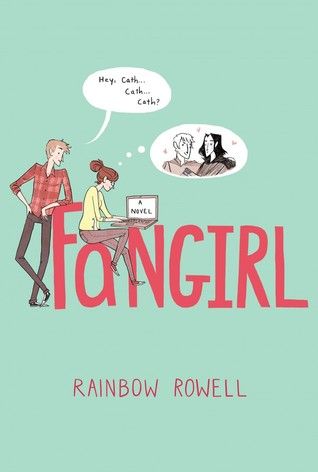 Fangirl
by
Rainbow Rowell
Also by this author:
Landline
Published by
St. Martin's Press
on September 10, 2013
Genres:
New Adult
,
Young Adult
Pages:
433
Goodreads
Buy the Book
A coming-of-age tale of fan fiction, family and first love.

Cath is a Simon Snow fan.

Okay, the whole world is a Simon Snow fan . . .

But for Cath, being a fan is her life — and she's really good at it. She and her twin sister, Wren, ensconced themselves in the Simon Snow series when they were just kids; it's what got them through their mother leaving.

Reading. Rereading. Hanging out in Simon Snow forums, writing Simon Snow fan fiction, dressing up like the characters for every movie premiere.

Cath's sister has mostly grown away from fandom, but Cath can't let go. She doesn't want to.

Now that they're going to college, Wren has told Cath she doesn't want to be roommates. Cath is on her own, completely outside of her comfort zone. She's got a surly roommate with a charming, always-around boyfriend, a fiction-writing professor who thinks fan fiction is the end of the civilized world, a handsome classmate who only wants to talk about words . . . And she can't stop worrying about her dad, who's loving and fragile and has never really been alone.

For Cath, the question is: Can she do this?

Can she make it without Wren holding her hand? Is she ready to start living her own life? Writing her own stories?

And does she even want to move on if it means leaving Simon Snow behind?

MsKathy: Buckle in, kids, this is probably going to be the longest review I've written.
I am not a huge re-reader of books; I figure why revisit characters I've already loved (or loved to hate) when I can find new, shiny ones to play with. Having said that, Fangirl is the second of Ms. Rowell's books that I know I will re-read (Attachments was the first book of hers I completed and will definitely re-read.).
I have about a million highlighted quotes, but something to note is that they don't begin until about 6% into things. For me, the beginning was a little slow. Perhaps this is because I didn't have the college experience — I never lived in a dorm, I never had to learn to make friends in that kind of scary/overwhelming/intimidating environment, and so there wasn't a ton for me to relate to. However, the first quote I flagged was this gem:
Wren smiled wistfully and smoothed her long bangs across her forehead. "Drinking tequila is more about the journey than the destination…."
Tequila? That I can relate to.
I was worried I wouldn't love this book like I've seen others LOVE it. Honestly, I kept going mostly for Reagan, who is so snarky that I totally want to make out with her. A lot. And she just gets better and better as the book goes on.
But then, I found myself really loving Cath, too. In a sisterly way, mind you, but I loved her. I wanted to know where this crazy journey in her freshman year would take her. And her twin, Wren, was on such a different path, gone for large chunks of the book, and I found myself worrying for her like Cath did.
This is to say nothing of their father, Art, or their mother, Laura.
See, the thing about this book is? It's like a fucking onion. You peel back a layer, and there are ten more behind it. And they might make you cry, but once this onion is sautéed up and sweet, you want nothing but to devour it again and again. Worst analogy ever? Perhaps. I apologize, Ms. Rowell.
I could fill this entire review with just Reagan quotes, but here are some of my favorites (at 8%):
"I'm on drugs," Reagan said. "They're a beautiful thing."
One of the things I desperately loved in this was Cath's unflinching honesty about herself. She's fucked up on the inside. She tries (mostly successfully) to hide it from everyone, but she doesn't lie to herself very much about it. There are other things that I don't want to spoil, but I deeply appreciated the way Ms. Rowell handled mental illness and the everyday struggles of life. It's not sugarcoated, nor is it heavy-handed; it felt real, and I fucking love that realness that just breaks every piece of your heart. When done wrong, it's a mess, but oh, this novel handled them perfectly.
I also feel like a caveat belongs in here about Rowell's writing style in general — she doesn't tie things up with a pretty red bow; if you require that in a book, simply don't dive in. This is the third book by Rowell that I've devoured, and none ended cleanly. I almost feel like this book was an expanded explanation for that. If you read the way she describes fan fiction, never patronizing or looking down on it (in fact, she seems to have a lot of admiration for it), I really can see how she's the kind of author fanfic writers must adore. She creates these lush, well fleshed out characters, and then lets you decide where they go. These are books I've heard described as "happily for now" instead of "happily ever after," and after each one, my mind weaves the rest of the story and itches to write for them. What a treasure books like this are, that leave you craving more instead of filling you with the desire to throw your Kindle because the author just loves to hear the sound of their own fingers on the keyboard so much that they've drawn out what should have been a novel or two into six.
At 9%, two more Reagan gems:
"What the fuck is 'the fandom'?"
and
"I don't want to be your friend," Cath said as sternly as she could. "I like that we're not friends."

"Me, too," Reagan said. "I'm sorry you ruined it by being so pathetic."
Obviously, you have to read to get the context and framework, and to understand that Reagan probably doesn't actually think Cath is pathetic (layers, people… layers. There's so much else going on in the background!), but this was probably the first time I laughed out loud. It certainly wasn't the last, though.
I can't believe I haven't even talked about Nick and Levi yet.
At 10% in, we get this line from Levi, which I find so, so relatable:
"Really," he said, still smiling. "Someday you'll need health insurance, and you won't think working at Starbucks is funny."
Preach it, Levi. Also, I love you. Let's make out. After you wash your hair.
There were some interesting (ahem) pointed comments about selling fanfic that made my lips quirk. I genuinely loved the way Cath described why she wrote fanfic, and also, her struggle to transition into writing original fiction. Also, the way Cath feels shame and embarrassment at writing fanfic resonated with me. At 29%, after Levi asks Cath to read her fanfic to him:
Did the bearded lady get excited when cute guys came to her freak show?
Oh, Nick. Oh, Levi.
I was never a Nick girl, if we're being honest. I'm not sure if I picked up on some subtleties or if I just am not into dudes in fancy scarves, but I never wanted Cath to spend time with him. The way they spent time around each other, Cath completely uncertain what the definition of that time was, felt so real and perfect to me. I was fascinated by how their friendship/relationship unfolded, and that's all I'll say on that, to avoid spoiling.
Levi, Levi, Levi. I love you. I know I said it already, but it needs to be repeated. At 41%:
She relaxed her shoulders and felt warm flannel against the back of her neck.
Levi, you make me want to find a Starbucks working farm boy that wears flannel and doesn't wash his hair. Wait, I take back that last part; the rest stands. *sigh*
Before you think Levi is perfect, please allow me to burst that bubble; he's flawed. He makes mistakes. He does things in a way that made me want to shake him, but guess what? That's realistic.
"He still likes you best," Cath said, trying not to whimper.
"Don't be an idiot, Cather." Reagan's voice was serrated. "I mean, I know that you are. About this. But try not to be an idiot right this moment."
I love the way Rowell writes, and my envy knows no bounds. Reagan's voice being described as serrated was so perfect in this intense moment between the two women that I want to rest my pen forever. The story is full of descriptions like this, the kind that make you realize you'll buy every book, read every word (even when you sometimes are a skimmer more than a reader), and fall in love with everything a writer will ever give you.
At 42% in, I had another laughing spell so loud, I was worried I'd wake up my whole house.
"You're never going to find a guy who's exactly like you — first of all, because that guy never leaves his dorm room…."
Brutal truth, Reagan.
Seriously, I'm not even halfway through my flagged notes and this review is already too long. One last gem, from Wren this time, at 57%:
"He must mean the house phone," Wren said.

"Who calls the house phone?"

"Probably 2005. I think it wants its shirt back."
When I love a book, I avoid finishing it. For me, it's a way to prolong their presence in my life (well, when I'm not writing fanfic about them), and extend the joy they bring me. I found myself constantly checking to see where I was in Fangirl, because I could feel the end getting closer, and I already guessed it wouldn't be a clean ending. I wanted nothing more than to re-read it as soon as I finished, and yes, I swore out loud when I got to the end, simply because it was over. I may have made an extended strangled noise of frustration, and cried. I mean, maybe. Probably.
Then, of course, my mind began spinning on the missing scenes. And the way Levi kisses. And well, just, gah. At 41%:
Levi's kisses were all taking. Like he was drawing something out of her with soft little jabs of his chin.
The intense simmer in this book is … intense.
I flagged a Twilight jab/quote that made me laugh, and I hope you catch it when you read it. Speaking of, I feel like it's worth mentioning that most of the passages of Simon Snow, either quotes from the source material or from Cath & Wren's fanfic, I skimmed. It's not that they aren't well-written, they just weren't my thing.
One of the things I love most about this book is that it tackles tough topics in subtle and respectful ways. There are sister issues, friend issues, relationship issues, parent/child issues, and they aren't all pretty. In fact, most are heart-wrenching and real. Ms. Rowell isn't afraid to have characters that you absolutely don't love, and might flat out hate (I'm not going to spoil and tell you who I disliked, but there was more than one), which is something I admire and struggle with as an author. I'm too much of a pussy to introduce truly awful characters, but that's what makes this so real and authentic — bad people exist in life. Sometimes they are very close to us. Sometimes we're hurt by them and we have to recover and it isn't easily done, or ever really complete.
Life is messy, and resolution to life's issues isn't handled completely or realistically in a 30-minute sitcom or a single novel. We struggle, we continue to fuck up, we continue to find love and lose love and get hurt and have moments of joy. I appreciate that Rowell doesn't try to wrap these characters up in perfect endings, because it would feel like such a betrayal to these beautiful people who now can exist in our thoughts.
Thank you, Ms. Rowell, for the lifelong gift of sharing these people from your head, who I will hopefully always wonder and think about, who are complex and deep and complicated and flawed and so much more than flat words on a page.
Related Posts