You already know that Katee Robert is one of our faves, so we jumped at the chance to join the blog tour for her latest title, Falling for His Best Friend. We've got an excerpt to share with you, along with our thoughts on the book. First, here's the 411 on Falling for His Best Friend by Katee Robert:
***About the Book***
Falling for His Best Friend
by
Katee Robert
Also by this author:
Lovers Unmasked
,
Meeting His Match
,
Protecting Fate
,
Foolproof Love
,
Forbidden Promises
Series:
Out of Uniform #2
Published by
Entangled: Brazen
on May 19, 2015
Genres:
Contemporary Romance
,
Erotica
,
Friends to More
,
Opposites Attract
,
Player Falls in Love
Character(s):
Police Officers/Sherriffs
Pages:
221
Goodreads
Buy the Book
Avery Yeung's biological clock just went off early. Thanks to her family's medical history, she's running out of time to get knocked up. And the only guy within donating distance? Her overprotective—and irritatingly hot—best friend. So clearly she needs an anonymous donor…

Anonymous donor? Over Sheriff Drew Flannery's dead body. While daddyhood will never be in the cards for a man with his past, Drew won't let Avery shop for a "popsicle pop." He'll do what's right for his best friend by doing his best friend. But only if they do it properly.

But there's nothing "proper" about it. Between the bed, the kitchen counter, and against his squad car, Avery and Drew are having the hottest sex ever. They can't get enough of it—or each other. And without knowing it, they've crossed the one line that could ruin their friendship forever…
***EXCERPT***
Drew Flannery was kissing her. No. Kissing wasn't a strong enough word for what he was doing. He claimed her lips, tongue thrusting into her mouth as if it had every right to be there.
God help her, but Avery wasn't sure it didn't.
She melted against him, her hands going to his chest and touching him in a way she'd never dreamed would be reality. He was so hard and warm and, oh lord, his hands gripped her hips, jerking her tighter against him and eliminating what tiny space there'd been to begin with. But he wasn't
done. Drew pulled her shirt off in a swift move that barely broke their kiss.
He nipped her bottom lip, sending zings through her entire body. His hands were everywhere—her back to unhook her bra, down her spine, grabbing her ass and grinding her against him.
"Avery," he groaned against her mouth. "Holy shit."
Holy shit is right.
***About Katee Robert***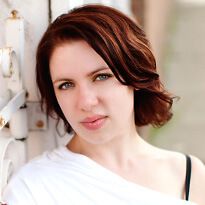 New York Times and USA TODAY bestselling author Katee Robert learned to tell her stories at her grandpa's knee. She found romance novels at age twelve and it changed her life. When not writing sexy contemporary and speculative fiction romance novels, she spends her time playing imaginary games with her wee ones, driving her husband batty with what-if questions, and planning for the inevitable zombie apocalypse.
Find Katee Here: Website | Facebook | Twitter | Goodreads
***Our Thoughts***
Kassiah: What can I even say about this book? It's hot. It's sexy. It's so. much. fun!
Avery's biological clock is ticking, and she desperately wants a baby. She's totally single, so she decides to do it on her own. Her best friend, Drew, isn't having it. He agrees to father her child, and you know what happens next. Lots of hot sex.
This story was a fast, hot read. This is one of my favorite tropes, and I liked Avery and Drew and thought they were great together. I did think they didn't really think this through and felt like I needed more at the end. One thing's for sure–Katee Robert serves up hot stories that feature relatable characters and fun storylines. You can't go wrong with anything she writes, and I really think you'll enjoy Falling for His Best Friend.
Report Card
Cover
Characters
Plot
Writing
Steam
Overall:
3.5
***GIVEAWAY***
Enter to Win a $30 Gift Card to Amazon or Barnes and Noble!
a Rafflecopter giveaway
Good luck and don't forget to check out the other stops on the blog tour for Falling for His Best Friend by Katee Robert!
Related Posts