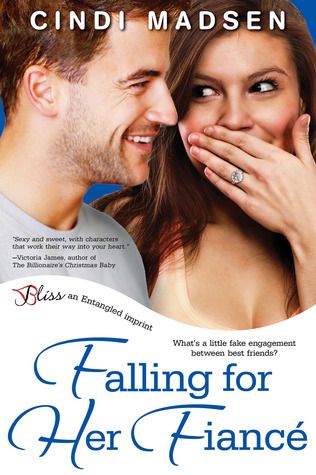 Falling for Her Fiancé
by
Cindi Madsen
Also by this author:
Cinderella Screwed Me Over
,
Resisting the Hero
,
Ready to Wed
,
Second Chance Ranch
,
Getting Lucky Number Seven
,
Anatomy of a Player
,
The Bad Boy's Baby
Series:
Accidentally in Love #1
Also in this series:
Resisting the Hero
on January 12, 2013
Pages:
156
Goodreads
Buy the Book
Danielle and Wes have been best friends since college, so when Wes needs a date for his sister's wedding and Dani needs a partner for her company's retreat, they devise the perfect plan: a fake engagement to get through both events unscathed. Adrenaline-junkie Wes can prove to both his ex and his family that he's well and truly moved on, and serious-minded Dani can prove to her boss that she's worthy of the promotion he seems to only want to give to a family-oriented employee.

But amid the fake swoons, fake kisses, and forced proximity, neither expects the very real feelings that develop. There's nothing more dangerous than falling for your best friend…but what if the landing is worth the fall?

Kassiah: I love best friends to more stories, and I've already read and loved read Cindi Madsen's YA book, All the Broken Pieces,so I jumped at the chance for us to be part of the tour for Falling for Her Fiancé (back in the day 🙂 ).
Dani's on her way to climbing the corporate ladder and needs a date for a company retreat when best friend Wes calls her, lamenting the fact that his sister asked his ex-fiancée to be a bridesmaid in her upcoming wedding. Dani and Wes decide to kill two birds with one stone–she can attend the wedding with him and get his family off his back, and he can go to the corporate retreat with him and allow her to participate in all of the couples' activities there. Seems like a perfect, foolproof plan, right?
"So like I was saying…Danielle two-middle-names Vega, will you do me the honor of pretending you're going to marry me?"
Wes and Dani had been close since meeting in college freshman year. Their friends and families often wondered if there was something more. There wasn't anything romantic going on with them, though.
Over the phone they always joked around, but having her here in person was a hundred times better. If there had been any romantic chemistry between them at all, he'd propose for real, just so they wouldn't have to live so far apart anymore.

His mind flashed to the image of her riding that bull, moving against it. He'd been unable to look away the entire forty-nine seconds, his heart pounding in his chest like it was about to explode, thinking about things he so shouldn't be thinking about. Suppress that image, Turner. Never happening.

While there was no denying it'd been much hotter watching his best friend ride that bull than he'd expected, there was a difference between attraction and romantic chemistry. And as he and Dani had learned one hazy mistake of a night, that was a line they were better off staying far, far away from.
Things get complicated when they kiss in front of his family. It starts the spark that leads to more…
If you'd kissed me like that the first time, I never would've been with anyone else.
They have plenty of complications to deal with, not the least of which is the fact that Dani lives far away. Both have baggage, and neither knows what the other is thinking until their attraction cannot be avoided. Dani's still scared though; Wes is her only constant.
"We're going to mess it all up."

"Or it could be great."
I loved how this whole story played out. It was light and fun, but still had a real plot with authentic feelings and was plenty sexy. I liked Dani and understood her hesitation, both with Wes and with many of the decisions that she made throughout the story. I loved Wes. He's hot, he drives helicopters, and he's lots of fun. Plus, he drinks orange juice straight from the carton. ::flails::
I want more, more, more from Cindi Madsen. This was a sweet story, and I really liked it.
Report Card
Cover
Characters
Plot
Writing
Steam
Overall:
4
Related Posts