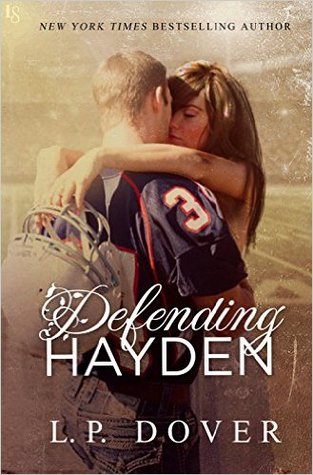 Defending Hayden
by
LP Dover
Series:
Second Chances #7
Published by
LoveSwept
on June 28, 2016
Genres:
Contemporary Romance
,
Love After Loss
,
Player Falls in Love
Character(s):
Football Players
,
Reclusive Heroes
Pages:
244
Goodreads
Buy the Book
The Carolina Cougars keep fighting for love as the Second Chances series from bestselling author L. P. Dover continues! In Defending Hayden, a damaged football star teams up with the only woman who can take the pain away.

No one's tougher than Carolina Cougars linebacker Derek McLaughlin. But when a fatal car accident claims the life of his girlfriend, Derek finds himself caught in a destructive spiral of drugs, alcohol, and meaningless sex. But not even a string of one-night stands can ease the hurt. Football is all he has left. Then fate leads him back to the scene of the crash, and into the arms of a kind, gorgeous woman who sees past his façade to the man he once was . . . and can be again.

When a chance roadside encounter brings Derek into her life, veterinarian Hayden Hunter isn't fooled by his bad attitude: All bark and no bite, he's hiding a wounded heart beneath that gruff demeanor. And Hayden wants to be the one to kiss it all better. Soon they both find that a dose of passion is potent medicine. But when a hidden enemy lashes out at Hayden, Derek steps up to do what he does best: put his body on the line in the name of love.
Kassiah: NFL player Derek McLaughlin is minding his own business, dealing with the loss of his girlfriend by partying and being a manwhore when he literally runs into veterinarian Hayden. Sparks instantly fly and there's a lot of back and forth between them since neither are looking for a relationship. All the while, there's some drama brewing at Hayden's office. Will Derek and Hayden be able to get over their pasts to find love in a hopeless place?
I don't know why I just quoted that. But, moving on.
I love love after loss stories and stories where the "player" falls in love. If this had been fic, I would have probably loved it. But there were too many Twilight-esque references for me not to constantly roll my eyes and think really?!?
I'd spent the rest of the night watching her sleep.
This storyline was okay, but the pacing was a little slow for me, and when I finished, I had a hard time articulating exactly what happened besides what I said up there.
I had a hard time connecting with these characters and felt like they acted immature and stupid most of the time. Some of it was so ridiculous, not to mention the fact that practically right after he met her, Derek is going on and on about how much he feels more for Hayden than he ever did for his girlfriend who died. Other people were totally on this bandwagon, too.
"I've never seen him do anything like this for anyone, not even when he was dating former Cougar cheerleader Brianna Ward."
I also wasn't a fan of the whole mystery going on in Hayden's veterinary practice. I just didn't think that it made sense–this girl was supposed to be smart! Despite this, I did think there were some hot sexy times and I thought they deserved each other.
I don't think I've read the other books in this series, but that was no issue–you can totally read this as a standalone. Defending Hayden had good potential with an interesting storyline and broken characters trying to get over their pasts, but the insta-love coupled with lack of connection between them and their misguided motivations left me wanting more.
Report Card
Cover
Characters
Plot
Writing
Steam
Overall:
2.5
Related Posts