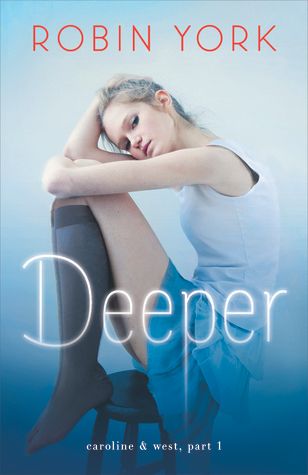 Deeper
by
Robin York
Series:
Caroline & West #1
Published by
Bantam Books
on January 28, 2014
Genres:
Contemporary Romance
,
New Adult
Pages:
400
Goodreads
Buy the Book
In this New Adult debut by Robin York, a college student is attacked online and must restore her name—and stay clear of a guy who's wrong for her, but feels so right.
 
When Caroline Piasecki's ex-boyfriend posts their sex pictures on the Internet, it destroys her reputation as a nice college girl. Suddenly her once-promising future doesn't look so bright. Caroline tries to make the pictures disappear, hoping time will bury her shame. Then a guy she barely knows rises to her defense and punches her ex to the ground.

West Leavitt is the last person Caroline needs in her life. Everyone knows he's shady. Still, Caroline is drawn to his confidence and swagger—even after promising her dad she'll keep her distance. On late, sleepless nights, Caroline starts wandering into the bakery where West works.

They hang out, they talk, they listen. Though Caroline and West tell each other they're "just friends," their feelings intensify until it becomes impossible to pretend. The more complicated her relationship with West gets, the harder Caroline has to struggle to discover what she wants for herself—and the easier it becomes to find the courage she needs to fight back against the people who would judge her.

When all seems lost, sometimes the only place to go is deeper.

Kassiah: It is very difficult for me to articulate all the things that I want to say about this book because I love it so much. I want to tell you to just read it and let that be enough!
For those who aren't aware, Robin York is none other than amazing author Ruthie Knox. If you haven't read anything else by Ruthie Knox, you seriously need to drop everything and read everything she's written. She's a genius. Now on to the story.
Shortly before beginning her sophomore year, Caroline Piasecki has what she thinks is an amicable break-up with Nate, her boyfriend of three years. Not long after that, she gets the shock of her life when she receives several text messages, warning her that she needs to take a look at something online.
I clicked the link.
…

The screen filled up with a picture of me, topless, with Nate's dick in my mouth.

I looked, and I took a deep breath. I closed my eyes.

I could actually feel it–the solid ground of my life, cracking open.
The pictures go viral, and life as she knows it is over. Things get even more complicated when she literally runs into West Leavitt beating the shit out of Nate one day after class.
West lives across the hall from Caroline, and though they've had very limited contact, he's not a guy that can be forgotten.
He tugs at my wrist, and I let him drag my hand away from my nose, because basically I will let West Leavitt do anything. It's possible that he's some kind of magical creature. I mean, he's not. I know he's not. He's a twenty-year-old sophomore at Putnam College, majoring in biology. He shelves books at the library, waits tables on weekends at the Gilded Pear–which is the only fancy restaurant in Putnam–and works the overnight shift at the bakery in town. All that on top of at least a couple of shady, unofficial sources of income, plus classes, makes him busier than just about anyone I know.

He's tall–around six feet, maybe a little taller–with messy brown hair, light blue-green eyes, and a great tan.
Despite not really being friends, West and Caroline have this connection that cannot be denied, no matter how much either of them might want to. Caroline starts to wander to his bakery during his overnight shifts and the two of them get to know each other. West tries to maintain that they aren't even friends, but like I said–they can't be denied.
Every now and then, West throws some half-teasing comment out to remind me I'm not his girlfriend. He smiles as he tells me something that means, You're not important to me. We're not friends.

He pulls me closer with one hand and smashes an imaginary fist into my face with the other.
There's so much more to West than just being a busy guy. He takes care of his family and has done some things that aren't ethical.
It's hard work, teaching yourself not to flinch. Learning to be someone you're not.

That's what I was doing at Putnam. I was working. I wasn't there for laughs, or to party, or to find the girl I wanted to spend the rest of my life with. I was there to make the rest of my life happen, and it was a full-time project.
Throughout the story, West and Caroline explore their relationship and both of them realize that no matter how they may try to fight it, sometimes you just can't deny what is meant to be.
I loved the way this story was told and the growth both of these characters experienced. Caroline, already strong and loved and on a path that she has had her sights on for practically her entire life, finds out what it means to have to be stronger. I really loved that though she was knocked down, repeatedly she. kept. getting. back. up.
If there's anything I learned from a childhood spent poring over the biographies of world leaders, it's that people who make a difference in the world succeed not despite what's happened to them but because of it.
And West. I can't put into words how much I love him. He's one of the most interesting and hottest and most complex characters that I've ever read. He is used to having to have all the answers to everything, and Caroline throws him off his game. I love that he lets her.
"That's it, then. You like it. I like it. Beginning, middle, end. There's no finish. This is the whole thing, right now."
This book is scorchingly hot, and the chemistry between these characters is nothing short of explosive. If you've read anything by Ruthie Knox before, you know she can turn a phrase, but Deeper takes that to another level. I don't think I've ever read anything where every single word holds such power.
Truly, I loved almost everything about this. My one complaint was the transformation that Caroline's character went through. I loved that she was strong and that she evolved, but I felt like she became a little too here-I-am-to-save-the-day at the end. I also wish I didn't have to wait for months and months to find out what happens to these characters because I need to know RTFN.
Practically everything about this book is perfection–the words, the characters, the swoon, the boy. Just trust me and read it. I know you'll love it!
Report Card
Cover
Characters
Plot
Writing
Steam
Overall:
5
Related Posts