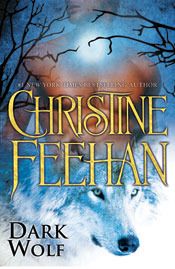 Dark Wolf
by
Christine Feehan
Also by this author:
Shadow Rider
Series:
Dark #25
Published by
Berkley
on January 7, 2014
Genres:
Fantasy
,
Paranormal Romance
Pages:
432
Goodreads
Buy the Book
#1 New York Times bestselling author Christine Feehan now delivers her most eagerly awaited novel of all — ten years in the making.

In Dark Lycan, Christine Feehan journeyed into the heart of the Carpathians, and into the souls of two lifemates stirred by the flush of passion and the threat of annihilation. In Dark Wolf, the breathtaking story continues as the bonds of family are imperiled, and the fate of two lovers lies hidden in the seductive shadows between life and death.

Skyler Daratrazanoff always recognized the miracle that was Dimitri Tirunul, a man beyond any dream that had ever engaged her nights. But she was human. Vulnerable. He was Carpathian. Nearly immortal. She was nineteen. He was an ancient. Yet she held half his soul, the light to his darkness. Without her, he would not survive. Caught between the two warring species, Dimitri has spent centuries hunting the undead to keep his people free, and humans safe. He had survived honorably when others had chosen to give up their souls. But now, marked for extermination by the Lycans, Dimitri found himself alone, and fearing for his life. But salvation was coming…

No Lycan would ever suspect someone like Skyler to dare mount a secret rescue operation. A teenage girl. A human of untested abilities. But she had something no one else had. She was predestined for Dimitri—as he was for her. And there was nothing stronger for Skyler than her desire to see her life-dream come true. Whatever the risk.

Betsy: This is the second book in Christine Feehan's Dark Trilogy, which takes place in the same Carpathian world that readers of her Dark series will be familiar with. There are some minor references to happenings in the prior book, but the book works fine as a standalone. However, it would definitely help to be familiar with the 'Dark' mythos.
This book is Dimitri's and Skyler's story. Dimitri is a Carpathian who has become a mixed blood by fighting alongside Lycans and being healed by them. Skyler is a human woman with a heavy dose of extrasensory powers and is the lifemate of Dimitri. Think something like imprinting or vampire mating from other paranormal series.
Dimitri has been captured and tortured by a Lycan faction bent on starting a war between the Carpathians and the Lycans for their own nefarious reasons. Skyler, who has a strong psychic connection to Dimitri, is the only one able to reach out and find him. Along with two of her friends, she attempts a dangerous rescue which goes awry and meanwhile back at the ranch, the leaders of both factions are meeting to avoid a war. This capture and subsequent fallout from the rescue could be the spark that tips the scale towards war.
In the midst of this backdrop, Dimitri and Skyler's relationship deepens and is finally consummated. Ms. Feehan skillfully builds the UST and the sizzle scenes are off the charts with heat. There was a fertility rite carried out in a field of anatomically correct flowers that made me think about putting my kindle in the freezer to calm it down. Sounds odd, but trust me it totally works. Hotter than Hades.
Only one minor complaint or fly in the ointment. Word choices. Please do not refer to dripping or leaking from lady parts because—ewwww (you might need treatment) and my other favorite–not–feminine cream. Again, yuck.
Overall, I enjoyed the book and it did a good job setting up the finale of this series. Zev's story. A hot Lycan. Um, yes please.
Report Card
Cover
Characters
Plot
Writing
Steam
Overall:
4
Related Posts