Dare to Stay
by
Jen McLaughlin
Also by this author:
Dare to Run
Series:
The Sons of Steel Row #2
Also in this series:
Dare to Run
Published by
Signet
on August 2, 2016
Genres:
Contemporary Romance
,
Forbidden Love
,
Opposites Attract
,
Romantic Suspense
Character(s):
Artists/Photographers/Producers/DJs
,
Bad Boys
,
Criminals/Ex-Cons
,
Mobsters
,
Reclusive Heroes
,
Tattooed & Pierced Bad Boys
Pages:
336
Goodreads
Buy the Book
Fans of Katie Ashley, Joanna Wylde, Kristen Ashley, Sophie Jackson and Katee Robert will be thrilled by this dark, steamy series, from the New York Times bestselling author of the Out of Line novels, where one gang of criminals knows just how being bad can be so good...

Bruised and bloodied on Boston's mean streets, Chris O'Brien is reeling from the loss of his childhood best friend. But after barely escaping a hit placed on his head, Chris is desperate to live. A safe haven comes to mind - the home of the perfect girl from his childhood, Molly Lachlan. Before he has fully considered what it would mean to involve her in his mess, he finds himself on her doorstep.

When Molly agrees to let Chris inside her home, she realizes she's also letting him into her life. Danger and desperation are coming off him like steam, and yet she can't bring herself to turn him away. His bad boy charm always had a hold on her, but now there's a soulfulness and sorrow in him that she's never seen before. And despite the heart-stopping risk of helping him, she hopes against all reason that he'll stay...

The stakes are dangerously high...and the passion is seriously intense. Follow the exploits of the Sons of Steel Row in Dare To Run and Dare To Stay.
Kassiah: This book is standalone, but you really should read Dare to Run first. Not only because it is an amazing book (and one of my favorites last year), but because you won't really understand everything going on here–and their significance–if you don't read it first. Careful for spoilers below if you haven't read Dare to Run but plan to.
When I saw that this book was going to be about Chris, I have to admit that I was shocked. I mean, really? But like every other book by Jen McLaughlin, I was immediately sucked into the story as soon as I started it. And…I think I kind of love Chris.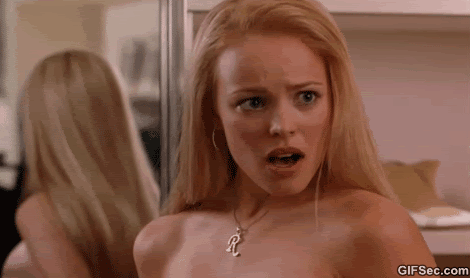 I know, right? For sure, after reading this, I definitely understand him more. No, I absolutely do not like what he did, and I don't really understand that, but I get what led him to it. And he is obviously trying to make up for it now.
I might be too late to make it up to Lucas, to let him know how sorry I was for what I did, but I could save Scotty. Because I owed it to Lucas.
So without trying to give away too much of what happened in the first book, Chris made a horrible mistake–one that he should have paid for with his life (and made me hate him). Because Lucas truly loved him like a brother, he didn't kill him. And now Chris has made it his mission in life to protect Lucas's brother, Scotty, even if it's to his own detriment. His only reason for living at this point is protecting Scotty and his secret–and he isn't afraid to go out, guns blazing.
"Never fuck with someone who's got nothing to lose."
After being wounded in a fight, he breaks into a drugstore for medicine and supplies and happens upon her childhood dream girl and former neighbor, Molly, who basically insists that he come home with her to convalesce. Of course, you know what happens. No matter how many times Chris drew the line that separated them, you can't fight fate. But how to you fight for love when you're life is a ticking time bomb, ready to go off at a moment's notice?
This book. *clutches chest* Like I said, I didn't think I was going to like it because I hated Chris at the end of Dare to Run. But…damn. He's got the soul of an artist, is protective, and though he made horrible mistakes, he's not a horrible person. I really loved him. I loved his relationship with Molly and the fact that he had loved her his whole life. I loved that he called her Princess. 🙂 I liked Molly, too. She was surprisingly strong for someone so seemingly delicate. I loved them together.
She was the prettiest thing I'd ever seen. And she'd never stop making me want to be a better man.
My one issue with the book was the constant appearance of a mysterious black sedan. I don't understand why he didn't tell Scotty!!!
I loved this book, and know for sure that this series is one of my all-time favorites. Action-packed, emotionally-charged, raw and thrilling, Dare to Stay is a must read for all romance lovers. You won't regret it. And oh.my.rob! I cannot wait–I mean–am desperate to read Scotty's story. Ahhhh!
Report Card
Cover
Characters
Plot
Writing
Steam
Overall:
5
Related Posts