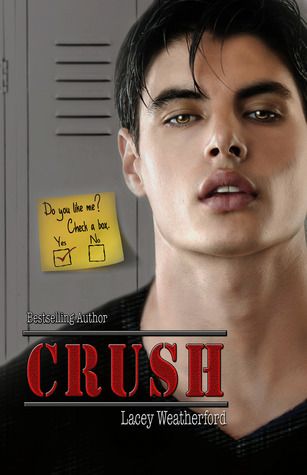 Crush
by
Lacey Weatherford
Also by this author:
Smitten
Series:
Crush #1
Also in this series:
Smitten
Published by
Self-Published
on October 19, 2012
Genres:
New Adult
,
Young Adult
Pages:
332
Goodreads
Buy the Book
Cami Wimberley has a plan, and that plan includes no room for boys—especially the big time party animal, Hunter Wilder, no matter how handsome and charismatic he is. She's beautiful, a senior, extremely talented, gets good grades, and is working her way toward her dream college to be a musical theater major. Everything is perfect.

Hunter Wilder does not want a girlfriend—that would complicate his life way too much right now. He especially doesn't want this girl, Miss-Goody-Two-Shoes, so how come he can't keep his eyes off her? He tries to keep her at arms length, but fate seems to keep pushing them together. Before long, it's obvious to everyone they're crushing on each other.

As sparks begin to fly, Hunter finds himself sinking deeper and deeper into hot water. Soon he's scrambling to keep Cami from discovering his dark secret—one that can destroy their entire relationship.

Sandi: This story tickled me. The big twist was not a surprise because I knew what was going on from the time we first got in Hunter's-Our Hero-head. Most of that might have been due to my family, as well as to the careful way in which Weatherford constructed her hero's thoughts.
I winced a lot, though, knowing what was on the line. This was a risky sort of story to tell, due to the age of Our Heroine as we got rolling in the story, but I think it was well done.
Our Heroine is Cami and she's intelligent, beautiful, and apparently intimidating to the male population of her high school. She's suspected of being a geek due to the fact that her best friend in the world is a nerdy guy she's known all her life.
As the relationships in this story play out and a dangerous drug ring is exposed, though, we find that everyone is not who they seem to be and things get scary.
And deadly.
I think this was a highly readable, engaging YA with enough of NA UST to intrigue those who like it a bit more "mature". I very much enjoyed it and read it in one night. And then went on to buy the sequel and started reading IT.
And I'll likely be re-reading it because these are interesting people. Five star material.
Related Posts