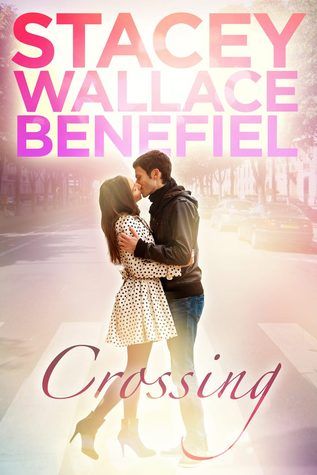 Crossing
by
Stacey Wallace Benefiel
Published by
Self-Published
on May 8, 2013
Genres:
New Adult
Pages:
254
Goodreads
Buy the Book
He stole her lipstick…and her heart.

Twenty-year-old Dani Walker can't believe her luck when she's paired up with the gorgeous Liam Garrett as her Acting I scene partner – or when he ends up in her bed. Being a Plain Jane with a mouth on her hasn't exactly served Dani well in the guy department. In fact, she's had nothing but one night stands. Still, she lets go of her insecurities and falls for Liam, despite feeling like he's holding something back.

When Dani finally discovers Liam's secret, she must learn the true meaning of accepting the ones we love for who they are, or risk losing the best thing that's ever happened to her.

Kassiah: Stacey Wallace Benefiel puts a unique and refreshing spin on the all-too familiar I'm too plain and there's no way this gorgeous boy could ever actually want me trope.
Snarky college sophomore Dani Walker literally runs into Liam Garrett on the first day of Acting class. The gorgeous guy leaves an immediate an impression on her.
"His name is Liam, and he's from Boise. Tall. Dark brown hair. It's cut short and not all douche-y and hipster bang-y. Brown eyes. Really nice ass. Like, infinitely grab-able."

"Did he flirt with you, Dani? 'Cause you're blushing!"

I blush deeper. "Not really. Just…he kept up with me."
Dani's used to being overlooked by hot guys (and mediocre guys and almost-unacceptable guys) for pretty much her entire life. Never having a relationship, she's only had a string of one-night stands. Even after recently breaking up with his long time girlfriend, Liam lets Dani know that he's a relationship-type of guy.
"This is from that redhead over at the end of the bar," [the server] says and then walks away.

Liam looks at me, his eyes sad.

I shrug. "Free liquor."

He holds it up. "To building a friendship." He takes a sip of the shot and then hands the glass to me. "Your share."

"You don't have to," I say, shaking my head.

Liam nudges it toward me.

"Please. What's mine is yours." I take hold of it and he sips his beer. He smiles. "With regards to pre-purchased movie tickets and shots from skanky redheads."

I finish the drink. "Skanky, huh? Sure I'm not cockblocking you?" And now I'm in wing-man mode, my default setting . Come hell or high water, one of us is getting laid tonight, and I guess my money's on Liam.

He sticks out his tongue. "Meh, I can skip the experience."

"Really?" I turn toward the bar to check out the redhead. She shoots me with a withering glare. Ha. "She looks like prime rebound material to me. You could hit that and walk away."

Again with the tongue. "Gross."

Are we in an alternate universe? "What are you talking about?"

"One night stands are gross." Liam levels his gaze at me. "I'm putting part of my body into someone else's body. That's not gonna happen five minutes after I meet you."
After some flirting and getting to know each other, Liam and Dani start dating, but she knows there's something that's just not right with him. He's emo sometimes and seems to be hiding something. I don't want to spoil what it is, but like I said, I've never read anything like this. If you're into New Adult (or steamy YA), this is a great book for you to check out.
I really liked the story and how things played out. I thought the way the "secret" was revealed to us made sense in terms of pacing and was realistic. I loved Liam. He was obviously grappling with something very intense and he was a complex character. He also said some really swoony things:
"You deserve to have someone who wants you every time you walk in the room."
I also loved the tenderness between Dani and Liam. There were many awwww-worthy moments with them. I liked the way their relationship progressed, and that after finding out what was going on with Liam, Dani took some time to think about what that meant for them.
What didn't I like? I didn't love that after the big reveal, Liam's character seemed to be more emotional, though I can certainly understand why. With that being said, I think some of the things he does don't make any sense at all. His secret was just that–a secret. I don't see him parading it around so soon after Dani finds out, especially considering how worried he was about other people finding out. I also really did not like Dani. Her character annoyed me to no end. She makes some choices that I really, really did not appreciate, and honestly, I don't know if I was rooting for her.
I also thought there were some unrealistic reactions. One example is when Dani goes to her neighbors' house:
"I need condoms," I announce, before noticing that people other than Kris and Cam are in the room.

Some douche stoner dude looks me up and down. "Why do you need condoms?"
It's not like she was Quasimodo or something. I felt like the thing that made me love the beginning–its realisticness–kind of fizzled out toward the end. It seemed to me that Benefiel was so focused on making a statement about her characters' lifestyles that she forgot to keep them in-character. Or maybe that's just going back to the fact that I didn't like Dani.
I totally respect Benefiel for creating this storyline. This is one of those stories that if it had a good editor, I believe all of the issues I had would have been cleaned up, and the story would have been amazing. Regardless of the things that I didn't like about it, I found this a unique New Adult book, and I really enjoyed it. It's a quick read, and I think that ya'll will like it too 🙂
Related Posts