You already know that Samanthe Beck is one of our favorites. We her characters, her stories, and the steam!! We are so excited about the release of Compromising Her Position–one of our favorites–this week. We got to sit down and chat with Sam today:
***INTERVIEW***
Thanks for stopping by to chat with us today, Samanthe! We you!
Thanks for having me! back at you!
Tell us a little about Compromising Her Position. Was it a fun book to write (we sure had fun reading it)?
I had a blast writing this story! But the characters surprised me. My cocky playboy Rafe turned out to have a serious, hard-driving side I didn't originally foresee, and my straight-laced heroine Chelsea had a smart mouth hidden behind her sweet smile. She got him good a couple times. He got her back, of course, but he made sure she enjoyed the punishment. 😉
We had a blast reading it! What is the most interesting thing you have Googled in the name of research?
Um…for this story, I have to go with "David Gandy Naked." I find that particular topic endlessly fascinating, but one of the images Google kindly returned—Mr. Gandy, in bed, naked save for a Santa hat– inspired this story.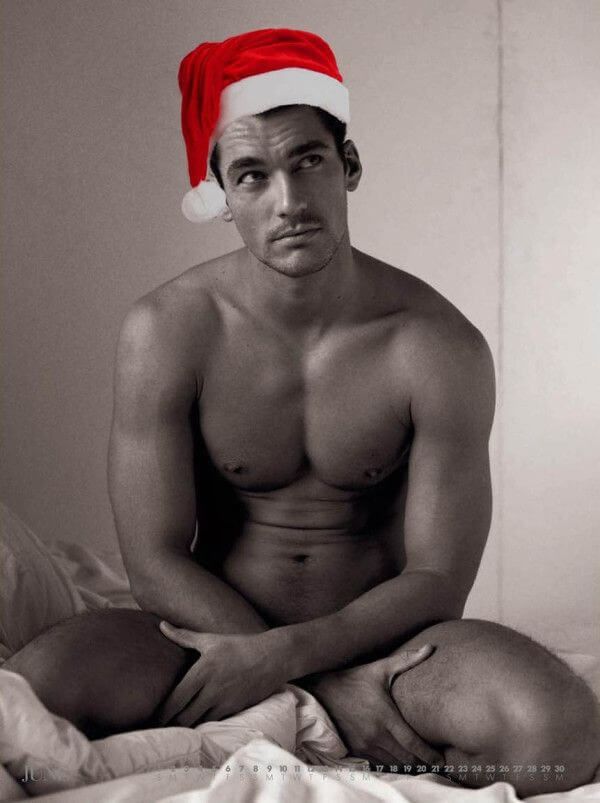 Very nice. We have to thank author Elisabeth Grace for our obsession with Gandy. You're one of our favorite writers, and you always consistently write off-the-charts hot scenes. How do you stay on the edge of sexy without going over into gross territory?
Thank you! I give all the credit to my editor. She is far more fastidious than I'll ever be, (as in, she would die if she ever set foot in my house), but she bravely enters my fictional worlds and helps me keep things reasonably classy. Honestly, if not for her, I'm not sure my characters would ever shower or brush their teeth.
Well, thanks to your editor! Do you have more plans for this series?
Yes! I'm currently working on Laurie's story. All I can say at this point is, if you think Chelsea and Rafe had an epic holiday party, wait until you see how Laurie rings in the New Year!
*jumpyclaps* We can't wait! How did the characters take shape in your imagination?
Well, as mentioned earlier, a photo of David Gandy inspired Rafe St. Sebastian. I imagined him as a smooth, slightly arrogant, sexy guy with a well-earned reputation as a playboy.

Chelsea I had at the other end of the spectrum—a sweet, wholesome, hometown girl who's all about relationships, and never steps out of her goody-two-shoes. And then the one time she does, she gets way more than she bargained for. Waaaay more.
We love it! How would you introduce Chelsea to readers?
Her best friend Laurie calls her a caterer—Chelsea lives to please. A wonderful quality to possess in her line of work, because she oversees a high-end resort and she takes guest satisfaction seriously, but the same tendencies don't work out as well in her personal life. She sometimes gets taken advantage of. Don't worry, though. Rafe's determined to teach her how to be selfish, and when that man sets his mind to something, buckle up!
Why will our readers swoon over Rafe? We want to know all the things!
He's smart and sophisticated, but he's not a gentleman 100% of the time. He can be a very bad boy, and mostly unrepentant about it. Still, the man knows how to deliver an apology. He's got his own, unique style of requesting forgiveness, and it involves…well…how about I show you?
***EXCERPT***
Rafe knelt and draped her legs over his shoulders.
"W-what are you doing?"
He held back a laugh and bestowed a kiss high on the inside of one thigh. "Apologizing." So saying, he opened the nightstand drawer and took out a tube of Tradewinds' Tropical Passion Edible Massage Gel.
She propped herself up on her elbows. "We charge sixty dollars for that stuff."
"You can't put a price on forgiveness." He kissed the other thigh and lubed his fingers.
"I forgive you."
"I'm afraid I can't accept words. I need to know your forgiveness runs deep. I need to hear it ringing in my ears. I need to taste it."
"Oh, God…"
His first long, slow, apology had her grabbing fistfuls of his hair. The second loosened her tongue. "I forgive you. Completely. I swear."
He kept the apologies coming, slow and steady, until she planted her feet on his shoulders and lifted her hips. Signal received. He apologized faster, and faster still when her heels dug into his collarbones like stirrups. She practically levitated with forgiveness.
Seconds later she stiffened, threw her head back, and granted him something that sounded like complete and total absolution.
*fans self* If you could introduce one of your characters to another character from any other book, who would it be and why?
Great question! Actually, there are two characters in Compromising Her Position who don't manage to cross paths, and I'm thinking they need to. Hint: A certain hot doc, and someone's little sister. Rafe will NOT be pleased!
Yasssss How would you describe yourself in three words?
Wife
Mommy
Writer
What is the one thing readers would be surprised to learn about you?
I lived in London for a little while in my early twenties. Considering my apartment was right over a wine shop, it's a miracle I ever left!
We love London (and British Guys lol) What is your most anticipated upcoming book-to-screen adaptation?
I'm looking forward to the next installment in the Hunger Games series, although I'll probably end up catching it on video-on-demand. My in-theater movie viewing skews a little more toward G-rated films thanks to our six-year-old son.
That's sweet. We're going to the movies (bringing my teenagers haha) Of all the novels that you've written, which one do you feel most proud of and why?
I love all my babies, for different reasons!
We have a hard time choosing a favorite, too. Do you have any current or future projects you can tell us about?
A whole mess of things! I'm working on Laurie's story now, and I've got a series coming out in 2016 for Entangled's Lovestruck imprint, which is exciting for me because I've written exclusively for Brazen 'til now. I've also got a couple trips back to Bluelick, Kentucky planned, for more Brazens in the Private Pleasures series.
That's fun. We can't wait to read all of the things! Is there ever anything that you always wish someone would ask you, but they never do?
Hmm. I know! What's the best part about being a romance writer? There are TONS of upsides to this gig, but the best part, hands down, are the readers! I love to connect on Facebook (https://www.facebook.com/SamantheBeckWriter/) and/or Twitter. In 2016 I'm attending some real, live events too, like the Romantic Times Convention in Las Vegas this April and Shameless Book Con in Orlando this October. Come say hi if you're in the neighborhood!
We'll have to come out and meet you in real life, Samanthe! Thanks again for coming by. We can't wait to get our ::grabbyhands:: on Compromising Her Position!
Thanks for having me and for the fun interview! Wish you all a happy, safe, and sexy-hot holiday season!
***About Samanthe Beck***
Wine lover, sleep fanatic, and USA Today Bestselling Author of sexy contemporary romance novels, Samanthe Beck lives in Malibu, California, with her long-suffering but extremely adorable husband and their turbo-son. Throw in a furry ninja named Kitty and Bebe the trash talking Chihuahua and you get the whole, chaotic picture.
When not dreaming up fun, fan-your-cheeks sexy ways to get her characters to happily-ever-after, she searches for the perfect cabernet to pair with Ambien.
Find Samanthe Here: Website | Facebook | Twitter | Goodreads
***About the Book***
Compromising Her Postion
on November 16, 2015
Genres:
Boss Employee Romance
,
Christmas
,
Erotica
,
Forbidden Love
,
Holiday Romance
,
Mistaken Identity
,
Romance
,
Romantic Comedy
Character(s):
Billionaires
,
Businessmen/Lawyers/Entrepreneurs
Pages:
197
Goodreads
Buy the Book
He's not who she expected, but he's exactly the man she needs…

When Chelsea Wayne drags Santa into a supply closet for a little office party nookie, she assumes the man in the suit is her on-again/off-again coworker boyfriend. Instead, it's Rafe St. Sebastian, a man known for his hard-driving ways in business as well as the bedroom--and, kill her now, the brand spanking new owner of Las Ventanas--who grants her naughtiest Christmas wishes.

So much for her reputation, not to mention her career.

Rafe needs to close three acquisitions to prove to his father he's ready to take the helm of St. Sebastian Enterprises. A hot interlude in a supply closet after deal number two seems like the perfect illicit Christmas bonus. Unfortunately, when that "bonus" becomes the key to the final deal, he finds himself back in bed--so to speak--with Chelsea, and after their steamy tryst, he's not interested in keeping things professional…
***Our Thoughts***
Kassiah:
From the very first page, this book is hotttt…
"I've got a present for Santa and it's not safe for work."
The summary for this book is spot on and if you have read any of Beck's books before you know it's all hotness, all the time. Basically, Chelsea has been having problems with her boyfriend but she decides to pull him into the closet for a hookup at her office party. She thinks he decided to wear the Santa suit he refused to wear before. She doesn't know it's actually her new boss she just shared a super steamy encounter with. Rafe has no idea what came over Chelsea but he's definitely going with it. It isn't until later that he realizes that she thought he was someone else (they didn't talk except to shush each other during their interlude). Now, despite the fact that he shouldn't be pursuing her, he can't get her off of his mind.
Chelsea's life kind of goes haywire after that, realizing her on-again/off-again boyfriend is definitely off again and thinking she's lost her integrity at work. I don't want to tell you what else happens because you really should read it! I loved the pacing of this story. I loved these characters and the way they fell for each other. I loved Rafe–he's cocky and alpha and just gah! I loved their banter and all of the funny moments:
Hello, Santa just spanked you.
Compromising Her Position is a hot, fast read that's perfect for a holiday pick-me-up. The characters are sassy and sexy, the story is entertaining, and the steaminess is off the charts. I loved it!
Report Card
Cover
Characters
Plot
Writing
Steam
Overall:
4.5
***GIVEAWAY***
Win print copies of Samanthe Beck's Private Pleasures Series!!!
a Rafflecopter giveaway
Note: We really really want to win this giveaway!! So maybe you shouldn't enter.
What do you think, Pretties? What's your favorite book by Samanthe Beck?
Related Posts