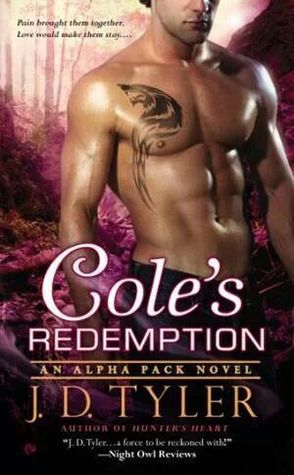 Cole's Redemption
by
JD Tyler
Series:
Alpha Pack #5
Published by
Signet
on March 4, 2014
Genres:
Paranormal Romance
Pages:
352
Goodreads
Buy the Book
Once, they were Navy SEALS. Now they are the Alpha Pack: a top secret team of wolf shifters with Psy powers who take on the darkest dangers on Earth. But sometimes the greatest danger lies within their own hearts....

Healer and black wolf shifter Zander Cole has survived horrors that would have broken a weaker man. But when a battle leaves him deaf and his powers dimmed, Zan is devastated. Believing himself to be a burden to his team, he sees only one option: leave the Pack forever.

White wolf shifter Selene Westfall knows pain—she is certain her father was responsible for her mother's death. And she lives to exact revenge. So when she is challenged by a savage black wolf, she puts up a vicious fight—only to become the black wolf's Bondmate as a result of his bite.

Two damaged souls—one filled with hatred and one who's lost his reason for living—are forced together as they come to terms with their unlikely, turbulent bond. A love neither expected may be all that stands between them and a killer trying desperately to keep the past dead and buried....

Betsy: This book is the fifth in Tyler's Alpha Pack series and the first one that I've read. The premise is fantastic. A group of Navy Seals with some paranormal abilities have been turned into wolf shifters, who work as an undercover arm of law enforcement, protecting humans from paranormal bad guys. In Cole's Redemption we get the story of Zander Cole, the Pack's healer, who has suffered a grievous injury in a prior battle that has left him with residual deafness and brain trauma. Because of his injuries and their slowness to heal, he believes himself to be a liability to the Pack and begins to consider leaving.
Entering the picture is Selene, a white wolf shifter with an agenda that will have a huge impact on the Pack. Selene is bent on revenge and clings to the long-held belief that the man in charge, Nick, who happens to be her father, is responsible for her mother's death and her subsequent abandonment. She is focused, cold and very determined to make Nick pay.
Selene attacks Nick while he's out on a run and Zander interferes with her goal. In the process he bites her and this begins an unexpected mating bond that will have a major repercussions. In the midst of the chaos and turmoil of this surprising mating, the Pack has been called to investigate and take care of a growing rogue vampire problem whose attacks have become increasingly vicious and open.
In the beginning Selene and Zan are very awkward around each other, but understand that this bond is something that neither of them can control. They try to make the best of it, but dealing with Selene's hatred of Nick makes this very tricky. The physical imperative of the bond pushes them past their emotional boundaries and becomes the backdrop for the emotional bond that forms as they get to know each other.
The steamy bits were, for the most part, sizzling. Of course, I admit that I prefer the emotional development to occur first. It always makes the physical side even hotter. They do get there, however, and very satisfying it is. 🙂
And those of you who've read my reviews before know I have a few words that I just really dislike and there were a few in here. – spreading cream on cock (ewww), channel (looking for a tugboat here), milking him (cows and milkmaids LOL) and rod (19th century erotica – meh). Aside from this I found it well-written with some very cool world-building touches. This Pack not only has hot Seal wolf shifters, but a basilisk shifter, and Fae members, both Seelie and Unseelie. I love the paranormal backdrop and will definitely read more of Tyler's series to see what she does with it. So you have an interesting paranormal world, a mission and mystery to solve and a couple beginning their sexy journey as bonded mates. What's not to love?
All in all, a very satisfying, sexy read. I mean just look at the cover. nods head emphatically YES
Report Card
Cover
Characters
Plot
Writing
Steam
Overall:
4
Related Posts