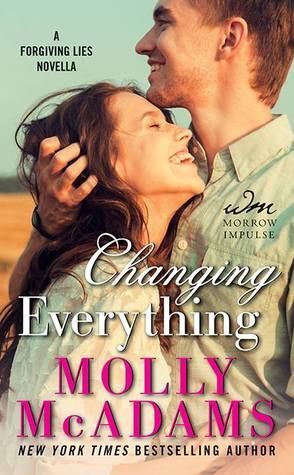 Changing Everything
by
Molly McAdams
Also by this author:
Trusting Liam
,
To the Stars
Series:
Forgiving Lies #2.5
Published by
William Morrow
on March 3, 2015
Genres:
Contemporary Romance
,
Friends to More
,
New Adult
,
Player Falls in Love
Pages:
288
Goodreads
Buy the Book
Paisley Morro has been in love with Eli since they were thirteen-years-old. But after twelve years of only being his best friend and wingman, the heartache that comes from watching him with countless other women becomes too much, and Paisley decides its time to lay all her feelings on the table.

Eli Jenkins has a life most guys would kill for: Dream job, countless women, and his best friend, Paisley, to be the girl he can always count on for everything else. But one conversation not only changes everything between them, it threatens to make him lose the only girl who has ever meant anything to him.

When tragedy strikes his family and Eli is forced to reevaluate his life, he realizes a life without Paisley isn't a life at all. Only now, he may be too late.
Kassiah: Best friends to more are some of my favorite stories, and Molly McAdams is one of my favorite writers, so of course I was all over this book as soon as I got it.
Paisley and Eli have been best friends for all their lives. She's been in love with him for most of that time, but she's never told him. When she meets another guy that wants more from her, Paisley has to lay it all on the line with Eli, telling him how she feels and begging him to choose her or let her move on with the new guy. Eli doesn't know what to think–he's never thought of Paisley that way, so she moves on with the new guy. But Eli can't get her off of his mind and after coming to his senses, he returns, declaring his love. Paisley says it's too late, but we all know it's never too late for true love. Eli won't stop until Paisley is in his arms for good.
I loved these characters and their history made me fall for them even more. Eli was totally crushworthy, and Paisley was sassy, even though I didn't understand her. She had been in love with Eli practically all her life and she couldn't give him the benefit of the doubt when he realized he made a mistake? Of course, there's a lot of drama in this story and the back and forth time jumps confused me a little. I felt bad for the new guy, but really? He should have known. LOL He turned out to be a jerk, anyway.
If you've read McAdams's other series, you'll really love this one, too. New Adult fans and lovers of swoonworthy romances should check out Changing Everything.
Report Card
Cover
Characters
Plot
Writing
Steam
Overall:
3.5
Related Posts