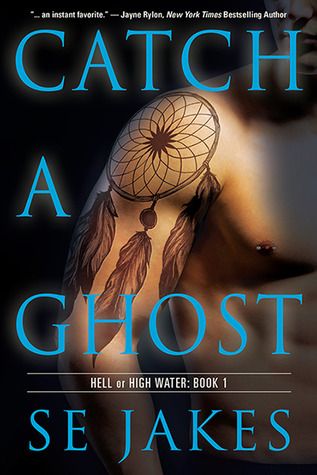 Catch a Ghost
by
SE Jakes
Also by this author:
Dirty Deeds
Series:
Hell or High Water #1
Published by
Riptide Publishing
on September 13, 2013
Genres:
M/M Erotica
Pages:
300
Goodreads
Buy the Book
Everyone knows that Prophet—former Navy SEAL, former CIA spook, full-time pain in the ass—works alone and thinks only about the trouble he can cause. But his boss, Phil Butler of Extreme Escapes, LTD., has just assigned Proph not only a new partner but also a case haunted by ghosts from Proph's past. Suddenly, he's got to confront them both head on.

Tom Boudreaux—failed FBI agent, failed sheriff, full time believer in bad luck—is wondering why the head of a private contracting firm has hunted him down to offer him a job. Still he's determined to succeed this time, despite being partnered with Prophet, EE, LTD's most successful, lethal, and annoying operative, and even though the case is also resurrecting his own painful past.

Together, Prophet and Tom must find a way to take down killers in the dangerous world of underground cage matches, while fighting their own dangerous attraction. And when they find themselves caught in the crossfire, these two loners are forced to trust each other and work together to escape their ghosts . . . or pay the price.

Les Joseph: I have been a fan of SE Jakes ever since I read the first book in her hot and intense Men of Honor series, so I just knew I was going to love this book. I have been very anxiously awaiting the release of Catch A Ghost, and boy was I ever NOT disappointed!
Catch A Ghost is the first book in her new Hell or High Water series. To say this book was everything I hoped for is an understatement. This book is SE Jake's best work yet and it's packed full of everything we've come to love and expect from her: edge of your seat action, sharp, witty, often biting dialogue, and sex scenes so hot and intense you can practically feel the fire leaping off your screen. As always, and as she's so good at, SE Jakes sucks you in from the word go and doesn't let go until the very end … and goodness what an ending it is!
Ghost introduces, or re-introduces, Prophet Drews–probably my favorite character of hers from any book. If you've read her other books, you know we've seen him a few times, most recently in the book Free Falling. Prophet is an in-your-face, no-holds-barred, sarcastic, brash–well you get the picture. He's got more flaws than you can count, but he's good at what he does, the best. Ex-CIA, former Navy SEAL, the man is a lethal combination of skill and savvy, and he uses it to do what needs to be done. He works as the top operative for Extreme Escapes LTD or EE and he always works alone… until now.
Enter Tom (Tommy) Boudreaux. Ex-FBI, disgraced Sheriff from New Orleans. He's not any happier at being assigned a partner than Prophet, but Tommy knows EE is his last chance. The two men are volatile from the get go. The sparks fly and the insults do as well.
"I'm Prophet."

"Seriously?"

"Why? What's your name—Jesus?"

The guy didn't crack a smile. One of his eyes was green, the other mostly brown, and it gave him a slightly unbalanced look, like a German Shorthaired Pointer Prophet'd once owned. But man, could that dog track.
"I'm Tom Boudreaux." He ignored the casted hand, and Prophet pulled it back. Saw Phil hovering a few feet away. Like what did Phil think he'd do, punch him out in the middle of the office?

"Nice to meet you, Tommy," he said smiling, and the guy rolled his eyes at him and wasn't this going to be fun? Prophet rubbed his fingers along the back of his neck. Getting his head cut off with a machete would be more fun than this, but he forced himself to be semi-human. "What's your background?"

"I don't tell people things like that unless they buy me dinner first." The drawl sounded deep Cajun. The drawn out words and the lilting, easy roll of his voice made Prophet want to throw a chair at him, mainly because it had always been an accent he'd found irresistible. On anyone else but this guy.

Okay, a little on this guy. Fucking bayou asshole.

But I'll bet he can definitely track.

"Dude, what's your area of expertise?" Prophet tried again.

"What's yours?"

"Look, I'm not getting into a pissing contest with you."

Tommy narrowed his eyes at him. "Didn't want a partner?"

"Never."

"Awesome. Glad we got that out of the way. Because neither did I."

"Got it, Tommy."

"Tom," the man said evenly.

"What I said."
Nice, right? The two must find a way to work together though, because before Tommy can even get his feet wet, the two are given a case to work, one that has deep ramifications for Prophet. Cage fighting, a link to Prophet's past, Tommy's need to prove himself, all entwine to make for an adrenaline-fueled ride that will make you gasp and hold your breath and scream a few times, too.
The book moves at a rapid pace. The sexual attraction between Prophet and Tommy quickly reaches a boiling point, a trait found in all of SE Jakes' work. Hot and intense, but with just enough tenderness to really pull you in, sex scenes in a SE Jakes book are like no one else's. Her men are strong and as bad-ass as they come, but that little bit of humanity, of vulnerability, always makes for complex characters that you can never quite figure out.
Catch a Ghost is a wild ride. There are plots within plots within plots and honestly, by the end, we're left with more questions than answers. The good news for us readers? Book Two–Long Time Gone is already out. This book is a definite MUST READ!
Related Posts