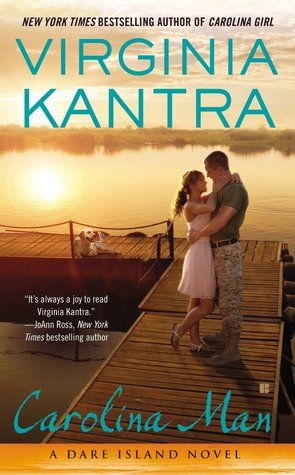 Carolina Man
by
Virginia Kantra
Series:
Dare Island #3
Published by
Berkley
on March 4, 2014
Genres:
Contemporary Romance
Pages:
304
Goodreads
Buy the Book
Meet the Fletchers of Dare Island
Steady Matt, the son who stayed
Ambitious Meg, the daughter who never looked back
And warrior Luke, the Marine who never expected to return.

A heartwarming new novel in New York Times bestselling author Virginia Kantra's beloved series about family ties, second chances, and the power of love…

Marine Luke Fletcher is determined to do his duty—first to his country and now to his ten-year-old daughter, the unexpected legacy of a high school girlfriend. But his homecoming to Dare Island in North Carolina's Outer Banks challenges his plans for the future and forces him to face everything that's missing in his life. He wasn't prepared to lose his heart to this child he never knew. Or to fall hard for coolly reserved small town lawyer Kate Dolan.

Former military brat Kate knows Marines can make lousy fathers...and she's got the scars to prove it. Giving her heart to a man who's bent on leaving seems one sure way to have it broken.

Now, no matter what it takes, Luke must prove to Kate and to his daughter that Semper Fi is more than a motto—and to himself that there's more than one way to be a hero.

Sandi: Sometimes, you start a book and you're all…meh. Sometimes, especially if it's not the first in an established series, you might worry that the book won't "work" for you as a reader if you haven't read the rest.
And sometimes? All of that is totally unfounded.
I will state here at the beginning that I really enjoyed this book. Without having read the others in the series (you can BET I'm adding them to my TBR!) I was able to immerse myself into the warm and loving Fletcher family with ease and lose myself in the romance between Luke and Kate.
First off, Kantra did her job on her Marine, here. As the wife of a former Marine, I tend to be very, very picky when I read that a hero is a military man. I worry that someone made a Ken-doll kind of character and dressed him in fatigues, you know? But Kantra absolutely has a legitimate Marine in Luke Fletcher. He "reads" completely real as a combat veteran.
"Semper Gumby," Tom said.

"What?" Taylor asked.

Luke glanced down. "It's a saying. Like . . . be flexible. Like Gumby."
That right there? Straight from the USMC. I heard it myself during Operation Desert Storm back in the '90's.
In addition to being gorgeous and responsible and respectful and dedicated, he's also devoted to his family as he is in his late twenties. And when he finds out he has a daughter?
He steps up with everything he has and we meet Taylor, the daughter that Luke's long-ago ex-girlfriend didn't even tell him he had.
Well. That's a very interesting story and you should check it out. But know that Taylor is a very real little girl, here. Not glamorized, not over-aged, not hugely precocious. She, too, "reads" completely real.
In fact, Kantra seems to have a gift for making her people real. And I very much appreciated it.
But wait! What about Kate?
Well, we meet lawyer Kate Dolan and things get rich with UST in no time at all. Kate's got a background that is kind of a mess, but that has built in her a need to help and empower others to help themselves, and this shows in everything she does.
She helps everyone, it seems, except herself. But Luke helps her get over that, all while letting her know she is fiercely and heatedly desired.
Yes, it is steamy in the Carolinas, I can assure you!
". . . hitching closer, jerking away. He hunted her response, wringing it from her flesh . . ."
Because the UST does indeed become resolved sexual tension, in very real way. And I was rooting for the two of them to enjoy it, and they did.
You will, too.
Be aware, however, that there are ugly things discussed and "remembered" in the course of this story. Kate's childhood was not sweetness and light. Young Taylor has had it kind of ugly, too. And do not forget the memories of a combat veteran who is home on leave and trying to decompress. Kantra handles difficult topics without glossing them while providing her characters and readers with workable resolutions.
All in all, I recommend this book to anyone who enjoys contemporary romances, who loves/needs to read about happy, healthy families, and all those people who do like a man in uniform.
Report Card
Cover
Characters
Plot
Writing
Steam
Overall:
5
Related Posts