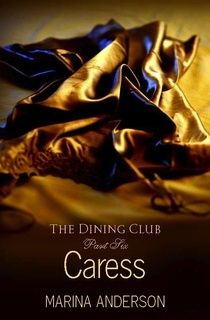 Caress
by
Marina Anderson
Also by this author:
Desire
,
Bound
,
Crave
,
Seduce
,
Touch
,
Submit
Series:
The Dining Club #6
Also in this series:
Desire
,
Bound
,
Crave
,
Seduce
,
Touch
,
Submit
Published by
Hachette Book Group
on September 24, 2013
Genres:
Erotica
Pages:
35
Goodreads
Buy the Book
Welcome back to the Dining Club. Pass the challenges we set, and a world of pleasure awaits...

Giving in to the handsome Andrew's charms, Grace agrees to hear his warnings of what could lie in wait for her at The Dining Club. But what could he need to tell her so urgently? And why is he so convinced it will change what she thinks of David, her dazzling yet deeply secretive lover?

Andrew also reveals a crucial element to the next trial - the final trial - that David has held back from her. Realizing it is going to require all of her seductive powers, stamina and wits, Grace faces her last weekend at the Dining Club with sensuous trepidation. And then someone lets slip that there could be one more stage, for the truly elite...

Kassiah: The novella starts off with Andrew letting Grace know what he wants her to hear. Grace questions him as to his reasoning for coming to warn her:
"Because I care for you and don't want to see you hurt by him. Believe me he will hurt you eventually. He doesn't know the meaning of love."

"And you don't seem to know the meaning of loyalty," she pointed out.
Score one for Grace. Fucking finally. Then she says stuff like this, and I'm ready to smack her again:
"David's very complex, and I don't pretend to understand him all the time, but I love him and I want him to love me too. The Dining Club is my only chance of making that happen. He's made that very clear."
Despite Grace and Andrew's very enlightening conversation, this was definitely my least favorite of the novellas. Some really gross stuff happens here, and we get to see even more of David's manipulative bastard side. Does he have any other sides? Oh yeah, the douchebag side.
"Just remember, if you succeed this weekend I'll be happier than I've ever been in my life before. That's all you need to think about over the next two days."
We also get a little more of Fran's sparkling personality.
Is it some kind of posh gym that you have to be invited to join? If so, and if it's expensive, you're being robbed because you don't look any different from the days when your idea of exercise was stumbling to the tube station early in the morning!"
She also asks–yet again–how David is in bed, and outright tells Grace that she'd "have him" if Grace didn't want him. Yes, after she's gone on and on about how much of a ladies' man he is and how he can never commit to Grace for real. I might hate Fran the most of all the other characters, which is really saying something.
Caress ends on a cliffie, but with a more-determined-than-ever Grace. Thank rob it's almost over.
Report Card
Cover
Characters
Plot
Writing
Steam
Overall:
0.5
Related Posts