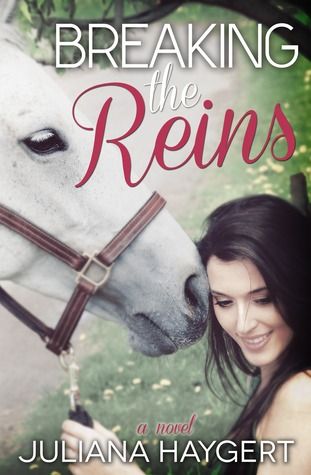 Breaking the Reins
by
Juliana Haygert
Also by this author:
Playing Pretend
,
Breaking Fences
Published by
Self-Published
on August 14, 2013
Genres:
New Adult
Pages:
400
Goodreads
Buy the Book
Horses, mansions, tea parties, and lies are twenty-year-old Hannah Taylor's life. To others, her family and her relationship with Eric is perfect. But she knows the truth. She lives it.

After a fire takes her grandma's life and kills her horse, Hannah's immaculate life spirals out of control. Her father disapproves of her decision to run her grandma's ranch instead of focusing solely on learning the family business; Animal Control brings her Argus, a mistreated horse that she can't turn away even though she's not ready for another horse; and her boyfriend, Eric Bennett, a world famous polo player, becomes possessive and authoritarian. Despite her best efforts to disguise it, Hannah grows wary of him.

Then, Leonardo Fernandes struts onto the polo scene. A cocky rookie with a messy life of his own, he's drawn to Hannah and isn't afraid of showing it, even when Eric makes it clear she is his and he'll do whatever it takes to keep it that way. Hannah suffers for Eric's jealousy. The abuse only gets worse when Leo steals the title of best polo player in the world from Eric.

But the title isn't enough for Leo. He wants Hannah too, and she can't deny her attraction to him either. Somehow, she must find a way to break free from abusive Eric before he breaks every bone in her body.

Kassiah: I thought this book was going to be just another one in a stack of mediocre New Adult stories. I couldn't have been more wrong. Breaking the Reins has great characters, a believable storyline, and some nice swoon.
Following the death of her grandmother and her beloved horse, Hercules, college sophomore Hannah Taylor finds herself struggling:
Not long ago, I lived my perfect life as a Taylor heiress; just going to college, loving my boyfriend, and attending his games. Then it all changed when my grandma died, and I tried to figure out how to juggle college, the ranch, and learn about my father's business, as well as enjoy my boyfriend's success.

As if that wasn't enough, more trouble found me, and everything changed a second time. A broken horse had been thrown into my arms, and some guy came strutting into my life and messed with my feelings. It was too much of a coincidence meeting him on the road and having him move in next door.
When Hannah's long-time boyfriend, Eric, the world-renowned polo player, takes notice of Leo, the new guy in town, noticing her, his jealous streak gets a little brighter.
Each time the man smiled at me, Eric's fingers dug into my skin and I pressed my lips together, wiling the scream to stay in my throat.
Hannah feels herself inexplicably drawn to Leo. He's gorgeous and sweet. And he can get through to the rescued horse like no one else. Hannah and Leo try to deny their feelings for each other.
"I tried staying away from you, Hannah. I really did…but I can't. So I'm telling you, you have to stay away from me too."

The further away Hannah seems to drift from Eric, the tighter he holds on. It isn't long before he takes things to a new level.
"You brought that upon yourself," Eric said, serving wine to the flute set in front of me. "I don't want to hurt you, but each time you misbehave, each time you oppose what I tell you to do, I'll have to hurt you."
I'm not going to spoil what happens, but I really liked the way this story played out. Eric didn't start off as evil–it was little increments of shifts in power until he became a monster.
What didn't I like? I felt like Eric got to be too bad. I'm not sure if he remained realistic. I also thought that the reason that Hannah stayed with him was a bit contrived, but I will give her the benefit of the doubt because of her age. With that being said, I liked the characters, especially Leo. I thought that Hannah was a strong woman in a tough situation, and I wish that she had gone to someone for help. Horse lovers will love the descriptions and relationships that the characters have with the horses (as well as their personalities), but non-animal lovers will still enjoy this story.
Because of its sensitive subject matter, I won't say that it's for everyone, but if you're looking for a well-written, realistic New Adult novel with an interesting plot and characters that you'll fall for, Breaking the Reins is the story for you. Give it a try, Steamettes.
Related Posts