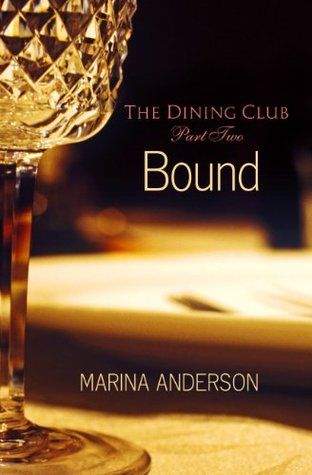 Bound
by
Marina Anderson
Also by this author:
Desire
,
Crave
,
Seduce
,
Touch
,
Caress
,
Submit
Series:
The Dining Club #2
Also in this series:
Desire
,
Crave
,
Seduce
,
Touch
,
Caress
,
Submit
Published by
Hachette Book Group
on August 27, 2013
Genres:
Erotica
Pages:
35
Goodreads
Buy the Book
Part Two: Bound

Grace has surprised herself by falling hard for the breathtaking financier David. But now she knows that in order to keep this man, she will have to explore his darker side.

Grace is shocked by her body's instinctive response to the private club David has introduced her to: the Dining Club - a secret society where members can explore their most forbidden fantasies. David got her through the Club's exclusive doors - but to stay she must pass a series of erotic trials.

Wrapped in a luxurious dress of chiffon and lace that David gave her for her first challenge, Grace is anxious and excited to enter into the heart of the Dining Club. Little does she know that one of its members, the dazzling and domineering Amber, has every intention of keeping David all to herself...

Kassiah: Bound picks up pretty much right where Desire ends, and it's slightly more annoying.
Still an overbearing douchebag boyfriend! Still a girl who is willing to do something that makes her uncomfortable to win said douchebag boyfriend's love! Still a lot of gross words! Still an overuse of exclamation marks!
We find out that David has only ever brought two other women to the Dining Club, and Grace finds out (and passes) her first challenge. She also seems to take an interest in the manager of the club, Andrew, which was weird, but whatever.
I'm not going to mention all of the things I don't like because this novella is only 35 pages, and I pretty much didn't like any of them. I'll just leave you with this:
If she wanted to keep David, and after their conversation earlier she knew without a doubt that she did, then she had to go through with this.
and this:
"Choose from the first two."

Grace began to tremble. "I don't want either," she whispered. "I don't know what they mean. I don't think I can do this."

"Then you simply refuse the dessert, my darling, but of course you know what that will mean for us."
I'm going to keep reading, but I'm even less hopeful for a turnaround than I was before.
Report Card
Cover
Characters
Plot
Writing
Steam
Overall:
1
Related Posts